At VIBE 2021, a virtual event for AVI-SPL customers and technology partners, Frost & Sullivan moderated a series of round tables for AVI-SPL's global and enterprise customers. IT leaders from 40 global organizations in finance, pharmaceutical, technology, and manufacturing— Amazon, Amgen, BNY Mellon, Capital One, Eli Lilly, Estee Lauder, Citi, Ford Motor, Johnson & Johnson, Merck, Novartis, and other companies—that are part of AVI-SPL's global and enterprise account program shared their most pressing challenges and opportunities over three separate in-depth discussions throughout the day.
The roundtables initiated an honest and open dialog on how the pandemic has fundamentally impacted the relevance of technology across their organizations. Aligned with Frost & Sullivan's ongoing research on the future of work, IT decision-makers from leading global organizations indicated that the impact on their workplace and the resulting technology shifts have been truly transformative.
The key themes that are emerging as top of mind for IT decision-makers and business leaders are:
Future of workplace
Meeting equity
Interop across diverse technology platforms
Employee experience and wellbeing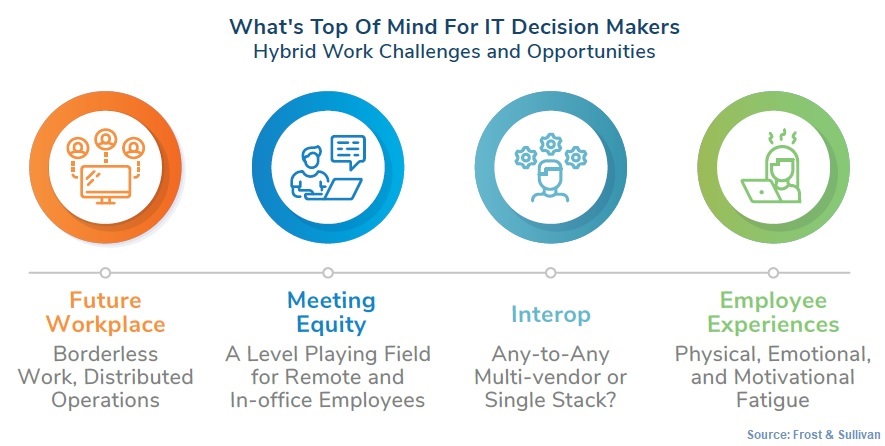 The Future of Work is Hybrid
The future workplace is nimble, borderless, and distributed. As businesses worldwide prepare for the return to office, some employees will prefer to continue as fully remote workers while others will go for a mix of in-office and remote work. This new model will mean different things for different organizations, and the mix will be largely dependent on company culture, job personas, availability, and location of office space, as well as the industry segment in which the business operates. Flexible work has created new opportunities for organizations to tap into anytime, anywhere talent which is allowing businesses to tap into a global talent pool of agile resources.
One thing is clear – the future is hybrid, and collaboration technologies have established themselves as the glue that brings together remote and on-site teams.
Frost & Sullivan presented its key findings on the role of collaboration technologies in the future workplace:
Post-pandemic, the number of remote workers will be six to seven times greater. Group chat and video conferencing are becoming the linchpin for collaboration. Post-pandemic usage of video meetings has grown by more than 350% compared to pre-pandemic.
Hybrid work, dispersed teams, and relocation of large, densely populated corporate campuses to more distributed sites are leading to significant real estate reduction, changing the footprint of the future office. Dispersed teams translate into more video meetings, which will lead to more meeting rooms per office location. In a recent Frost & Sullivan survey of 3,200 IT decision-makers, 36% of the respondents said they will reduce their office real estate footprint, and 37% said they will invest in more meeting rooms. Similarly, when asked about the top post-pandemic technology investments that IT is prioritizing, video conferencing emerged as the number two IT priority right after cloud migration.
Data-driven insights and AI will lead to improved user experiences and new efficiencies across the workplace.
IT's role continues to The biggest IT ask in 2021 is focused on greater control, manageability, and security.
AVI-SPL customers agree with these dramatic shifts in the unified communications and collaboration landscape. One customer noted, "We are seeing an increase in the number of meeting rooms. Video is becoming pervasive." Another customer commented, "We are planning to video- enable 95% of our office spaces, including huddle rooms, for the post-pandemic return to work."
Given the roaring success of remote work on a large scale, business leaders need to quickly plan and implement a new model that allows unprecedented connectivity and interactions across remote, in-office, and hybrid work.
Meeting Equity – Inclusivity for All
A key challenge that IT and business leaders brought up during the event was the need for meeting equity. One customer articulated, "As people start to creep back into offices, we're seeing a lot of concern about keeping a level playing field regarding presence in meetings for remote and on-site staff. The pandemic was really a great equalizer with everyone being remote." The return to office is leading to a growing demand for meeting solutions that will help equalize presence regardless of where the participants are located. In the past, remote participants joining in-person meetings were often relegated to a compromised experience for audio, video, and content collaboration. On video calls, remote users get the "bowling alley view" of the meeting room and miss out on the up, close, and personal experiences they have now become so accustomed to on Teams and Zoom calls.
Going forward, AI and ML will take the lead in bridging the distance between locations and participants to provide equitable and inclusive experiences for all. Taking auto framing to a whole new level, many cloud service providers and meeting room device vendors are working jointly to enable intelligent detection of people in a meeting room to send multiple camera streams, which are then composed so that each room participant appears in a separate pane in the online meeting UI for remote participants. This AI-driven hardware and software integration is a key area of innovation for better meetings for hybrid work. In the future, technology providers will be able to leverage multiple cameras in a room (including laptop cameras) to provide fully inclusive views that will likely capture the varied nuances of how people typically sit and interact, and how furniture is placed in rooms of varied sizes.
Interop for Any-to-Any Communications and the Emergence of "As-a-Service" Models
CIOs today are facing a unique challenge. The rapid technology expansion during the pandemic months has resulted in a plethora of communication tools across their organizations. Many employees are showing a strong preference for technologies of their choice. Moreover, growing external communications means there is a greater need to connect multiple solutions that are not always compatible. This puts further pressure on IT leaders to make external collaboration simple and effective. Many organizations today have four to five business communication tools across a host of cloud services and platforms – be it Microsoft Teams, Google, Zoom, or Webex – and are challenged with not only managing and supporting multiple platforms, but also selecting the right technology to deploy by workspace, use cases, and workflows.
The inability to have seamless external collaboration is a big hurdle. The problem is growing exponentially, keeping in mind that today's businesses are becoming more and more global and building their network of customers, partners, suppliers – often leveraging a different communications solution. Frost & Sullivan's survey of global IT decision-makers indicates that by 2022, only 16% of the organizations will standardize on a single communication platform across their organization while 84% will be using multivendor solutions. Interoperability is fundamental to enabling better collaboration. Customers are looking at enabling any-to-any communications without additional investments in gateway services and infrastructure.
During the roundtables, a large enterprise customer also raised the issue of technology obsolescence. Due to the accelerated pace of innovation, technology investments being made now could run the risk of getting outdated in a matter of months compared to years in the past. Addressing the interop and technology refresh concerns, Joe Laezza, Strategic Accounts Program Leader at AVI-SPL, recommends that organizations fully leverage the "as a service" approach to stay nimble on new technologies and lifecycle refresh without getting married to a single infrastructure. Specifically, cloud solutions integrated with plug-and-play devices are a game-changer today. Furthermore, working with leading service providers that help with technology migration strategies as well as integration, interoperability, and centralized management and monitoring can ease IT's key concerns in multi-vendor environments.
Employee Experiences
Frost & Sullivan observed during the roundtables: "In the past, collaboration tools were primarily centered on productivity enablement. User engagement and employee well-being are now getting increased attention and becoming a central theme. Technology is now taking the lead to simplify employee experience and lives."
While video meetings have helped with more face-to-face interactions to support workers during a very challenging time, the issues of employee fatigue and lack of engagement are becoming key concerns. There was no dearth of productivity during the pandemic months –people worked harder than ever before. Probably too hard. The outcome can often be negative for employee experience and engagement. According to Microsoft's "2021 Work Trend Index: Annual Report," more than 40% of the global workforce is considering leaving their employer this year.
Going forward, technology must take the lead to simplify employee experiences along with their personal and professional lives. Analytics and data-driven insights will not only help employees with self-assessments, but also provide critical insights to business leaders to take corrective action that improves employees' lives, mental well-being, and overall engagement and performance.
Call to Action
As CIOs and IT decision-makers navigate the post-pandemic future, they face a myriad challenges and, at the same time, have immense new opportunities ahead. The time to reshape your organization is now. The time to build a more inclusive and equitable future for all is now. The time to fully leverage the potential of technology to tap into the global talent pool is now.
The new and unknown territory of hybrid work demands that business leaders shed their old notions and assumptions to embrace new operating models that enable an elegant shift to the future workplace. They should:
Understand Unique Opportunities and Move Early — Support the massive shift to remote work with new and powerful cloud communication services and modern audio, video, and content collaboration devices that enable smart communication experiences in every space to support anytime, anywhere work at
Bridge Gap between Virtual and In-person Experience — Cloud desktop meetings have seen big leaps in innovation during the As workers return to the office, the meeting rooms experience must keep pace. Obsess over usability in rooms and drive the same level of immersion, ease of use, and rich feature sets that are now the norm in personal meetings.
Video-enabled Workflows — Horizontal meetings are moving to video-enabled use Whether you are in health care, education, government, retail, or manufacturing, your organization must tap into the power of video-enabled workflows to transform business processes, drive innovation, and create entirely new markets.
Prioritize Building Human Capital and Inclusive Work Culture — The talent pool has vastly Seize this opportunity to not only attract the best and most diverse talent, but also build an empathetic workplace that nurtures human capital for long-term success.