Factories have, for a long time now, been connected and controlled by supervisory control and data acquisition (SCADA) systems. These systems in turn feed data into manufacturing execution systems (MES) which collect and manage manufacturing data, and into distributed control systems (DCS), which control the equipment. Data as such is of no use. IIoT bestows the power of analytics on such data and converts it into meaningful insight. These insights not only help in predictive maintenance of machines well before a breakdown or machine failure but also help in effectively tracking products across the pharma value chain.
The pharma industry generates a huge volume of data that needs constant and regular documentation, which will need to be stored and maintained. IIoT can become the catalyst for paperless manufacturing, as all these records can be stored and maintained online. In addition, it offers remote access to records which in turn helps process information quickly and take decisions faster.
Globally, pharma companies are encountering several challenges that arise from lapse in supply chain security. As a direct consequence of this challenge, pharma companies face several issues such as theft, diversion, and product recalls. All these further result in monetary and reputation losses for pharma companies. There is, therefore, a need for product serialisation and a mechanism to keep track of supplies at all stages of the manufacturing value chain, including logistics and delivery. Pharma companies and governments the world over are now starting to understand the importance of implementing IIoT within the supply chain.
The pharmaceutical ecosystem includes entities such as drug manufacturers, wholesale distributors, and retail pharmacies. Products would need to pass through all these entities in the pharma ecosystem before finally reaching the end consumer. Therefore, ensuring secure product track-and-trace capabilities across various touch points throughout the supply chain—through the implementation of product serialization—is crucial to address the challenges faced by the industry. Apart from providing visibility and full traceability within the supply chain, successful serialization programs will prove a key differentiator and a clear competitive advantage for pharmaceutical companies. Data collected by smart factories will become the backbone of pharmaceutical manufacturing in the days to come.
With the increasing complexities in manufacturing supply chain, there is a growing need for effective tracking and traceability of drugs across the pharma value chain. Smart product identifiers, such as 2D barcodes and RFID tags, will help serialization of pharma products. This in turn will help improve supply chain visibility and product recall management. The following illustration briefly describes how serialization can go a long way in deriving benefits from connectivity.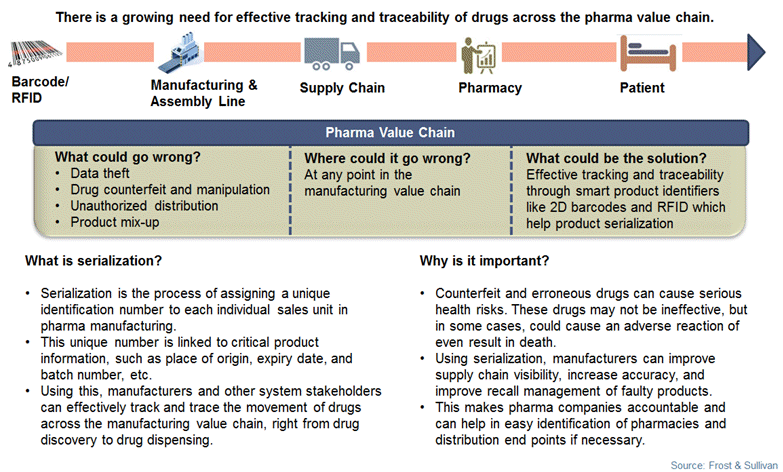 Pharma companies that implement IIoT will be able to meet all requirements for serialization and can tap into the data already gathered. With IIoT, the possibility of connecting equipment, networks, and systems to share information across the plant floor becomes possible; this in turn enables faster processes and decision making. With IIoT, manufacturers can gain access to all the data in real time and gain improved visibility across all stages of manufacturing value chain, from production until distribution. Manufacturers can also effectively be able to extract necessary data records from any device that track and trace of products. Should there be an issue, then manufacturers can immediately raise a red flag and recall affected products faster and more efficiently. This advancement in the pharma industry has helped manufacturing companies improve quality and gain a clearer understanding of their operations and processes, helping improve customer safety without tarnishing brand reputation.
IIoT further supplies the necessary infrastructure that enables the extension of data to different layers of automation within a factory. Moreover, gathering data for analytics becomes cheaper and faster without disturbing any control systems in the process. IIoT also allows automation by modules which further help scale production up or down according to the prevailing market needs. This in turn enables faster time-to-market for pharmaceutical products in accordance with market- or region-specific rules and regulations.
IIoT will become an integral part of the manufacturing supply chain. Supply chain has a key role in pharma manufacturing to help address new challenges; for example, increasingly global and outsourced supply chains. Supply chains today demand high levels of coordination and alignment across all stakeholders and processes. Visibility and collaboration across the entire supply chain were not challenges that traditional business applications could resolve. As a consequence, pharma companies understand the value of advanced IIoT solutions that could help fill this gap. Leading pharma companies are taking lessons from IIoT implementation in parallel industries. This has resulted in numerous benefits for the industry:
Increased and up-to-date visibility of the supply chain
Complete control over quality and serialization
Higher on-shelf availability
Better margins and profits
Digitization is therefore a major priority for pharma manufacturing companies to make their supply chains more effective.