By Benny Daniel, Vice President – Consulting, Mobility (Europe)
The Geneva International Motor Show 2019 showcased once again how the lines between high tech and the automotive industry are blurring, with advances in the former seamlessly blending into the latter to jumpstart cutting-edge offerings. Glamorous car launches besides, there was some interesting buzz around new technologies, exciting announcements on the autonomous technology front and, most interestingly for me, the emergence of bold new business models.
This year's show reiterated how rapidly and how definitively four trends have transformed the automotive industry. So here's my take on Connected, Autonomy, Shared and Electric (CASE), albeit with a twist.
Fiat was in super cruise mode with its innovative business model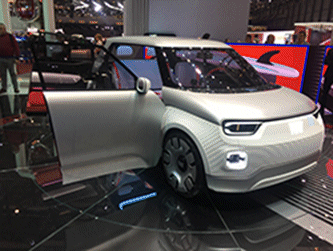 Fiat was the scene stealer and show stopper for me. Its new business model centres on a deceptively simple philosophy – "Cut the complexity in manufacture and hand power to customers and partners". The Geneva Motor Show was the perfect playground for Fiat Chrysler Automobiles (FCA) to spotlight its unique partnership with Apple; a collaboration that allows functions like communication, navigation, and music, including Fiat's own playlist, to feature with up to 6 months of Apple Music….free!
Term it the next defining moment, but the connectivity strategy was all about migrating from bonnet (powertrain) to pocket (the Apple partnership). New business models powered by plug-and-play (infotainment and seats) and customisation (the battery range extension with Samsung, for example) addressed "choice anxiety" as opposed to siloed range anxiety or control anxiety, concepts that are currently limited only to electric vehicles and autonomous functions.
Interestingly, FCA unequivocally conferred a modern role play for Mopar, its accessories division. Customers' choice in the future will be addressed in four unique ways, ranging from going to: a traditional dealer, online, 3D printing (the new DIY) as well as e-commerce portals where a new, second life can be breathed into used accessories. The role of FCA as an important customer interface will be to nurture the community it creates. Serving them via the e-commerce (display on the car) platform will be just one of the ways to achieve this objective.
Autonomy (not Autonomous)
Skoda shines as an independent, agile and inventive brand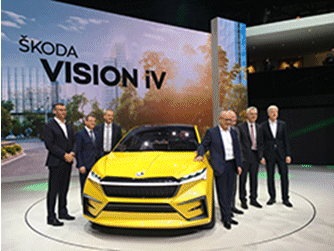 Skoda started with a bang, launching its new mobility bike, Klement, that is a mix of an e-bike and e-scooter. This (almost) signals Skoda's resurrection from its beginnings as a bike producer. This is bound to be merely the first of many announcements that we can expect fromSkoda as it gears up to launch several versions of novel mobility concepts and solutions.
On display were technical features such as a top speed of 45km/hr, a 60km range including induction charging capabilities, Feature on Demand (FoD), cruise control abilities, and curve abs. Pushing the envelope on its "Driven by Inventiveness" motto, Skoda put on a pure play capability show highlighting individual mobility and its vision of reinvented mobility. Under the "My Skoda" umbrella, Skoda also brought alive its mobility ecosystem services such as smart parking, Hoppy go, and Trunk, while imparting a real world flavour by partnering with cities like Prague.
Skoda also discussed plans to invest €2 billion in alternative and new mobility solutions. On the anvil are PHEVs and NEV city cars with a 300km range slated for release in 2019, with over 10 models primed for a 2022 rollout. The company also has plans to charge their latest offerings using a "Skoda echarge card" that allows home charging on a wall box. Watch out for the Vision iV with a 500km range 30 min charge that can rev up from 0-100kmph in 5.9 seconds, with plans for a production version by 2020.
Aston Martin's Lagonda foresees luxury on wheels with customised interiors to suit your needs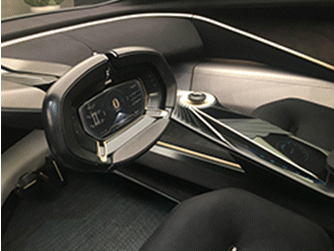 The insides of the Lagonda All-Terrain Concept are as luxurious as any yacht. The driver faces a steering wheel with an integrated gauge cluster in the hub. The wheel, however, is not necessary to drive this EV crossover as it offers an autonomous driving mode. Arguably, the standout interior detail is its physical key, which levitates in between the two front seats by way of electromagnets customising it to the individual taste of both driver and rear passenger. Everything about the concept is believable, at least in terms of where the Aston Martin brand and its Creative Director of Design Concepts Nigel Brook can take it. Personally, this one was the show headliner from a concept point of view. I'm already hankering to park this one in my garage!
Volkswagen tries and succeeds in making its tagline "eMobility is fun" work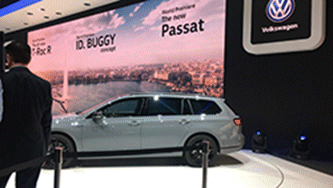 With record sales of over 6.24 million cars in 2018, Volkswagen was on track to stamp its intention and mission on everything e-Mobility. The first step (you guessed right!) was renaming the VW I.D to a much snappier I.D3. The second step was the announcement of its energy division—Elli GmbH—that provides the promise of 100% renewable energy, bi directional charging capability, and provision and installation of EV chargers so that VW customers can experience a truly fun and seamless e-mobility customer journey. Volkswagen has plans to launch 20 new xEVs by 2025, and clearly these two decisions are steps in the right direction.
Through the "WE" app, that supports a unique ID code for each customer, VW is on course for unparalleled market leadership. Combined with the already existing 1.5 million customers that it has via Carnet, VW aims to bring all its services under one roof. The electrification of the Passat through the GTE was the final act in what looks to be an electric future for Volkswagen.
The Last Word
The objects people interact with on a daily basis, including vehicles, are increasingly connected. That means customers will soon begin walking into dealerships with a deeper understanding of IoT and start asking questions about the automaker's implementation of IoT for drivers, including data collection and privacy. With every passing show, the reality of this future is slowly being unveiled in very interesting ways.