Leasing companies to explore and refine newer solutions such as SME, used car and xEV leasing in the company car space
The global company car leasing market had a stable 2018, registering a year-on-year (YoY) growth of 4.1% to hit 7.7 million in unit sales. Full service operational leasing drove company car registrations to the tune of an additional 200,000 contracts in 2018 as it continued to be the preferred leasing solution among company car fleets, representing 58.2% of the total fleet leasing contracts sold. In 2019, the global company car leasing market is projected to grow 3.9% to hit 7.9 million units. This slowdown in growth will be due to the emergence of new alternatives which are transforming the leasing industry.
In addition, geographical expansion by market participants picked up pace in 2018 as companies resorted to new partnership strategies or acquisitions to increase revenue from innovative mobility and mobility-aided solutions. The emergence of new mobility solutions characterized 2018. Lease companies actively started looking for new revenue streams over and above that generated from company car leasing. These included SME leasing, used car leasing, xEV leasing and other mobility services like corporate car sharing, among others.
While these were the key developments in 2018, Frost & Sullivan's 'Global Company Car Leasing Market Outlook, 2019'—an annual study on major trends in the global fleet vehicle leasing market—finds that 2019 is going to be a year of exploration of, and refinement to the new business segments identified in the past few years.
Lease companies have created exclusive brands and have invested in building dedicated resources in order to more fully tap into these new business segments.
Electric Vehicle Leasing
The adoption of xEVs in fleets is expected to increase as a result of governments pushing corporates to reduce fleet emissions. However, frequent technology upgrades make the residuals of electric vehicles (EVs) uncertain, creating challenges for electric fleets. Almost continuous advances in electric powertrain technologies means that, typically, people only want to lease such vehicles, rather than buy them and have to deal with their rapid obsolescence. Since leasing addresses the risks related to a vehicle's residual values, demand for xEV leasing is rising among corporate customers. Leading OEMs like BMW, VW and Volvo are already competing aggressively in this market segment. However, lease companies, backed by their expertise in residual management, have the upper hand. In addition, lease companies are better positioned to redefine and streamline the current business models being followed by OEMs.
In the future, xEV leasing will drive the emergence of new revenue streams in the leasing value chain. These will span charging infrastructure, which is currently a hot segment, with Vehicle to Grid (V2G) and battery management also gaining importance over time.
Globally, the hotspots for xEV leasing will include BENELUX, Sweden and Southern Europe which will experience double digit growth. xEV leasing is expected to grow at a robust growth rate of 18.5% in 2019. Adoption rates will be strong in the developed countries of Europe and in the US as both OEMs and independent leasing companies are expected to expand operations.
Major lease companies in the xEV leasing segment include Electric driving by LeasePlan, ELD Electric, Go Arval Electric, and AlphaElectric.
Fig 1: xEV Leasing Regional Analysis, Global, 2018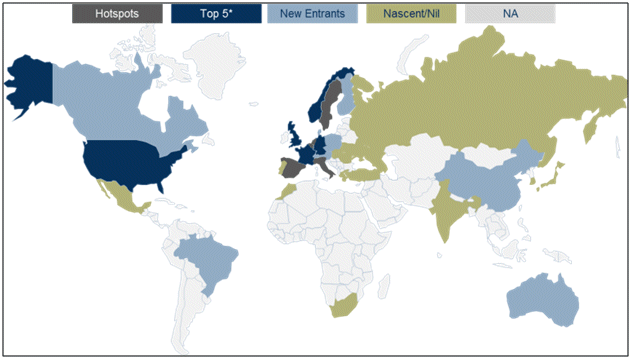 Private Leasing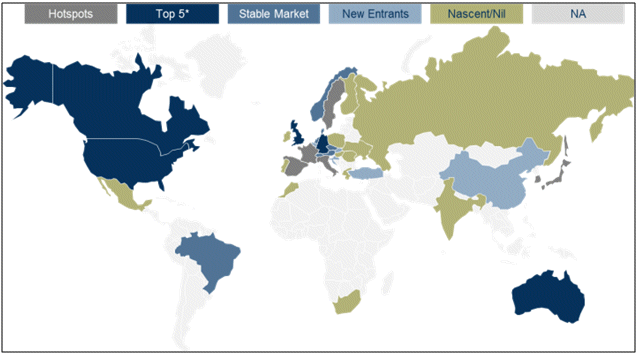 Fig 2: Private Operational Leasing Regional Analysis, Global, 2018
It is a known fact that lease companies, confronted with the prospect of a relatively saturated corporate leasing segment, started focusing on the retail segment over the past two years. Trends such as cash alternatives for company cars, and the rising preference for lease vehicles that are not linked to employment are driving growth in private leasing. For obvious reasons, customer preferences are highly skewed towards operational contracts for private leasing. Sales channels play an important role in reaching out to customers, and lease companies are leveraging digital platforms and social media to embrace prospective buyers.
Globally, the hotspots for private operational leasing (POL) include Japan, South Korea and Sweden, which will experience double digit growth. In 2019, private leasing registrations are expected to plateau in the North American region, while the global market is anticipated to be spurred by new contract sales in Europe which are projected to grow at 5.2% in 2019.
Major lease companies in the private leasing segment include LeasePlan Go, Arval's Employee Lease, and LeasinAuto avec ALD Automotive.
Used Car Leasing
Once considered to be cannibalizing new car leasing, used car (UC) leasing is now gaining more interest in the market. The development of servicing capabilities and expertise in maintenance forecasting has now put UC leasing on track to be perceived as a viable leasing solution that can co-exist with new car leasing. A critical challenge faced by the UC leasing market centers on the supply of good quality vehicles which can become a deal breaker in such businesses. A solution for this is off lease vehicles; an estimated volume of 8.6 million off lease vehicles came out of lease contracts in 2018. This represents a huge source of better maintained vehicles that can be used for 2nd life leasing.
Fig 3: Used Car Leasing Regional Analysis, Growth Trend, 2018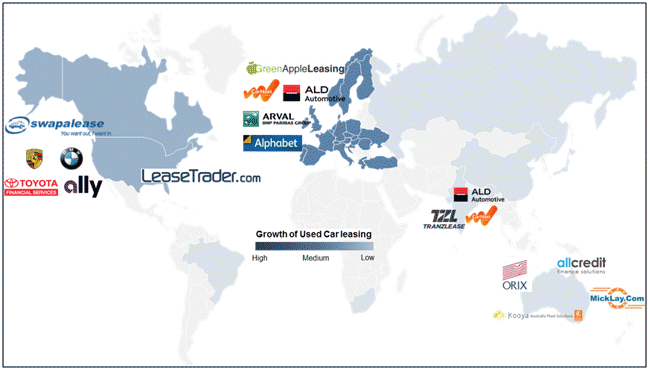 Leasing companies that offer operational leasing have better clarity over the residual values of the off-lease vehicles and better realize the total life cost of the asset by offering them as re-leases.
Major lease companies in the UC leasing segment include UC Leasing by LeasePlan, ALD's Second Lease, Arval's Re-Lease, and Athlon's Second Drive.
Small and Medium Enterprises (SME) Leasing
In addition to private leasing, lease providers are also focusing on small and medium enterprises (SMEs) in the business space. Increasing awareness about the benefits of leasing is motivating the demand for vehicle leasing among SMEs. Over 99.0% of non-financial sector companies in the EU are SMEs that remain largely untapped. Most SMEs prefer financial leasing as it enables better liquidity, allowing them to channel revenue savings toward their core business. Many micro SMEs prefer to purchase their leased vehicle at the end of the contract.
Customer segments include support entities of construction, healthcare, eCommerce, start-up companies, and entrepreneurs. Most of the corporates that SMEs serve also use leasing services, which makes it easier for lease providers to extend such services to SMEs. Product flexibility is a key criterion to win this customer base as it is a price sensitive one. Moreover, unlike corporates, they do not expect high levels of sophistication in the leasing services that they demand. These are factors that lease companies must keep in mind while developing solutions for the SME segment. Currently, the demand for SME leasing is growing in parts of Northwestern, Central and Southern Europe. Leasing companies can look forward to developments in Asia Pacific and Eastern Europe over the next 3-5 years, mainly for light commercial vehicle (LCV) fleets.
Major lease companies in the SME leasing segment include LeasePlan SME Car Lease, Arval Easy, ALD Automotive, and Alphabet.
Vehicle Subscription: An Extension Of Private Operational Lease
2019 will be the year of car subscription with the US taking the lead, followed by Europe. Pilots in the rest of the world will assess the potential and dynamics of the product in these regions. Competition in the vehicle subscription market is fierce, with companies from various businesses— OEMs, start-ups, vehicle rental firms and leasing companies, among them—trying to enter the market. Lease companies have an edge over others in building this service with attractive features based on their superior expertise in residual estimation that comes from years of benchmarking and remarketing off lease cars.
Fig 4: Vehicle Subscription Regional Analysis, Global, 2018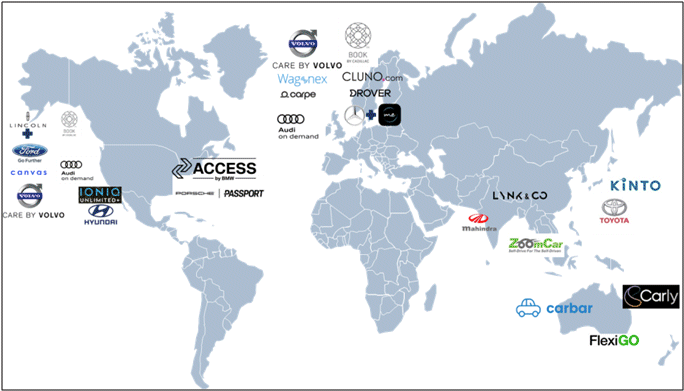 Unlike the traditional car buying experience and, to an extent, the experience of buying a lease contract, car subscription starts online or through using a mobile device. This way the company to customer relationship becomes a one-on-one digital experience, which can be leveraged by offering customized solutions/benefits to customers. Subscription also allows total transparency in knowing the monthly expense that a user has to apportion as against a car that is owned or financially leased.
Car subscription is seen as an extension or a refined version of an operational private leasing solution, with the former providing greater flexibility than the latter in terms duration, pre closure, and car swap. This business segment holds promise for lease companies and this year would be the right time to explore, invest or enter the segment.
Digitization
The above discussed business solutions that are key in the leasing space are, in one way or another, heavily reliant on being online and available anytime for customers. Digitization, therefore, is essential for companies to thrive in the market. Leasing companies are already investing in digital technologies to enable faster lead generation and more efficient transactions. Market participants are also increasingly investing in fleet telematics to improve the total life cost of their assets.
Major lease companies with successful digitization initiatives include ALD's Profleet, LeasePlan Telematics, VW Fleet Telematics, and Free2Move Connect.
To conclude, a plethora of newer mobility solutions are emerging that are currently in various stages of evolution. While there are quite a few success stories across the globe, there are also cases where the provider, such as happened with Book by Cadillac, has had to get back to the drawing board to refine the solution features, business model, sales strategy, or pricing. So 2019 is going to be a year of exploring and refining newer leasing solutions in the company car space. It will also be a year of intensifying competition where not only lease companies but others in the ecosystem such as OEMs, start-ups, ad dealers/brokers battle it out to grab a chunk of this lucrative mobility business.
The "Global Company Car Leasing Market Outlook, 2019" is an annual research study that identifies and evaluates the key trends impacting the fleet vehicle leasing market, globally. It assesses the top leasing providers in Europe, North America, Asia Pacific and BRICS and their distribution strategies. It also offers insights into new mobility solutions, technological advancements and legislations that will influence the market in 2019. The research provides projected volumes of key auto leasing segments including operational, financial and private lease in 2019.
For more information on the Global Company Car Leasing Market Outlook, 2019, please visit https://www.frost.com/mea5 or write to myfrost@frost.com to order your copy.