The largest economy amongst the Gulf Cooperation Council members, Saudi Arabia, is striving to position itself as the logistics hub of the region with its Vision 2030 initiatives, driving growth in the logistics sector. Under Vision 2030, The Kingdom launched the National Industrial Development and Logistics Program (NIDLP), which has since added five new shipping lines to the country's ports leading to Europe, Africa, and Asia. It has also established strong interconnectivity between local as well as regional networks for cross-border trade and freight movement to flourish with streamlined and digitalized customs procedures. Supporting this program is the National Transport and Logistics Strategy, which is aimed at laying the foundation for the development of transportation structures through the various modes of transport: air, sea, and road. Its targets include the expansion of sea freight capacity and the development of railway line for multimodal connectivity by 2030. The strategy also aims to achieve a 4% increase in the contribution of transport and logistics segment to make the GDP reach 10% for the same year.
To supplement the planned growth of the nation, the Kingdom must speed up development of its logistics infrastructure through organization and digitalization. To unlock its full logistics potential, the country must develop a strong multimodal infrastructure and network with developments in each mode of transport. With railway lines being utilized, KSA will be able to speeden and ease freight movement within the country as well as the GCC region. Streamlining procedures on behalf of the government will further speed up movement of cross border trade. By improving on its logistics performance, the country will be able to reach its goal of lowering its logistics costs. Saudi Arabia intends on supporting this logistics advancement through its Global Supply Chain Resilience Initiative, which was initiated in 2021.
Global Supply Chain Resilience Initiative
The Global Supply Chain Resilience Initiative (GSCRI) is an initiative of the National Investment Strategy that particularly targets investments in the KSA's supply chain. The initiative focuses its efforts to support foreign investment strategies, by adding more economic zones and making KSA a key logistics hub for global exports economies. The country aims to establish a secure resilience in its supply chain with access to the global supply chains to avoid and supply chain related disruptions that negatively impacted the country during the COVID pandemic.
The GSCRI is anticipated to focus its investments on key industries of aerospace and defence, machining and equipment, healthcare manufacturing, automotives, maritime, building materials, petrochemicals, agriculture and food processing, mining and metals, renewables, and information & communication technology. The initiative aims to garner a total investment of SAR 40 billion in the first couple of years and has incentivized SAR 10 billion to support the initiative. Financial as well as non-financial incentives are expected to attract foreign direct investment (FDI) inflows for trade-oriented products and services mainly revolving around the sustainability and climate change, future industry enablement, global supply diversification, and advanced manufacturing. With Investments for development in these areas by Vision 2030, GSCRI will capitalize on these developments to attract global companies by offering inexpensive renewable energy sources for green manufacturing of products such as green metals that is projected to multiply four folds by 2040.  KSA's sustainability goals will push the influx of investments from green supply chains providing the nation with new supply networks.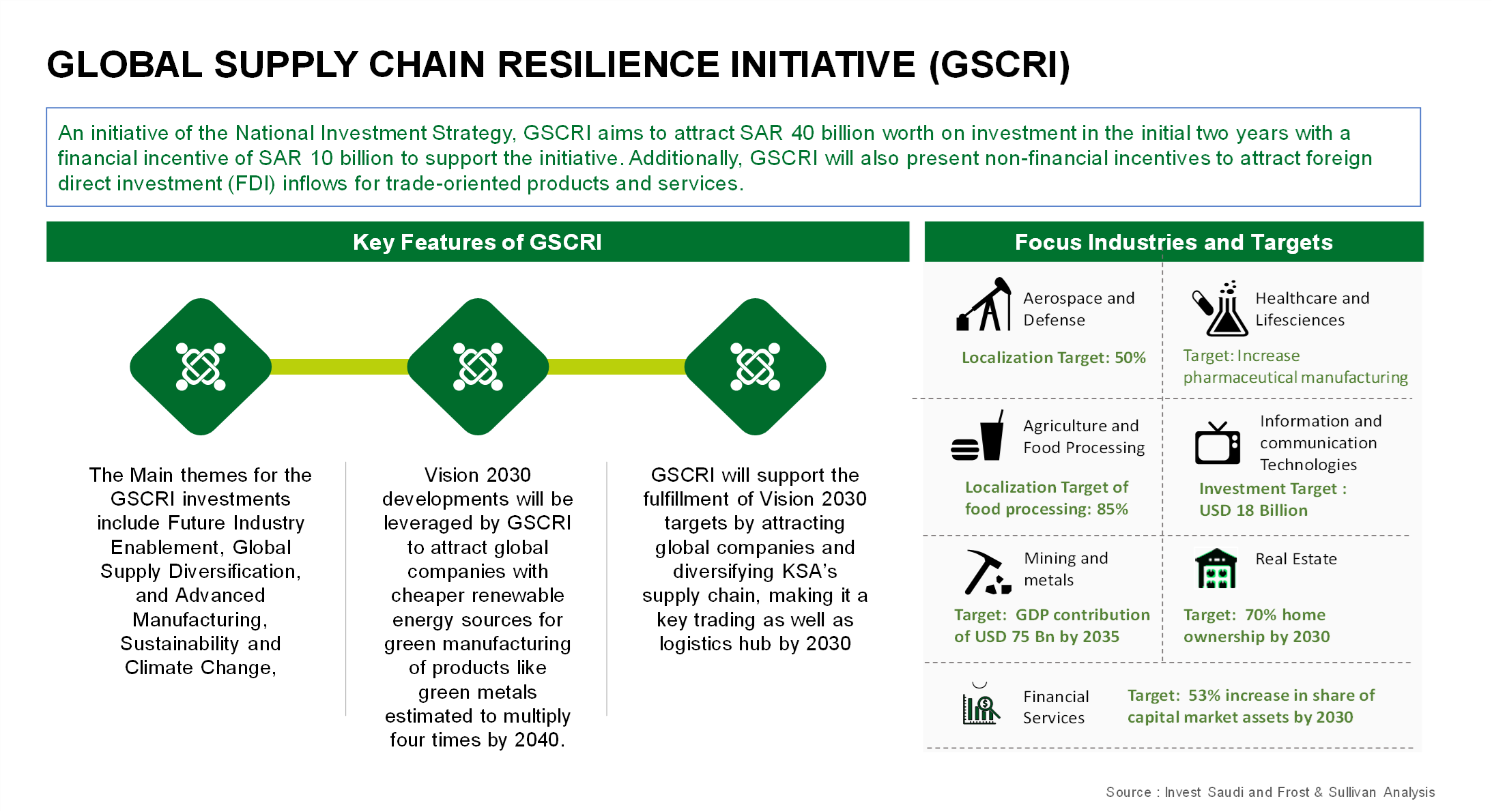 Impact of GSCRI on Supply Chain and Logistics
The Kingdom's strategic location, between the Asia-to-Europe trade route with borders along the busiest shipping routes of the Red Sea and the Arabian Gulf, offers the country a huge opportunity in leveraging its position to attract investments. Sustainability initiatives such as the Saudi Green Initiative and the Middle East Green Initiative are expected to develop renewable energy resources and carbon-free industrial and logistics activities. These are anticipated to attract foreign companies into setting their operations in the Kingdom. By offering a sustainable manufacturing option, the country will not only strengthen its industrial base, but also integrate with the global supply chain. With developments and strides in establishing more than 40 industrial and economic zones, the country is on track regarding strengthening its logistics infrastructure throughout these industrial and economic cities as well as in airports and ports. The Kingdom has been making rapid developments in its logistics sector and the GSCRI is expected to play a key role in bridging the gaps in areas such as logistics and digital infrastructure.
Logistics Infrastructure and Global Connectivity: With a total of 28 airports connecting 45 countries, 5,590+ km of rail and 232,000+ km of road network, the Kingdom has the 23rd largest road network on a global level. In addition, KSA's 3 key ports rank amongst top 20 in the Container Port Performance Index 2021. This has established the nation's logistics infrastructure with warehouse capacity being added to support the influx of trade. Saudi integrated logistics zones are being established in airports to increasing the number and quality of warehouses with cold storage facilities as well as e-commerce fulfillment centers as cross border e-commerce is on the rise and trade numbers are steadily increasing to fill the supply gaps.
Building Digital Infrastructure: KSA's 5G penetration has seen rapid development over the years with strides in digital infrastructure. With digitalization across the logistics sector using Bigdata, artificial intelligence, blockchain, robotics, and automation; 5G will play a major role in connecting these technologies and providing faster and efficient connectivity. This will be a breakthrough in technological advancements in the supply chain with predictive analytics and automation to lead efficiency and eradicate disruptions.
Freight Capacity Expansion: GSCRI is expected to have a positive impact on the development of seaports, such as the King Abdullah port and expansion of the Jeddah Islamic port, which are expected to increase sea freight.  Higher number of established seaports are to improve the export and import container movement and storage. Investments of USD 100 billion in expanding the aviation sector is expected to increase KSA's air freight capacity by two folds. The country is also investing in its railway cargo with plans of adding another railway line, expanding its current 3,650-kilometer track on three lines. It aims to add 8,000 kilometers to its existing track connecting Dammam industrial and Jubail industrial port.