While the question of when premium traffic will make a comeback is something that is in the mind of every executive in airline boardrooms across the world, a more immediate question is what will it take for this all-important segment to take off again. Similar to leisure traffic, the underlying base requirements will be the same: reopening of borders, easing of travel restrictions, and preservation of air travel corridors.

However, these have proven to be difficult to implement and maintain in practice. The recent example of the UAE-UK air travel corridor has highlighted current fragilities. With the establishment of the air travel corridor on 12th November 2020, airlines immediately put their widely available capacity to serve the expected surge in demand. For example, Emirates re-established its links to the UK with multiple daily services to a range of UK airports, including London Heathrow, Manchester, and Birmingham. While not near its pre-pandemic flight schedules, the airline gradually increased capacity on these routes, including the utilization of its A380 fleet.
The glimmer of hope provided to airlines in this corridor along with other airlines in their respective corridors globally, however small within the global context, came to a grinding halt with the announcement of new lockdown measures by the UK Government on 5th February 2021. Despite having ample capacity available, this latest development presents significant uncertainty and planning challenges yet again for airlines.
With the release of its 2020 full-year global passenger traffic results, IATA has confirmed what was already known within the industry: the industry is in dire straits, with 2020 officially the worst year in the history of air travel. With global passenger demand plunging by two-thirds compared to 2019, airlines have suffered extensively despite globally available capacity also shrinking by nearly 57% in the same period.
While domestic demand fared comparatively better with a decrease in demand just short of 49%, this provides little consolation for incumbent airlines of the Middle East. Particularly within the GCC, airlines are dependent on international demand, which declined by a disastrous 75.6%.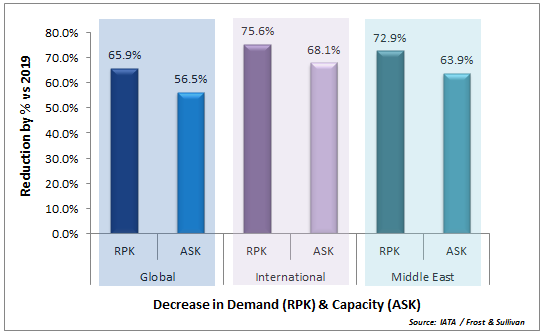 Even as the aviation industry struggles, it has become increasingly difficult to forecast when will the travel industry start to recover globally, be it for business or leisure. This has been and continues to be, due to the evolving challenges associated with global pandemic recovery efforts. Such challenges are presenting persistent road blocks to the steady recovery of global air travel, in particular to premium traffic that is the cornerstone of airline route and network profitability.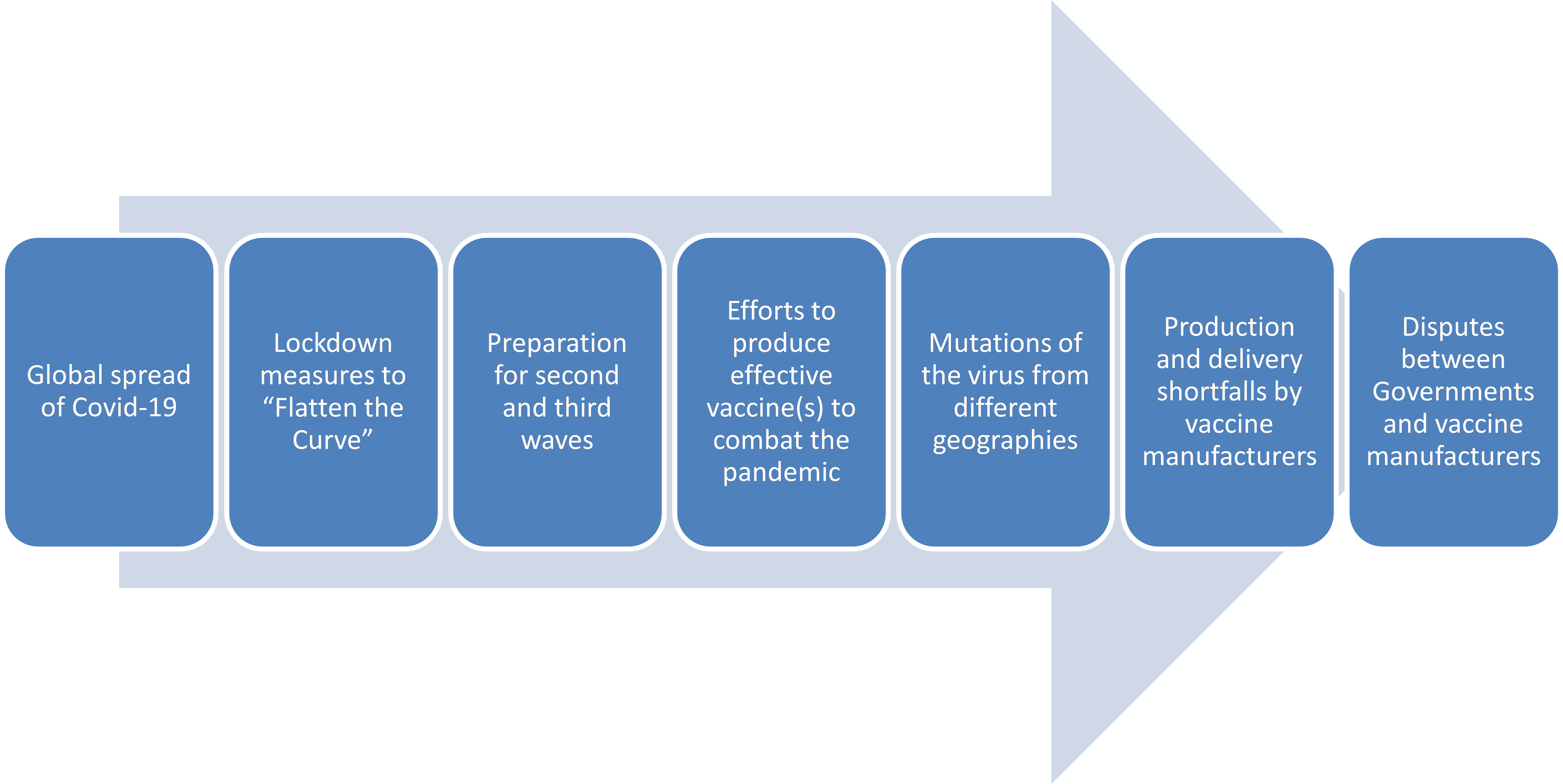 Business travel is expected to recover significantly more slowly than leisure travel, and even more slowly than previously recorded post-recession recoveries in air traffic experienced globally. Indeed, leisure traffic has always recovered faster than premium traffic following recessions caused by 9/11 or the 2008 global financial crisis. However, it is key to understand that these crises originated from one source and in this increasingly interconnected and globalized world, their impact was felt globally.
Today's scenario is very different – not only is the world and its economies more interconnected than ever before, but we also have an ongoing global pandemic. Furthermore, the persistent lack of a truly globally coordinated approach to deal with the pandemic has meant that no two countries have been the same with regards to the spread of the pandemic, their response to it, or in the roll-out of their vaccination programs.
This will have distinct and substantial effects not only on changing trends within companies regarding corporate travel but also on the business models of a vast majority of airlines, going forward.
Corporate travel managers are likely to have additional concerns and a more complicated process flow when it comes to deciding and arranging travel for their employees. At a high level, these can be categorized as below: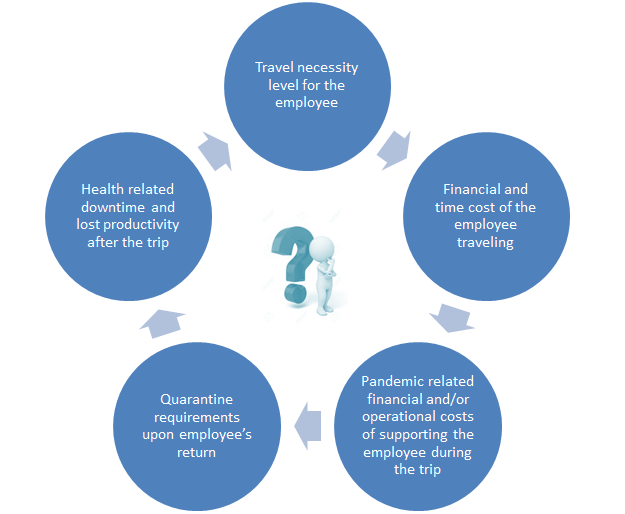 With the overall absence of the crucially important premium traffic yields and unrelenting price competition from equally wounded competitors, the need to adapt and reinvent their business models is a clear and present fact for airlines.
In general, airlines face momentous challenges but only a limited arsenal with which to deal with them. With cash liquidity being the most important part of this arsenal, through strong cash reserves or governmental support during the crisis, airlines are limited in their ability to respond to such drastic changes in the market.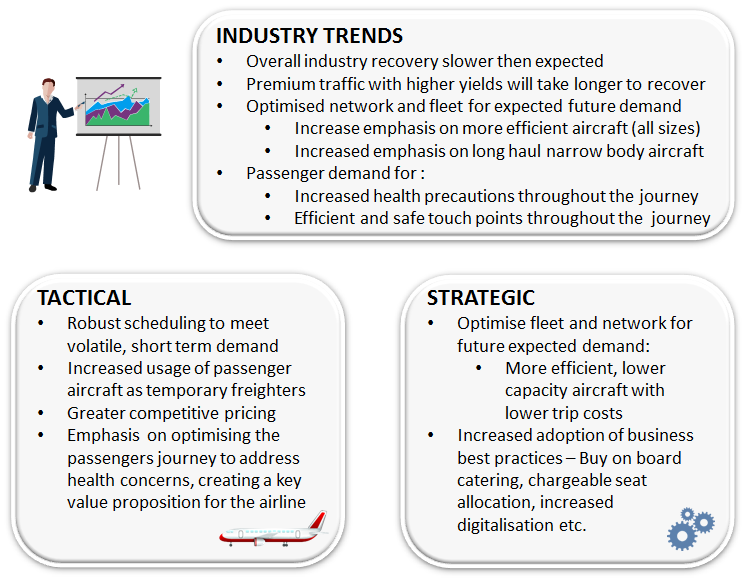 Consolidation of the industry is inevitable, with the size and shape of the consolidation depending on how long it will take to recover and achieve sustainable traffic levels globally. Airlines that can weather the storm will survive, others will look to merge or be acquired, while the remainder will face insolvency