The competition is getting hotter, with everyone keen to "grab" (pun intended!) a chunk of the mouthwatering Southeast Asian on-demand food delivery market. GrabFood, Foodpanda, and GoFood are looking to take a bigger bite of a market that already accounts for almost 85% of revenue share, according to Frost & Sullivan's analysis. Meanwhile, start-ups and new mobility solution providers—consider the case of Grab and Gojek, which straddle both shared mobility and on-demand food delivery domains—are pushing cross-industry convergence.
Demographic and Technological Trends Highlight Growth Prospects
The pandemic might have spelled bust for dine-in but has translated into boom times for on-demand, doorstep food delivery services. Frost & Sullivan believes that the market will remain buoyant and expand steadily from an estimated gross merchandise value (GMV) of $15.15 billion in 2021 to $49.72 billion in 2030. Many crucial factors will underpin this strong performance.
First, the rising penetration of mobile apps and the explosion in internet subscribers (currently estimated at over half of the region's total population) will provide the technological backbone for market take-off. At the same time, a young target demographic that is less inclined to cook will create exciting growth potential.
The sheer convenience of on-demand food services has been and will continue to be another big market driver. The provision of virtually uninterrupted 24/7 services, a constant stream of attractive discounts and promotions backed by easy digital payment solutions, and seamless last-mile delivery services will only serve to strengthen its appeal.
Across the region, there has been an apparent connection between the growth of shared mobility solutions and the accelerated development of on-demand food delivery services. Major shared mobility players like Grab and Gojek have leveraged their super apps, massive existing customer base, well-known brand, and user dependence to rapidly achieve value chain integration of restaurant/catering merchants and consumers while creating a seamless ecosystem. This has spurred greater customer demand and boosted user stickiness.
Based on current and anticipated trends, Frost & Sullivan estimates a solid CAGR of 14.1% over 2021-2030. One fundamental threat to prospects is market homogenization. The lack of significant differences in business models and consumer groups will have a two-fold impact. It will intensify competition and mean lower customer loyalty as there will be little to distinguish one on-demand food delivery platform from another.
Another area of concern is data bias and inaccuracies resulting from merchants being on multiple platforms. Manual involvement at different stages of the process could mean discrepancies in the docking of on-demand food delivery and restaurant systems. This, in turn, will have implications for cost ratios and marketing outlays.
A Highly Concentrated Market
What are the key trends shaping the market at present, and how are they likely to evolve in the future?
Exhibit 1: Food Delivery Market: Key Findings of Total Market, Southeast Asia, 2021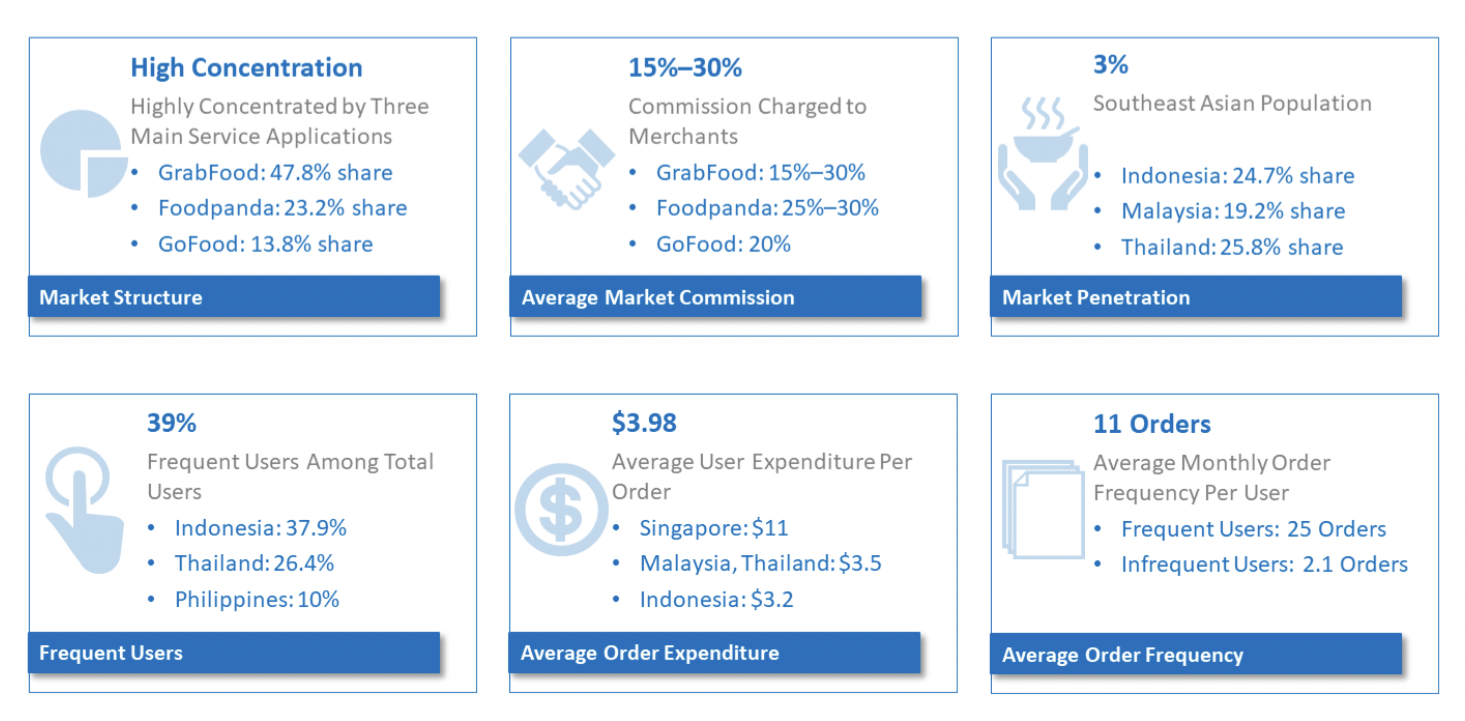 Source: Frost & Sullivan
Currently, we find a highly concentrated market structure. There are only seven leading service providers with the top three—GrabFood (Grab), Foodpanda (Delivery Hero), and GoFood (Gojek)—dominating over their smaller rivals like Line Man, Deliveroo, ShopeeFood, and Baemin. The lack of any real differentiation continues to be a major issue: it has led to low thresholds of customer loyalty as customers freely jump between platforms based on promotions and discounts.
Frost & Sullivan's analysis indicates that GrabFood was the runaway leader in the region with an estimated 47.8% overall market share in 2021, dominating the most important markets of Indonesia and Thailand, the most mature market of Singapore, and the fastest-growing market of Malaysia. Gojek's GoFood, not surprisingly, concentrated on its sizeable home turf of Indonesia, while Foodpanda focused its attention on Malaysia, Singapore, and Thailand.
We expect the high levels of market concentration to persist soon. Nevertheless, incumbents will need to gear up to face competition from an influx of new entrants from other fields. We also anticipate the move towards integrated platforms or super apps.
Exhibit 2: Food Delivery Market: Value Chain Analysis, Southeast Asia, 2021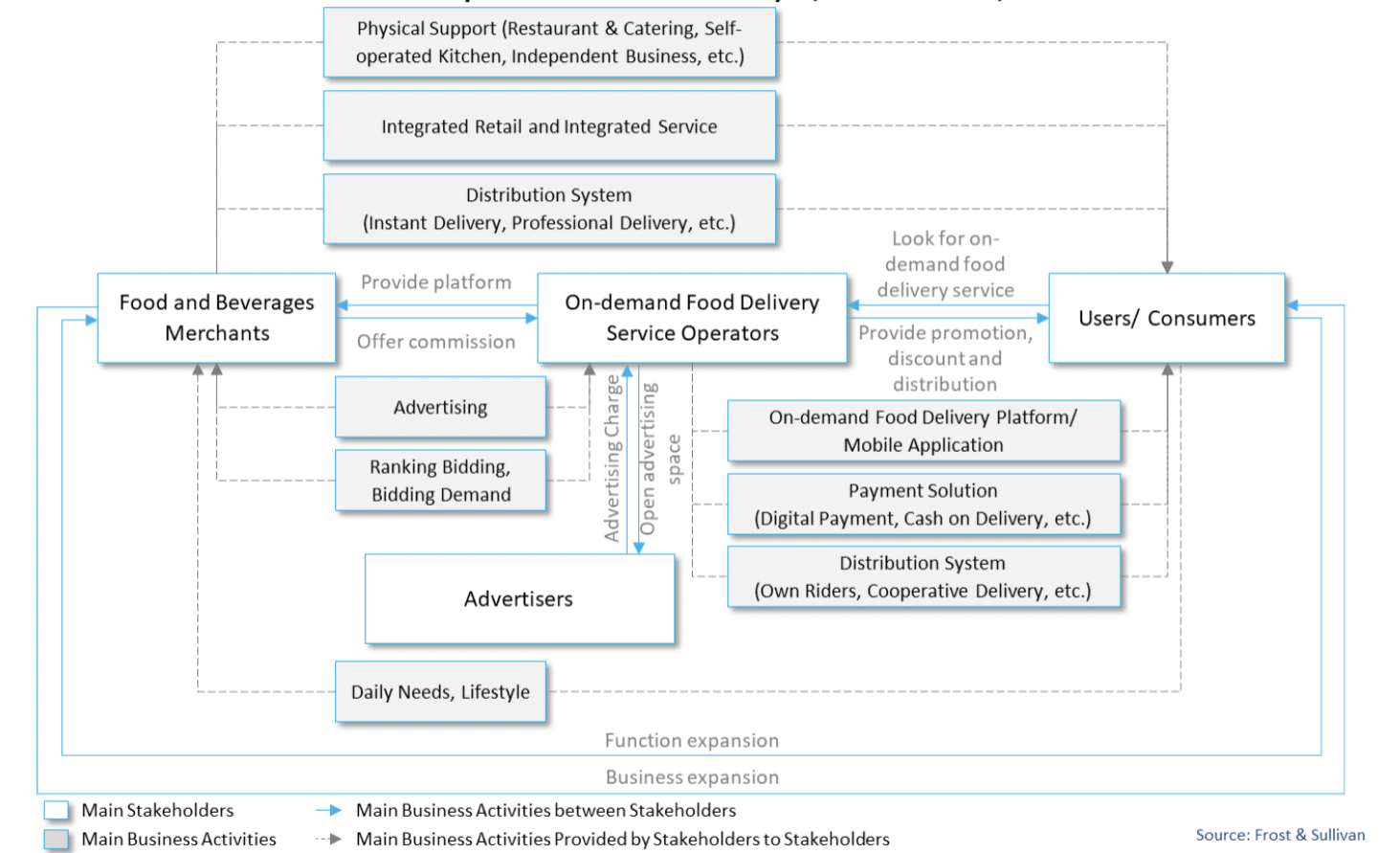 The value chain will evolve. At present, service operators function as aggregators, integrating food and beverage merchants and users/consumers. The service operators either own their fleets or use delivery partners. In the future, we are likely to see service operators providing road safety regulations training to their riders and promoting capability enhancements related to delivery time and routes. In tandem with global decarbonization trends in mobility, the use of electric two-wheelers within delivery fleets will increase.
Social dynamics will play a significant role in sustaining market momentum. For instance, the expanding cohort of working women and dual-income families positively affects the uptake of on-demand food delivery. Motivated by the time savings and convenience, they offer, young people and working professionals are also flocking to such services. Over this decade, we expect individual consumers to continue accounting for the bulk of orders, followed by households. Promisingly, both the money spent on single order amounts and the frequency of purchases are set to increase, thereby boosting GMV.
Sustained GDP growth triggers consumer spending on on-demand food delivery services from a macro-economic perspective. This has been reinforced by the ubiquity of smartphones, mobile internet, e-commerce, and digital payments. Continued consumer spending, competitive commission rates for service operators, and the rise of data service and advertising fees will positively shape the market in the future.
And finally, technology—whether Big Data or artificial intelligence, cloud computing, or connected communications — has helped knit online services into the region's fabric. Over time, technological advances will optimize various operational aspects of on-demand food delivery. Simultaneously, the growing adoption and use of electric two-wheelers will open up the possibility of more riders even as new modes of delivery such as robot deliveries and multimodal deliveries support improved performance.
Industry Convergence, New Business Models, and Value Chain Integration to Spur Market Growth
Looking ahead, we believe industry convergence, new business models, and value chain integration will support market growth.
Expansion into other retail segments, broader geographic coverage, and the entry of more merchants will further optimize market potential. At the same time, strategies to boost market competitiveness will be crucial to long-term success.
Schedule your Growth Pipeline Dialog™ with the Frost & Sullivan team to form a strategy and act upon growth opportunities: http://frost.ly/60o