The Russian aggression in Ukraine has boiled over into one of the most challenging times for the commercial aviation industry. The global air passenger traffic, a critical marker for global air transport services demand and general health of the industry, has been on a positive uptick since the turn of the decade (2010), post the financial crisis of 2007-2008. This marker nosedived in 2020, with the onset of a global pandemic halting several key social activities, including flying. Domestic demand is the growth engine of passenger demand and will be the critical cog in the recovery process. As per Airports Council International (ACI), domestic demand was ~59% in 2019 of the total air passenger traffic. This share grew to ~76% in 2021, highlighting the high priority provided to this segment.
Jet Fuels' Race to the top
2022 has not started well for global carriers. After surviving multiple waves of recurring COVID-19 pandemic, airlines are preparing for any such instances. The Russian-Ukraine crisis and the relevant sanctions will further increase complexity and operating costs. Airlines also face an attack from another direction in rising jet fuel prices. Global economic uncertainties, uncertain oil demand, and fluctuating oil production rates were driving oil prices in 2021. The Russian invasion has inflated this value even further. As per Frost & Sullivan's analysis fuel costs are the highest contributor to the operating expenditure of an airline (~30% of operating expenditure), and they have increased by almost 89% in the last three and a half years as per Energy Information Administration.
Russia-Ukraine: Snapshot of market demand
As per the Russian federal aviation agency, Rosaviatsiya, Russian airlines ferried more than 125 million passengers pre-pandemic, with ~57% domestic travelers. Aeroflot (state-owned) & S7 Airlines are the largest Russian carriers accounting for ~40% of passengers. Pobeda, Aeroflot's low-cost subsidiary, had seen a growth of more than 40% in 2019, showing a healthy demand for low-cost services. But the LCC has a fleet consisting only of Boeing, which will impact its future operations and growth amidst the severe sanctions from several western nations. In 2020, the total air passengers carried by Russian carriers declined by ~46%, owing to the pandemic. Even pre-pandemic, the Russian aviation industry faced several challenges due to geopolitical tensions (Crimea annexation in 2014, 2008 invasion of Georgia). Other challenges include a higher operating cost due to increased fuel and airport handling costs.
Exhibit 1: Top 8 Russian carriers, as % total passengers carried by Russian Airlines (2019) & their domestic destinations, as a % of their total network (2022)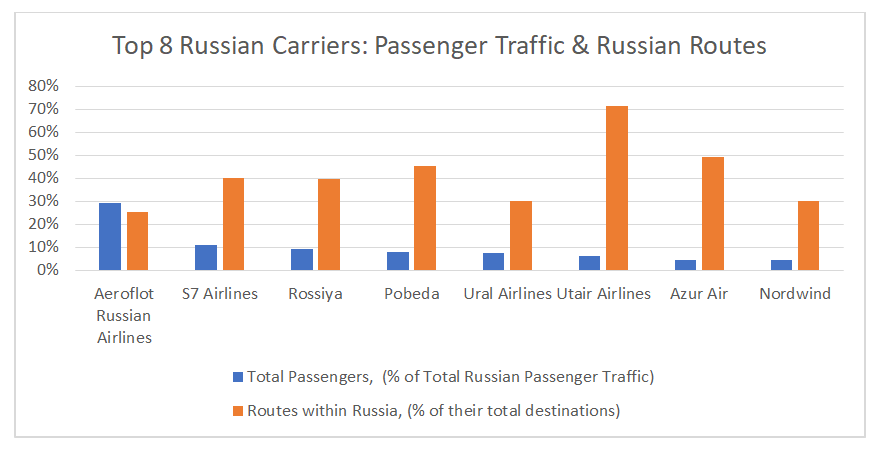 Source: Cirium, Rosaviatsiya, Frost & Sullivan
Other than state-owned Aeroflot, the other key Russian carriers have a strong domestic presence. These carriers account for ~79% of the total passengers carried in the country, as per Rosaviatsiya. Frost & Sullivan's analysis indicates that the robust domestic Russian market will play a critical role in these airlines navigating sanctions and the pandemic.
Exhibit 2: Snapshot of the Fleet in Service of Top 8 Russian Carriers, 2022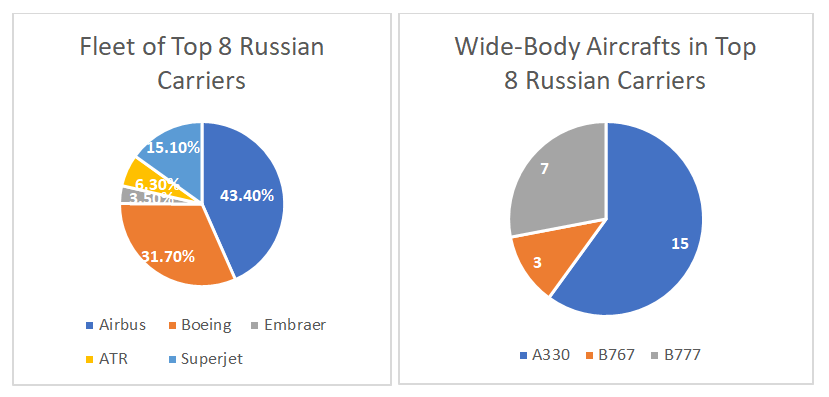 Source: Cirium, Frost & Sullivan
An analysis of the leading Russian carriers shows that Aeroflot and its subsidiary Rossiya Airlines are the only carriers to operate the indigenous Superjet aircraft. Superjet-100 accounts for ~10% and 64% of the airline's fleet. 90% of Aeroflot's fleet compromises Airbus and Boeing aircraft. Aviation sanctions that halt sales of aircraft, spares, and other services to Russian companies will critically affect the operational capabilities of nearly the entire Russian airline industry. The top 8 Russian carriers have only ~5% of their overall fleet accounting for wide-body aircraft that can serve long-haul routes. And these are exclusively operated by Airbus and Boeing. Cirium data shows that these Russian carriers operate Airbus aircraft largely (~43%), followed by Boeing (~32%). S7 Airlines, the privately owned 2nd largest carrier in Russia in terms of passenger traffic, has Embraer's E-170 accounting for ~18% of their fleet. S7 and Utair Airlines are the only carriers in the leading airlines having ATR-72 aircraft, as per Cirium.
European Carriers: Impact of crisis
As of March 2022, all European Union members and other countries like Albania, Switzerland, Canada, Norway, the United Kingdom, United States of America have banned Russian carriers from entering and operating in their airspace. Russia has also applied the same sanctions to these countries. As per Frost & Sullivan's analysis, among European carriers, airBaltic is the carrier that is highly impacted, with more than 10% of its destinations in the crisis area (Belarus, Ukraine, Moldova). Austrian Airlines, Wizz Air, and Lufthansa have 5%-6% of their destinations in the crisis area. Other European carriers such as Swiss International Airlines, British Airways & KLM have less than 2% of their destinations in the crisis areas.
Global Carriers: Importance of Russian Airspace
Russia charges high fees for carriers that operate in their airspace. This is mainly due to the geographical position of Russia. This is especially crucial for carriers connecting Europe-South & East parts of Asia and carriers operating from North America to South & East Asia. The repercussions of the Russian Airspace ban are already visible. Due to the ban, a British Airways flight from London to Delhi had to be rerouted. This added ~900 Kilometres & ~45 minutes to the flight duration (as per Flightradar24.com). This will create mayhem for network managers & planners, as their entire schedules will have to be updated as per ongoing regulations, also keeping in mind the increasing cost of maintaining regular operations.
No one wins
Hopefully, the decision-makers will soon come to a diplomatic solution to the Russia-Ukraine crisis. In the meantime, it is key to understand how such a crisis will impact critical industries such as aviation and how stakeholders can chart a way to a profitable, peaceful, and green economy.