Liger Mobility was started in 2016 with objective of "making electric two-wheelers safer and more comfortable for riders." Liger Mobility was backed by and awarded seed capital by IIT Bombay and was mentored by the Ministry of Heavy Industries (MHI) and the Automotive Research Association India (ARAI). The company was recognized by the Indian Smart Grid Forum as 'EV of the Year' and was selected for the Government of India's 'Motion' – a Center of Entrepreneurship (CoE) in Autonomous, Connected, Electric and Shared (ACES) Mobility, an initiative of Software Technology Parks of India (STPI). Over the last five years, the company has been focused on strengthening R&D and building strong IP and patents.
At the recently concluded 2023 Auto Expo held in India, the company unveiled two self-balancing electric scooter models, Liger X and Liger X+, which it plans to launch in the Indian market by the end of 2023. Both models feature self-balancing technology which can be turned off by the rider after crossing a certain speed. Both models feature learner mode, live location tracking, battery temperature indicators, towing alert, accident alert, and are also capable of receiving over-the-air (OTA) software updates. Liger X features a removable lithium-ion battery pack that offers 60 kms of range and can hit 65 kmph at top speed. The Liger X+ features a non-removable battery pack that offers 100 kms of range, turn-by-turn navigation, and smartphone pairing via a proprietary app.
For private consumer markets, the self-balancing, two-wheeler technology aims to increase rider safety and comfort, while shortening the learning curve for new riders. For commercial markets such as last mile delivery and ride sharing, the self-balancing scooters are set to save operational costs with rebalancing features, while moving autonomously to reach consumers.
In the recent past, a few large two-wheeler OEMs such as Yamaha, BMW Motorrad, Yamaha, and Harley Davidson have been exploring self-balancing motorcycle technology to enhance slow speed maneuverability for large motorcycles. In contrast, Liger Mobility is focusing on small electric scooters which are more likely to be used by a variety of riders, including both new and experienced riders, for various purposes.
To learn more, please access our research report, Overview of Start-ups Disrupting the Electric Two wheeler Market, Global, 2022 or contact sathyanarayanak@frost.com for information on a private briefing.
Our Perspective
The Indian electric two-wheeler market has started to register significant year-on-year growth. India sold 1,710 electric two-wheelers per day in 2022, registering 336% growth, compared to 2021. Market penetration increased from 1.1% in 2021 to 4.05% in 2022. Currently, just four OEMs account for 62% of the market share.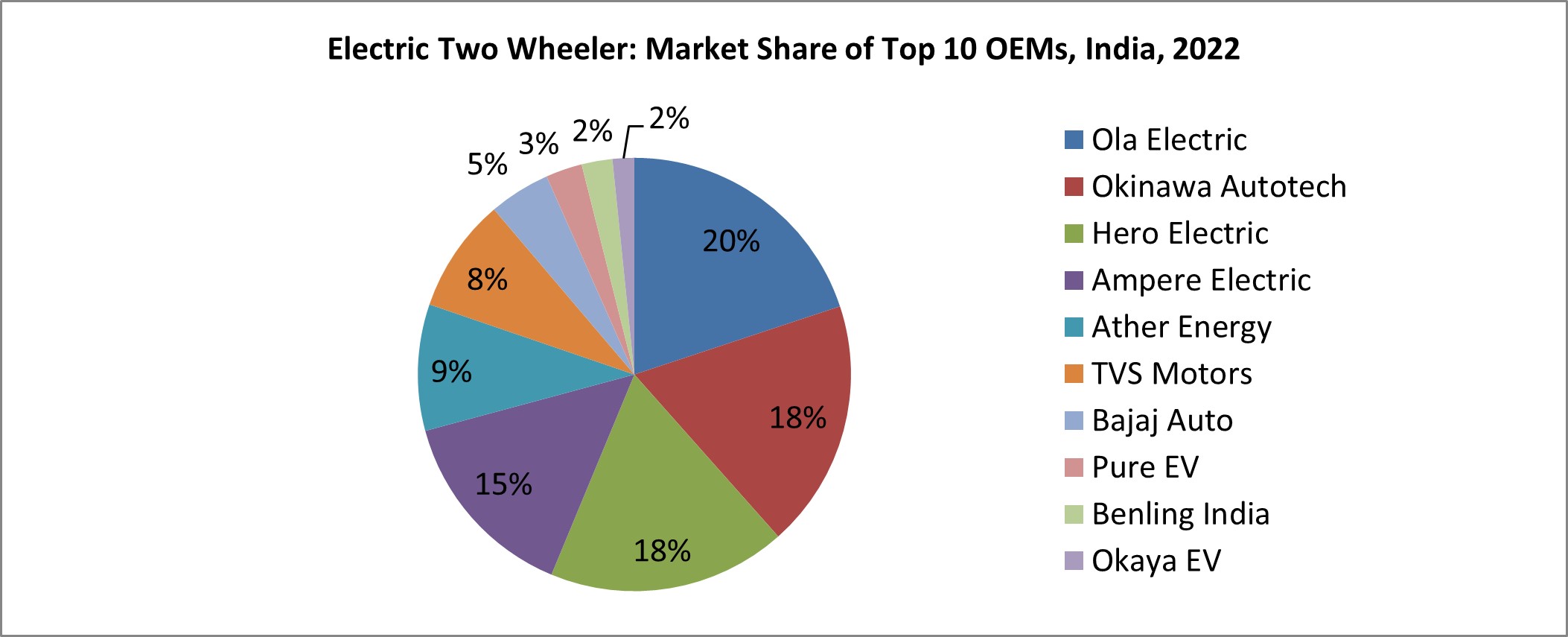 Frost & Sullivan, 2023
ICE two-wheelers are beginning to face fierce competition from their electric counterparts due to surging petrol costs which crossed the Rs.100 per liter mark in 2022. In addition, stricter emission norms with the upcoming BS6.2 starting April 2023 are expected to reduce fuel efficiency and further increase vehicle costs. In parallel, the focus on flex fuel engines is expected to drive vehicle development costs for ICE two-wheeler OEMs. There has been an upward tick in scooter sales in recent years due to their improving design which is geared to the convenience of a wide range of riders, enhanced practicality, new model launches, and design packaging capability. Similarly, scooters dominate motorcycles in the Indian electric two-wheeler market by over 98%.

Frost & Sullivan, 2023
The introduction of self-balancing technology will boost the electric two-wheeler market by attracting newer riders and riders with disabilities. Commercial mobility businesses such as last mile delivery and ride sharing are likely to enjoy lower operating costs linked to significant reduction in vehicle damages from falls, mishandling in parking lots, unstable vehicle during loading/unloading of cargo and loss of balance at low speeds.