As an industry analyst, I went there to meet different executives involved in IoT, Edge, and 5G B2B applications, in addition to attending companies` briefings and being aware of the important announcements made.
In the different booths from Communication Service Providers (CSPs) and Telecom vendors, one thing was in common: 5G B2B applications that leverage the power of private networks and Multi-Access Edge Computing (MEC), which extend cloud-computing capabilities to the edge of wireless networks and delivers ultra-low latency for data applications.
Some examples of such applications are Digital Twins, Computer Vision, Virtual and Augmented Reality, AI Robots, Metaverse, and many others.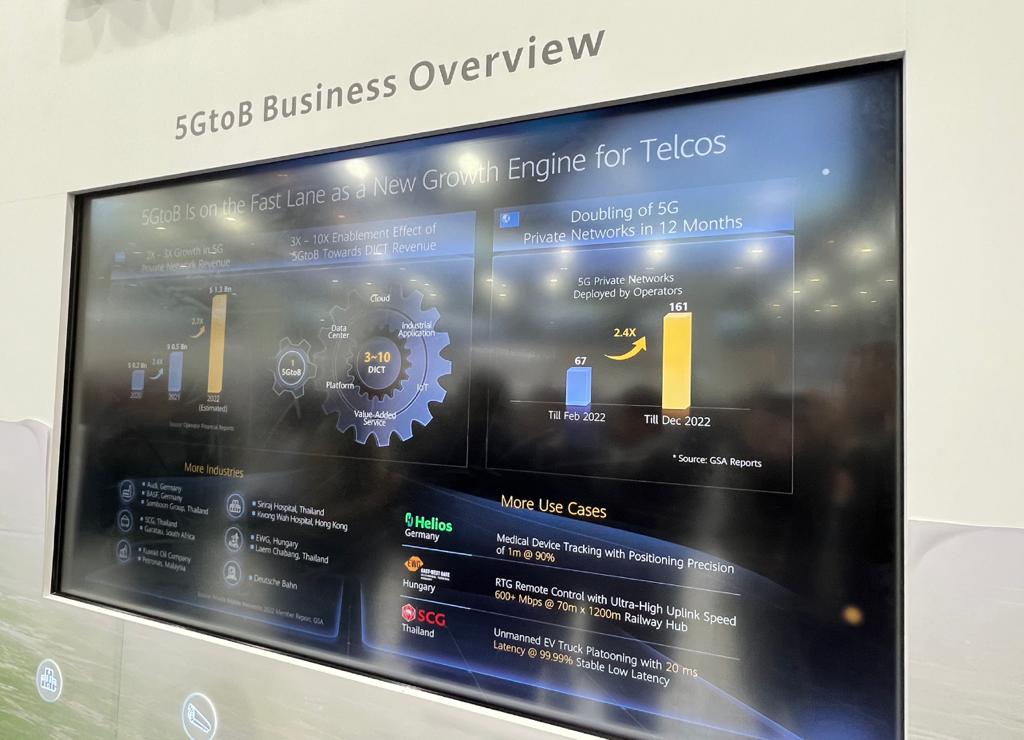 Another interesting fact from the 2023 post-event statistics is that 56% of the attendees were not from the mobile industry and came from adjacent industries to the ecosystem, which demonstrates the convergence of sectors to deliver B2B solutions, and also that 5G (and event 6G) and Edge Computing will play a vital role for enterprise applications.
Verizon has a Public MEC offering (together with AWS) in 19 of the major metropolitan areas of the US, in addition to many clients who have implemented Private MEC, using different cloud providers.
During MWC Verizon presented different use cases of MEC in Stadiums, Warehouses, Cities, and other verticals. The demos I found more interesting were:
1) Computer Vision applied to warehouses (see image below), in which Private MEC is the infrastructure that enables a Computer Vision application to run and inspect automatically the content of boxes that arrive at a facility. Verizon tested the application at its own warehouse, where it receives client trade-ins of smart gadgets, and analyzes the content of sent boxes, to determine the products that need repair and those that are ready to be sold and can be put into the inventory immediately.
2) Managed Private MEC in 30 stadiums of the National Football League (NFL) to deliver an immersive experience to fans (see image below) and also to enable other solutions in stadiums, such as the "5G Edge Cashierless Checkout." for stores inside stadiums, using Computer Vision and Machine Learning to make the purchasing and payment process fully automated, in a concept similar to Amazon Go.
Telefonica has been working with clients in Spain to deliver private networks with MEC capabilities. To do this, Telefonica has implemented edge virtual data centers in Spanish cities such as Madrid, Barcelona, Bilbao, and Seville. It has commercial cases in Ports (Barcelona and Bilbao), Manufacturing, Hospitality, and Banking. In other countries, such as Brazil, Germany, and the UK, Telefonica is doing Proof of Concepts (PoCs). Data Center and Edge Computing became one of the pillars of its "Open Gateway" strategy, a platform with open APIs to drive ecosystem collaboration.
During MWC, Telefonica presented innovative use cases of MEC, such as the Metaverse (in partnership with Microsoft) and Holographic Telepresence (in collaboration with Evercoast, Intel, and AWS).
Telefonica has virtualized its stand in the Metaverse, using Digital Twin technology, allowing anyone remotely to access the stand, visit the demos and meet with experts via video calls.
In the Holographic Telepresence demonstration, the person is recreated in 3D in a virtual environment, and can both the avatar of the person and the scenario are adaptable, all using the 5G MEC installation developed in Telefonica`s stand.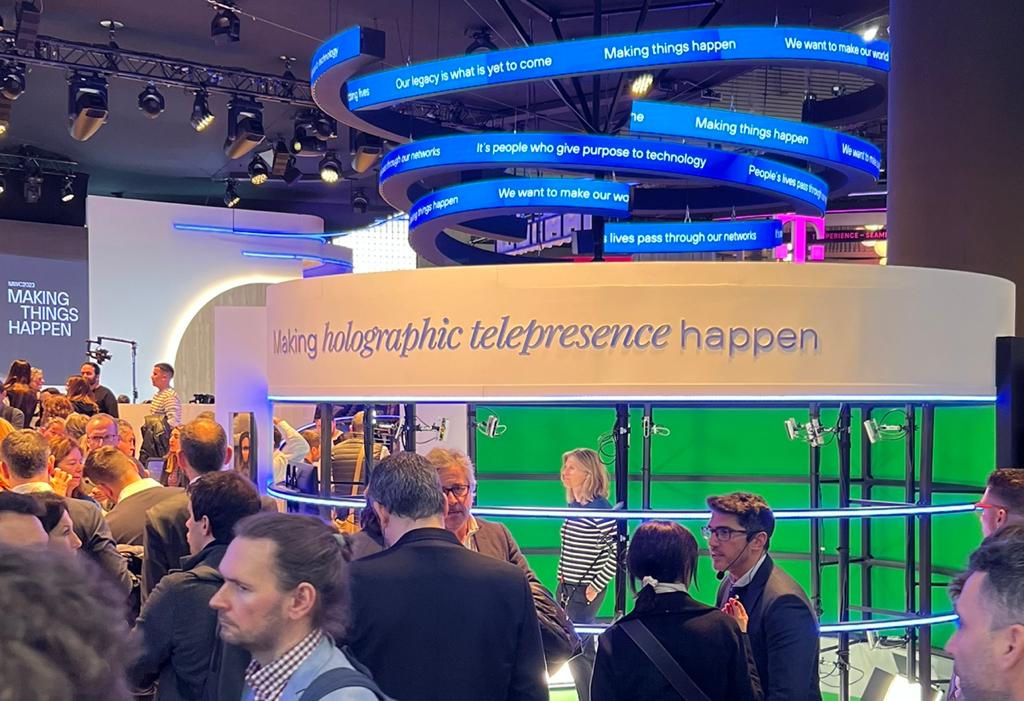 Vodafone presented interesting IoT use cases related to Sustainability, such as IoT Connected Agriculture, IoT Forest Fire Detection, and Water Monitoring.
Frost & Sullivan estimates the sustainability industry to have 5 billion IoT-connected devices as of December 2021 (16.6% of the total IoT devices). And this number should grow significantly in the following years with the expansion of funding for Environmental, Social, and Governance (ESG) projects.
Regarding 5G MEC, in which Vodafone is a relevant market participant in Europe, it presented a couple of use cases for Manufacturing.
The first one was "5G Networking Slicing" to control surveillance robots remotely, in real-time, in partnership with Ericsson. One interesting detail is that it did not require a VR glass or hand device to interact; there were sensors to capture the hand movement to operate the robot, with a screen that virtualized the environment and the hands of the operator in 3D.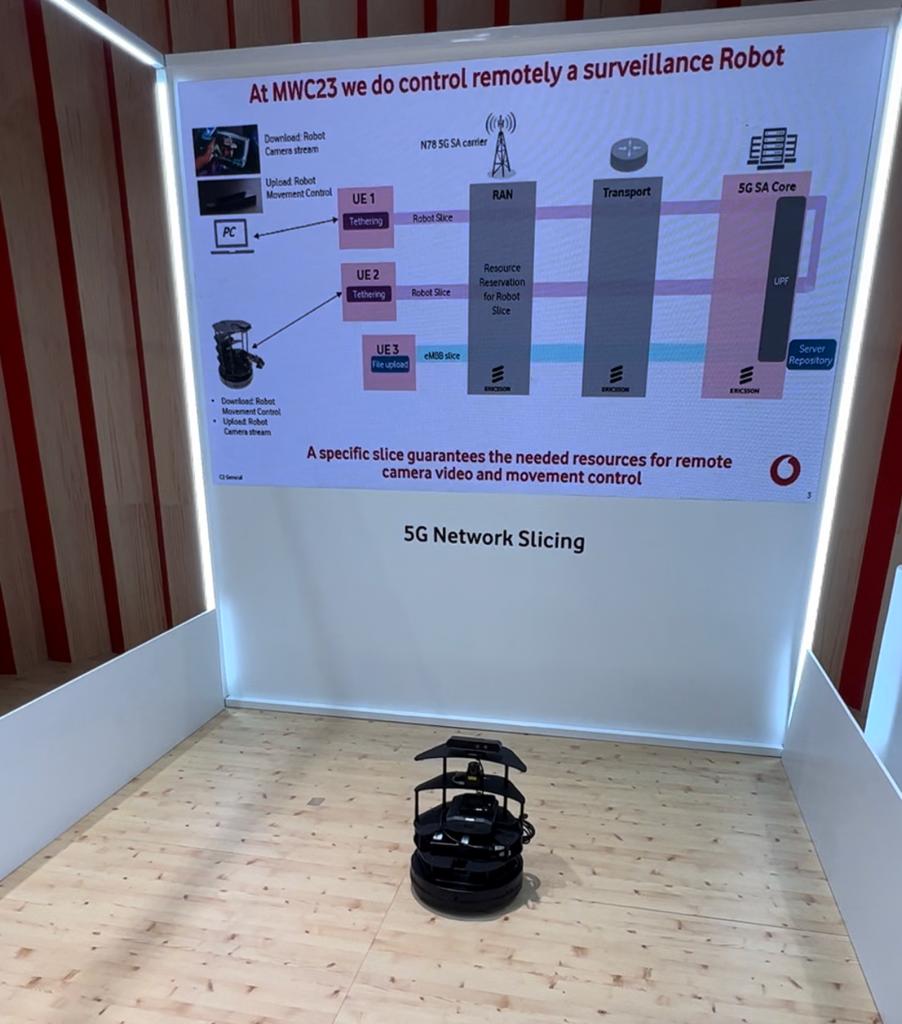 The second one was a Digital Twin for Industry 4.0, which in this opportunity, leveraged the traditional VR equipment to immerse the person into the industrial environment to perform functions in the machines and processes.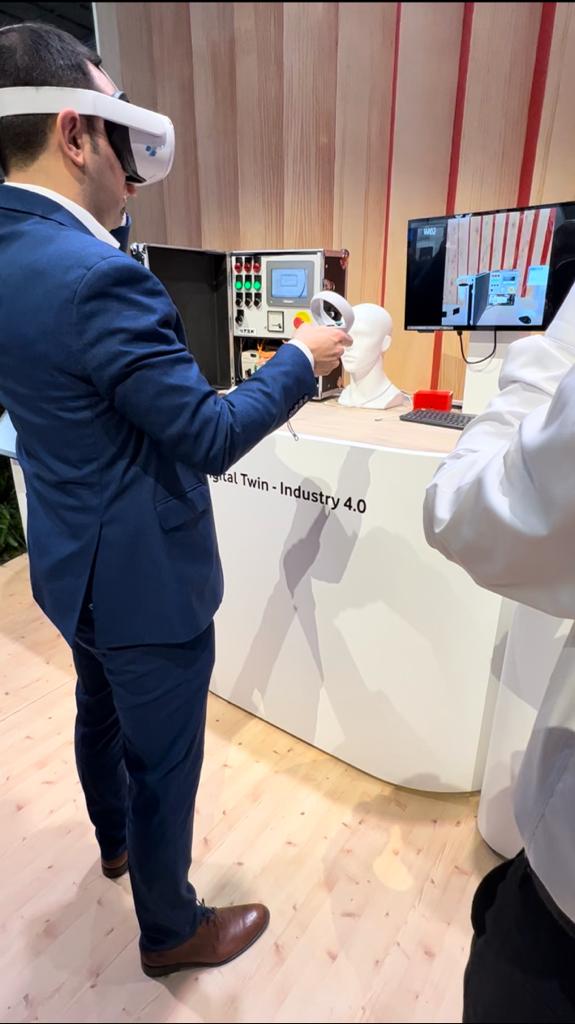 Orange Business had several demonstrations in areas such as Sports, Manufacturing, and the Metaverse.
In Sports, Orange presented a couple of use cases leveraging 5G MEC. The first was developed in partnership Touch2See and allows people that are blind and visually impaired to improve their experience in stadiums, beyond audio description, to know in real-time where the action is taking place in the field and the movements of players and the ball. The second is immersive running, a solution that detects the body movements and virtualizes the running interface to allow an interactive and immersive experience with 360° image and sound.
In manufacturing, the main case was "5G XR Digital Twin Robot Control". The user can wear a Microsoft or Meta VR device and control a digital twin of a Xiaomi CyberDog robot in the industrial environment, to monitor machinery and remote sites, where there can be a danger for humans or impractical.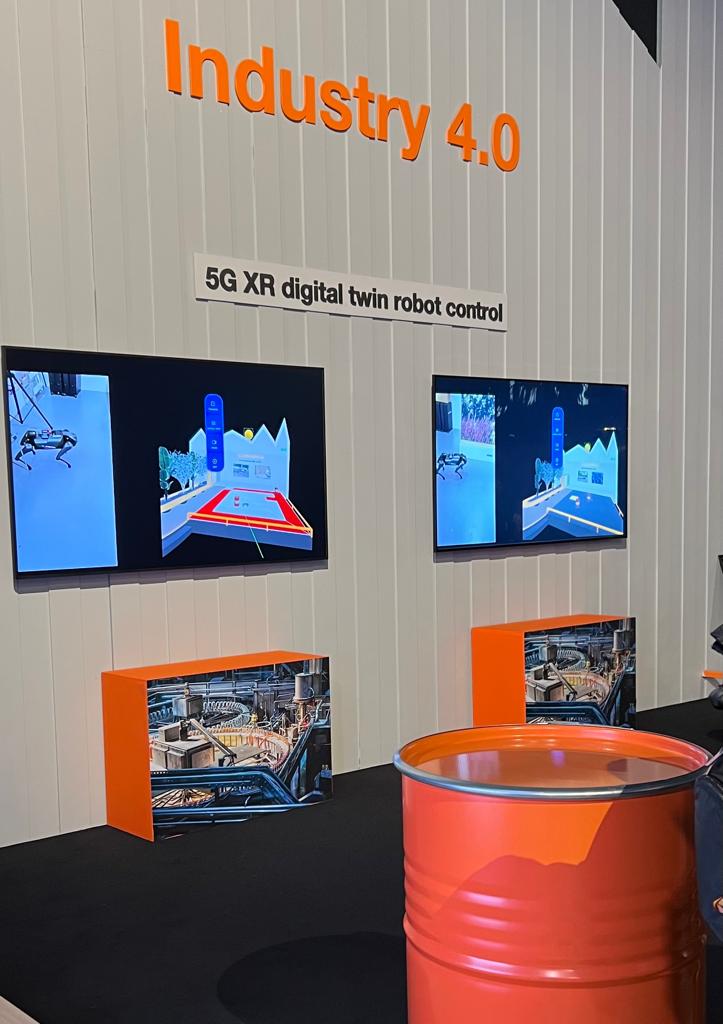 Orange has also demonstrated a Metaverse application, in partnership with Huawei and Virtual Voyagers, to create an avatar of the person in real-time to allow interaction in a virtual environment.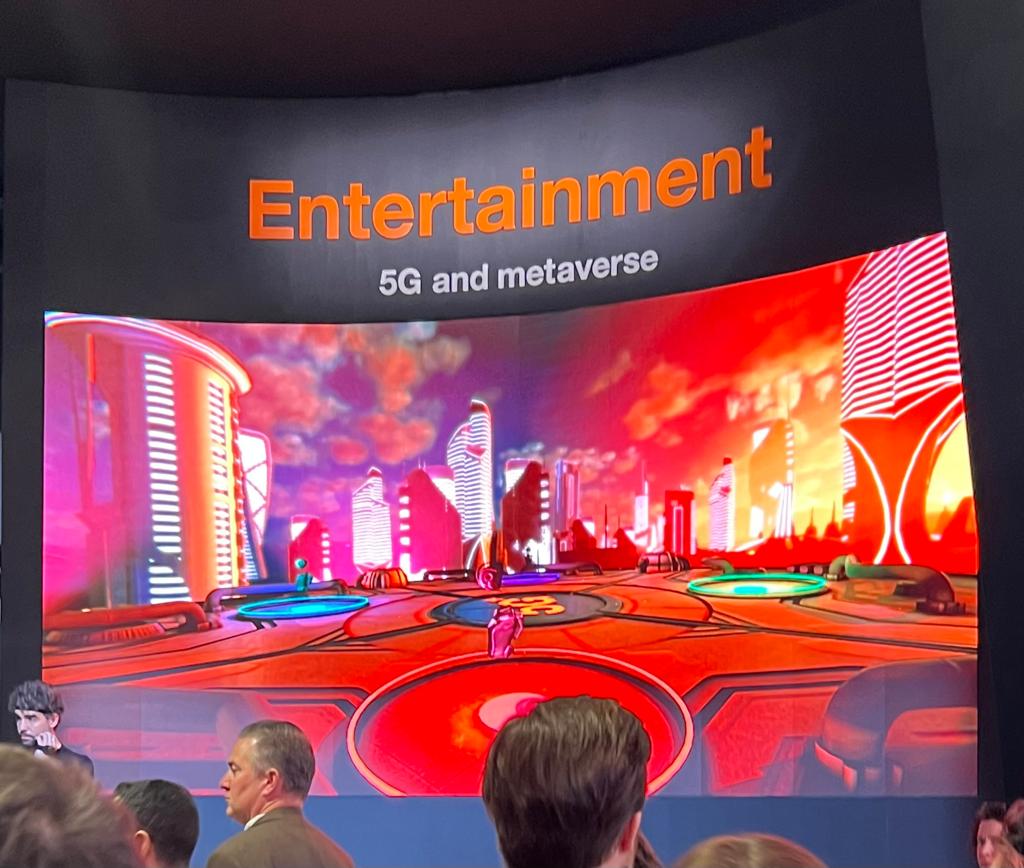 Regarding the South Korean CSPs, SK Telecom, and KT, the Metaverse was the proven solution with different applications.
SK Telecom has one of the most popular Metaverse platforms globally, ifland, which had 12.8 million cumulative users by Q3 2022. After the success in Korea, the platform was introduced in 49 other countries.
During MWC, SK Telecom created different Metaverse experiences, including its VR flight simulator, one of the most disputed attractions in the event.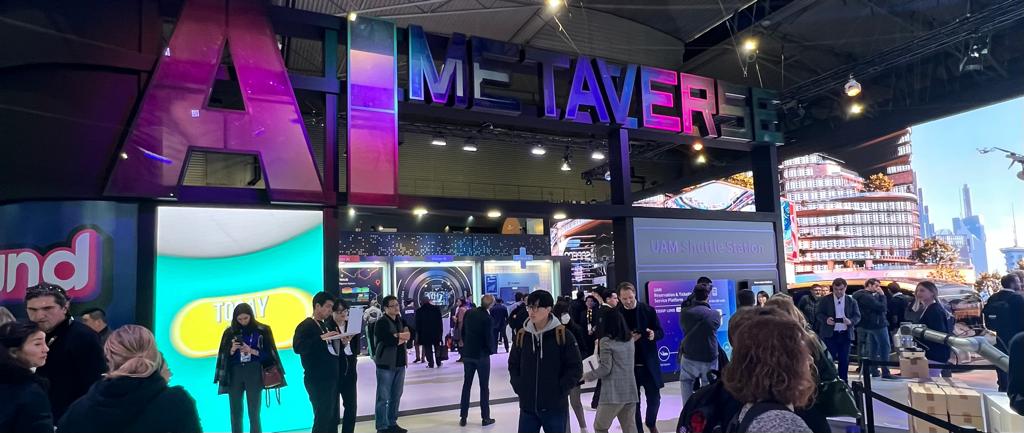 KT Corp showed a couple of Metaverse applications: Genieverse and MetaLounge. The Genieverse is an AI Home Twin, with floor plan analysis, detection, and 3D space modeling. The MetaLounge is a virtual spaces solutions designed for the enterprise segment, such as universities, Governments, etc., allowing interaction in virtualized environments such as a classroom or tribune.
Ericsson and Huawei had huge stands in MWC with demos on 5G enterprise solutions.
Ericsson presented a 5G-enabled Automated Guided Vehicle (AGV) with no specific routes to follow as it did in the past. It can work in a virtual perimeter defined, being smarter to perform actions in warehouses and factories. In addition, it presented a Digital Twin demo using traditional webcams in the ceiling to virtualize the body of persons present in the stand and the used smart device, transposing to a virtual environment in real-time.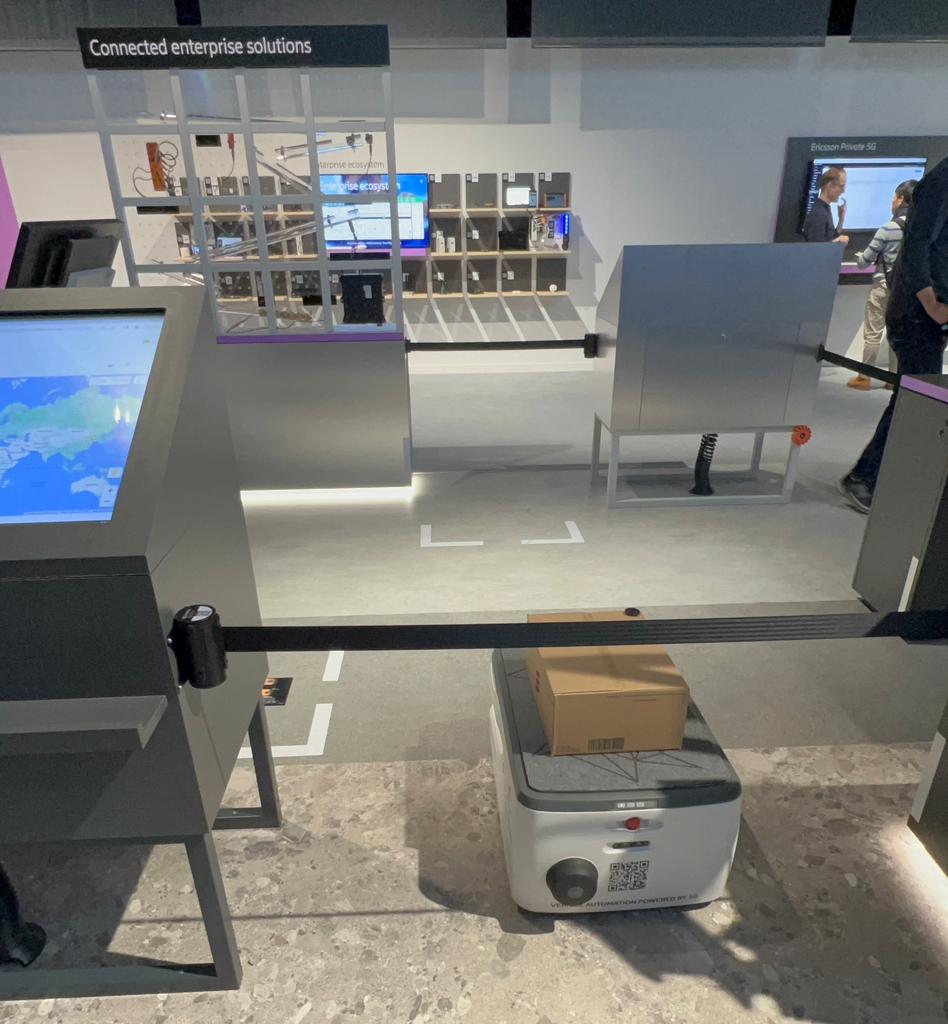 Huawei presented its 5GtoB approach, involving CSPs and system integrators, to provide end-to-end solutions (network, operation, services, and apps), stating it is an opportunity for Telcos to grow revenue. In addition, Huawei presented private network architectures that enable 5G MEC use cases, currently more concentrated in manufacturing, but covering different verticals.
In summary, MWC showed a significant evolution of the CSPs to offer more comprehensive solutions for the enterprise segment and have a more relevant role in business transformation and ecosystem development. While current edge computing developments are more concentrated on manufacturing and industrial environments (such as mining, oil & gas, etc.), it is anticipated that 5G MEC will also encourage the growth of consumer applications like 5G gaming, the Metaverse, stadium immersive experiences, and many others. The Digital Twin, now available in advanced manufacturing, is likely to be more present in our lives, being our home, car, and even ourselves digitalized to be "transported" to digital environments, interact, and do transactions. The challenge now is how to scale and monetize these amazing use cases demonstrated, and enable many others, to use the 5G MEC infrastructure being built.