Q4 2021 Key Findings from the Survey
Overall Sentiment Indicator: Positive and Improving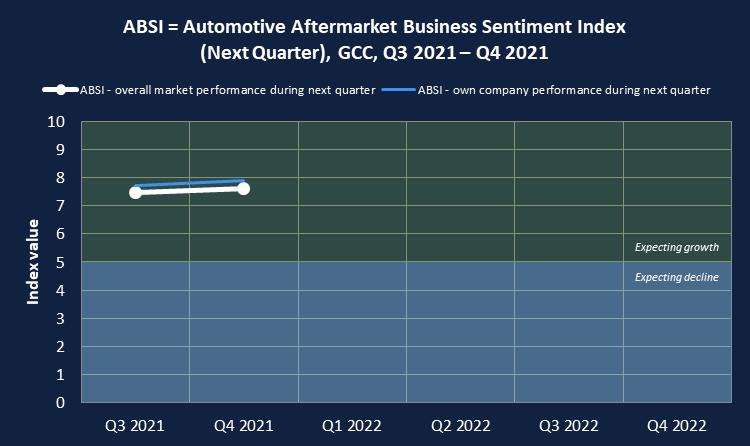 Source: Frost & Sullivan
Auto aftermarket companies in GCC are becoming increasingly optimistic towards growth in Q1 2022 on the back of better than expected performance in Q4 2021 (~48% of companies). At an individual level, companies expect to outperform the market for the second consecutive quarter.
Q4 2021 Business Performance
Following recovering demand towards the end of 2021, more automotive aftermarket companies have performed better than expected in Q4 2021. Admittedly, most companies accounted for supply chain disruptions when shaping expectations; however, such strong positive feedback indicated improving overall business sentiment across the aftermarket.
According to our survey,
48% (vs. 26% in Q3 2021) of companies performed better than expected in Q4 2021
Similarly, 48% (vs. 61% in Q3 2021) of companies performed as expected during the same quarter
Only 5% (vs. 13% in Q3 2021) of companies performed worse than expected during Q4 2021.
Q1 2022 Business Performance Expectations: More Growth in Sight
Over half the companies expect the market to grow in Q1 2022, but consistently, more companies expect growth of their operations (over six out of 10 expect their business to grow).
5% of companies expect the situation in the market to deteriorate in Q1 2022
62% expect the market to grow
33% of companies expect the situation to remain stable, at status quo.
 Workforce Management
As the market situation stabilizes, most companies are estimated to have found the optimum headcount levels:
38% are currently hiring
57% are happy with the current levels of employment
Only 5% of companies are planning to reduce headcount.
 Top Priorities for Q1 2022
Portfolio diversification, cost optimization, and digitalization of operations are expected to become the top directions to ensure growth in Q1 2022.
Companies are also becoming more ambitious as the share of companies considering geographic expansion grows by ~3 percentage points to 29%.
For more information, write to Nimisha Iyer at nimisha.iyer@frost.com.
Note:
GCC automotive aftermarket[1] is estimated at ~$8.9 billion in 2021. However, little information is available about businesses' ongoing performance and short-term expectations. To address that challenge, Frost & Sullivan launched a new quarterly GCC Auto Aftermarket Business Sentiment Survey in Q3 2021. GCC auto aftermarket business sentiment will be tracked quarterly to understand whether the market is expected to expand or contract.
For this survey, Frost & Sullivan reaches out to business leaders of large and medium automotive companies responsible for either the entire GCC or individual countries, accounting for over 40% of the GCC auto aftermarket. These include National Sales Companies, automotive dealers, parts importers and distributors, workshops/quick service providers, and service aggregator platforms[2].
Schedule your Growth Pipeline Dialog™ with the Frost & Sullivan team to form a strategy and act upon growth opportunities: https://frost.ly/60o.
[1] Includes tires, batteries, lubricants, parts, and accessories at the retail level of pricing but excludes car wash and labor. Both light vehicles and medium/heavy vehicles are included.
[2] Overlaps are possible, however, 35-40% indicates a minimum coverage.