In a development that promises to further shake up the carsharing industry, Free2Move (part of the Stellantis Group) has announced its acquisition of Share Now, a leader of Europe's free-floating carsharing market. Beyond expanding the company's geographic footprint and range of offerings, what implications will this strategic acquisition have for Free2Move, its competitors, for urban mobility and customers, in general?
A Changing Urban Mobility Landscape
Today, urban mobility stands transformed by a slew of innovative, technology-driven modes of travel. From ride hailing and carsharing to bike sharing and scooter sharing services, people living in cities have more mobility options than ever before. But the increase in travel choices has been accompanied by its own set of challenges. For instance, there are concerns over whether such an array of alternatives can end up proving inefficient for cities and users as a lack of integration among mobility services has the potential to result in overlaps and unproductive competition.
In response to this challenge, cities and transport stakeholders have been attempting to more proactively manage various urban mobility options.  Concepts related to integrated mobility marketplaces and solutions, in particular, have been gaining increasing traction. On the one hand, we have Mobility-as-a-Service (MaaS) solution providers that integrate the various mobility options available in cities. On the other, we have the new concept of mobility marketplaces that offer quick and seamless plug-and-play integrations that allow mobility operators to introduce, integrate, and leverage various modes of mobility.
To learn more, please access our research reports, Global Shared Mobility Outlook, 2022 and Global Autonomous Shared Mobility Growth Opportunities, or contact sathyanarayanak@frost.com for information on a private briefing.
A Unique Marketplace Solution
Our Global Shared Mobility Market Outlook, 2022 forecasts overall revenues to surpass $1.9 trillion by 2030.  These projections are anchored in three trends that we believe will power the market in 2022: service diversification, disruptive technologies, and competitive intensity.  Free2Move and Share Now have been at the forefront of all three trends.
Launched in 2016, Free2Move's mobility marketplace provides a wide variety of mobility solutions, including traditional solutions like contract purchase/leasing of vehicles as well as novel mobility solutions like ride hailing and mobility budgets. Its business models cover the entire spectrum from ownership to usership and target both direct B2C as well as B2B segments such as airport rentals, universities, and co-working spaces. Importantly, the program is integrated into MaaS apps like Citymapper, Moovit and Transit, with the company working closely with city authorities to ensure more coordinated approaches to addressing urban mobility needs.
Over the years, urban transport has become progressively more complex and dynamic. Inevitably solutions need to be customizable, highly flexible and cover all use cases spanning a few minutes to several months of travel.  Both Free2Move and Share Now have proven themselves in this regard. Free2Move's plethora of services is supported by a fleet of more than 450,000 cars, 500,000 parking places, and a network of 250,000 charging stations.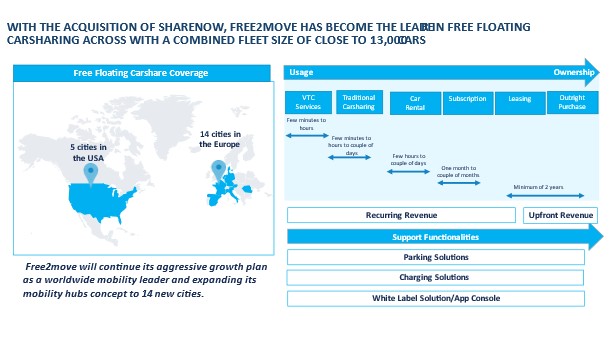 Source: Frost & Sullivan, 2022
Disruptive technologies have emerged as key catalysts in market development. In this context, Free2Move has strategically made available its entire portfolio of services on a digital layer, with access either on an easy-to-use website, mobile app or white label platform. The technology layer helps mobility operators manage, track, and adapt their solutions using the back-end platform. Among the many functionalities on offer include fleet management and integration, planning, billing, payments, and automated accounting dashboards. This unique marketplace solution allows the creation of multiple use touchpoints, while generating a lock-in effect.
Meanwhile, Share Now has quickly repositioned itself in the new mobility 'normal' using targeted business model diversification. For instance, it successfully tapped into the demand for long-term rentals, reporting an over 41% increase in the booking of long-term rentals in 2021.   The company's strong performance in 2021 was emphasized by a rebound in utilization rates indicated in a 23% increase in rental duration and a renewed focus on multimodal integrations to meet the growing demand for end-to-end connectivity.
Indeed, both Share Now and Free2Move have shown a willingness to successfully embrace new business models in rapidly transforming market that now covers a gamut of offerings like extended rentals for 3–30 days, corporate passes with discounted pricing, and a wide range of pricing packages.
Our Perspective
We see the acquisition of ShareNow as the next strategic step towards meeting Stellantis' Dare Forward 2030 goal of 15 million customers and €2.8 billion (Rs 22,400 crore) in revenue by 2030. It will bump up its overall carsharing fleet to close to 12,500 vehicles even as it can now lay claim to having the largest number of electric vehicles in its fleet.
This move will catapult Free2Move to the top of the carsharing leaderboard, with 14 new European cities being added to the company's seven existing mobility hubs in the US. It marks a strong riposte to competing OEMs with aspirations of transforming into mobility providers. Most recently, of course, Volkswagen led a consortium that took over car rental heavyweight, Europcar.
With the acquisition of Share Now, we will see Free2Move pushing the envelope on flexibility and customization in Europe in the coming months. The ability to draw on Share Now's strong position in major European cities will allow customers to gain access to an enhanced service portfolio that satisfies their varied mobility needs. Simultaneously, it will foster new synergies that will boost profitability through economies of scale for Free2Move adds Geraldine Priya, Research Manager.
In conclusion, while assessing key growth opportunities for traditional car sharing companies over 2022-2025, we had identified a small cohort of 'Companies to Watch'. The first two on our list were: Free2Move and Share Now.  It seems that with this strategic acquisition, they have borne out our prediction.
Schedule your Growth Pipeline Dialog™ with the Frost & Sullivan team to form a strategy and act upon growth opportunities: https://frost.ly/60o.