Let's set the scene. Annually, major cities across the world grapple with over $300 billion in congestion related costs, nearly 1.2 billion metric tons in transport-related CO2 emissions, and transport accidents that cause losses of almost $450 billion. Now imagine what this means at an individual level – a daily commute pitted by overcrowded roads, overstretched public transport networks, noise and air pollution, wasted time, lost productivity, and unaccounted tolls on mental, emotional and physical health and well-being.
Quick scene change now. Imagine a work journey where you hop into a chauffeur driven vehicle, have the luxury of time and the convenience of being fully connected within the vehicle so you can either work or be entertained while on the road and, here's the clincher, feel good about your zero carbon footprint because you're sharing the ride with fellow commuters in an electric vehicle (EV). For me, that really is the key to any successful urban mobility solution: that it is smart, shared, and sustainable. In Mumbai, a city whose urban mobility networks are at breaking point, companies like Mahindra & Mahindra are attempting to do just that.
Demand Responsive Transit
Like most things in our lives—Netflix, Spotify, AirBnB, GrubHub—on-demand is the way to go. Confronting the increasing limitations of traditional fixed-route/fixed-schedule paradigms, the mobility industry is embracing on-demand alternatives with missionary zeal. Single occupancy, demand responsive modes, while highly convenient, tend to be quite expensive. Shared demand responsive shuttles and buses, which work similarly to e-hailing taxi apps, tick all the right boxes. Not only are they convenient, they're also quite economical, and align well with the worldwide push by cities to reduce vehicular pollution and traffic congestion. In many cases, such fleets consist of EVs which folds quite well into the concept of smart, green cities. Even better is that, over time, autonomous EV shuttles will support greater efficiency at significantly reduced cost.
Demand responsive transit (DRT) is already big business and promises to get even bigger. According to a new study by Frost & Sullivan, the global fleet size for the DRT market is expected to expand from about 25,000 vehicles in 2018 to more than 4 million by 2030, translating to a compound annual growth (CAGR) of more than 50%. In terms of revenues, its growth potential is even more phenomenal, with revenues projected to increase more than 400 times from current levels to reach an estimated $200 billion in 2030.
And that's not all. The total number of trips in the DRT market is expected to touch 4 billion by 2030. From operating 8 hours on a daily basis and being used mainly for commuting, DRT shuttles are expected to be operational for more than 16 hours per day by 2030, with use cases expanding to complement/substitute public transport, service rural and low user density areas, perform airport drops/pick-ups, and cover event-based travel.
A Winning Proposition For Customers And The Company
The DRT fleet size in India is relatively small at 2,000 vehicles but will grow vigorously to nearly 150,000 vehicles by 2030. Revenues will also increase at a steady clip, surging from a modest $0.1 billion in 2018 to a healthy $24.0 billion by 2030.
In February this year, Mahindra & Mahindra, the billion dollar automotives-to-agriculture, tractor-to-technology titan, jumped into the shared mobility fray with Glyd, its premium technology-based, e-mobility service. This shared, demand responsive shuttle-based model is currently offered only on select routes in Mumbai—essentially from high density living areas to high density office areas—with plans to scale up operations to cover other major Indian cities over the course of the year.
Glyd represents a logical progression for a company that has been one of the front-runners of the EV revolution in India. Using a fleet of Mahindra & Mahindra manufactured eVeritos sedans serves a dual purpose: firstly, it ensures more viable use of the company's EVs and, secondly, it represents a springboard to popularizing electric cars in the country.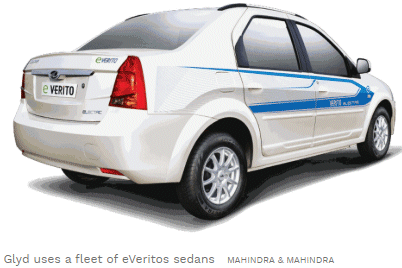 So much for what Glyd means to the company but what does it offer the corporate drone who is its target customer? For harried executives, at the very minimum, there is the promise of a high quality, fully electric, shared shuttle service that addresses their daily home to work commuting needs. This is in line with Frost & Sullivan's prediction that corporate shuttles and short distance dynamic shuttles will account for over 60% of the market.
Indians in urban cities spend six times longer on the road than their counterparts in other countries. In developing Glyd therefore, Mahindra & Mahindra tied up with Vodafone-Idea Limited and a host of other service and content providers with the aim of supporting a more productive and "connected" use of commuting time.
Accordingly, for hard charging executives, connected car features support the concept of "work on wheels", while for those looking to get their work day started on a more relaxed note, there's access to a range of personalized entertainment options, curated music and even a daily dose of yoga. And since it's often a strain to read in a moving vehicle (factor in the potholes of Mumbai as well!), the apps have been designed to be very audio visual.
It's all about comfort, convenience and customization. So each seat—called a "Captain" seat— is private and personalized to suit individual passengers and feels like you are in a first class seat of an airline. Privacy screens give commuters a sense of being in their own private chamber. All seats are headphone enabled. The service also allows customers to breathe easy, literally, since air purifiers have been installed in every car. All these features have been designed to make the ridesharing experience simple, streamlined, and stress-free.
In any enterprise as complex and with as many external variables as this, challenges abound. One of the immediate challenges that Glyd will face is to optimize time schedules, with the 5 to 7 minute window seen as the golden period for pick up for DRT systems as customers are unlikely to have the patience for wait longer than that. As the fleet scales up, another challenge will be to ensure effective demand aggregation. Here, demand aggregation for morning commuters operates efficiently as people tend to leave for work at roughly similar times. However, the evening commute presents complications as people leave work at different times. In such cases, rather than wait indefinitely for the shuttle service, potential customers would rather hop onto a bus or train to head back home.
Currently, Glyd runs on four routes during the regular Monday- Friday work week. The app-based service is extremely flexible; customers can book either single or round trips, either for one day or for multiple days and can even use the service to get a ride from the airport. It's a testament to how popular the service is that it has a subscriber base of over 10,000 people, with the shuttles running to their full capacity of three passengers per vehicle.
The Next Step: Last Mile Solutions
Mahindra & Mahindra has also moved to address the unfulfilled demand for end-to-end mobility solutions. It has signed a Memorandum of Understanding with the Municipal Corporation of Thane, a densely populated industrial city contiguous to Mumbai, to provide first and last mile connectivity within the city using Treo, its electric, three-wheeler offering. Treo will present customers with a 'green' option in a city swarming with over 80,000 ICE auto rickshaws. Starting with a pilot of 25 vehicles, the fleet is expected to build up gradually to help Thane (and one imagines, subsequently, other cities) transition to more environmentally-friendly transport practices.
Mahindra & Mahindra, a pioneer in the e-mobility sphere in India, is on track to play a pivotal role in realizing these goals and spearheading the transition to a clean, convenient and cohesive urban mobility ecosystem.
By 2020, more than 50 cities across the world are expected to implement DRT solutions. In India, in the meantime, the demand for inter-city DRT services is picking up pace, even as companies eye new business models such as on route meal services and in-vehicle commerce. It's a hot field and the action only promises to get hotter.