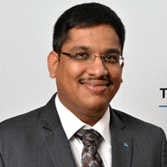 With over 20 years of industry experience, he is responsible for Global Business Field, Electrical as well as Business Stream Products in the India Middle East, and Africa (IMEA) region, which covers more than 25 countries.
He has been involved in testing and certification for over 17 years in a variety of roles. Since the inception of TUV Rheinland's testing and certification services in India, he has played a vital role in establishing them and building a leadership position across the country.
Under his leadership, TUV Rheinland India has successfully established cutting-edge services and state-of-the-art laboratories, such as the Electrical Safety, EMC, Wireless and Photovoltaic labs. The labs conform to national and international standards and have won a variety of prestigious accreditations, such as FCC, CBTL, NABL, MNRE, BIS.
Mr. Varma is a qualified auditor and technical certifier. He has an extensive background in Electronics and Communication Engineering and holds an Executive MBA in General Management.
Sachi Mulmi (SM), a researcher with Frost & Sullivan, had an opportunity to conduct a Movers & Shakers interview with G. Kalyan Varma (GKV) – Vice President of TÜV Rheinland.
SM: Can you start by providing our readers a brief overview of your company including the vision behind its formation and its current role in the market?
GKV: I can sum up TÜV Rheinland in two words: "Precisely Right." Whatever we do, we do it precisely and we do it right. That philosophy has served TÜV Rheinland well for 145 years, and made us a global leader in independent testing, inspection and certification as well as market access, with an international network of approved labs, testing and education centers. Today the group employs 19,700 people around the globe, with annual revenues of more than €1.9 billion.
Standing for quality and safety for people, our independent experts inspect technical equipment, products and services, oversee projects, processes and information security for companies, and train people in a wide range of careers and industries.
TÜV Rheinland's online Certipedia certificate database and its internationally recognized EMC test mark enable manufacturers to quickly and easily prove to clients, end-user customers, or any other interested parties, that their products are certified and fully compliant.
Last, but not least, TÜV Rheinland has been a member of the United Nations Global Compact to promote sustainability since 2006.
SM: What do you want the company to accomplish in the next couple of years and how would you define success for your company?
GKV: As I mentioned earlier, TÜV Rheinland stands for quality and safety for people, technology and environment. In practice, that means keeping up with the rapid pace of technology and regulatory changes in virtually every industry sector, to help companies make sure that the safety and quality of their products, processes and people remain paramount.
It's a massive task. For example, the growing number of cellular and conventional wireless devices used in almost everything as well as government driven initiatives like smart cities, smart grid, and cashless payment, have created an unparalleled opportunity for the wireless industry. It is also a tremendous testing and certification challenge. And it is an area where TÜV Rheinland's international network of approved labs and testing and education centers is making a real difference.
For 145 years, we have found success by following our guiding principles of developing safety and quality solutions. We intend to continue following that proven philosophy in the years to come.
SM: What are some of the key drivers contributing to the growth in this industry?
GKV: Whether you are looking at consumer electronics, industrial engineering, home automation or mobility, the key driver is always the same. Change!
In this case, the proliferation of miniature and microelectronics products and the explosion in IoT devices is driving the need to operate at higher frequencies. Previously we were talking about 6GHz, but today we are already looking at frequencies of up to 40GHz. And, in the near future, that will escalate above 110GHz, where electromagnetic interference could seriously hamper performance.
EMC compliance will become even more critical, and so will the role of independent testing and certification providers like TÜV Rheinland.
SM: Which consumer trends do you consider the most relevant for the EMC test equipment market and how are you addressing them?
GKV: Again, I'd say that change is the most relevant trend. We are seeing increasing use of digitalization, the emergence of artificial intelligence and the move to Industry 4.0 fueling demand for new testing solutions. All of them make extensive use of M2M communications through high-end embedded electronics. And more electronics means a need for more electromagnetic compliance, and more equipment and independent third parties to test for it.
SM: How lucrative is EMC test equipment market?
GKV: The EMC Test equipment market is very strong. That is due in no small part to the growth of international testing agencies like TÜV Rheinland, which rely on advanced equipment to test products to international regulations and standards. And we test almost everything, from household appliances to IT and telecoms equipment, industrial and scientific equipment and wireless products, to a variety of certifications, such as CE, VCCI, FCC and ICES. Our labs operate 24/7 to cut turnaround and reduce time-to-market for new or re-engineered products.
We are also constantly upgrading or introducing new capabilities, which calls for new equipment. For example, in 2016, we opened a state-of-the-art EMC testing laboratory Vietnam. In 2017, we opened a 10 meter chamber in Fremont USA. Five more test sites are under construction at various geographical locations which are expected to be operational in the next 12 to 16 months. These facilities are equipped to support e-mobility and other mobility sector related requirements as well.
Doing all that precisely, and doing it right, calls for expertise and equipment. So, I expect demand for EMC equipment to safeguard quality and safety for people, technology, and the environment to remain lucrative for the foreseeable future.
For more information on EMC testing services, you may click here: https://www.tuv.com/singapore/en/electromagnetic-compatibility-(emc).html
For more information on TÜV Rheinland, you may click here: www.tuv.com
If you have further questions/comments, please contact: sachi.mulmi@frost.com
For more information on Electromagnetic Compatibility (EMC) Test Equipment Market in Southeast Asia, please visit https://store.frost.com/electromagnetic-compatibility-emc-test-equipment-market-in-southeast-asia.html