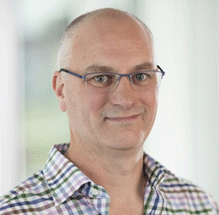 Colin Brown is an experienced ICT professional with 22 years of experience in the business, where he is responsible for implementing significant technology and business change across a wide range of industries. He also has 15 years of experience in Telecommunications.
He reports to the Chief Operating Officer and is responsible for the Strategy, Architecture, Design and Delivery across Spark's, Mobile, Fixed, IP Voice and Legacy Network services. His accountability extends across technology transition and transformation including the adoption of new and emerging technologies and the retirement of legacy networks.
Recently, he delivered Sparks 4/4.5G Mobile Network, Optical Transport Network and Business/ Consumer Broadband Network.
He is currently working on Software Defined Networking, Network Function Virtualisation, IP Voice, PSTN Shutdown and delivering 5G.
Sachi Mulmi (SM), a researcher with Frost & Sullivan, had an opportunity to conduct a Movers & Shakers interview with Colin Brown (CB), ICT Professional at Sparks New Zealand.
SM: Can you start by providing our readers a brief overview of your company including the vision behind its formation and its current role in the market?
CB: Spark New Zealand provides digital services to millions of New Zealanders and thousands of New Zealand businesses. As one of New Zealand's largest listed companies, Spark New Zealand has many responsibilities to customers, partners, shareholders, and New Zealand. Spark New Zealand is made up of a number of core business units, Spark Home, Mobile & Business, Spark Digital, Spark Ventures, and Spark Connect.
In addition, there are a number of flanking brands, including Revera, Appserv and CCL, Cloud computing specialists that together can provide Cloud solutions across the market, Big Pipe and Skinny as value-brands for the broadband and mobile markets respectively, a smart data business called Qrious, Lightbox, an internet TV business and Morepork a home security and smart living business.
Spark New Zealand is the parent company. Spark Home, Mobile & Business provides access to technology in new and innovative ways to help New Zealanders and New Zealand businesses move forward and reach their goals. Spark Digital provides solutions for the rapidly evolving needs of business, enterprise and government clients as they meet the demands of an increasingly globalised, connected and mobile customer base. Spark Ventures will be accelerating the company's future focus and pace of innovation, and delivering new services and businesses such as WiFi, Internet TV and Smart Data analytics.
With the rebranding from Telecom to Spark New Zealand, Spark New Zealand is continuing its focus on becoming a winning business inspired by customers, providing communications, entertainment and IT services over their networks and the cloud, to enable New Zealanders to unleash their full potential. Its aim is to achieve #1 in mobile, #1 in data, and #1 in effortless service and cost. To achieve this, it is investing broadly across its organisation – in people, in new services, products and businesses, in customer service and intelligence, and in digital networks, spectrum and IT platforms – to set itself up for success and for further growth in the future.
Spark New Zealand (then Telecom) was formed in 1987 out of the telecommunications division of the New Zealand Post Office, a government department. In 1990 Spark became one of the first telcos in the world to be fully privatised. On 30 November 2011, Spark New Zealand demerged into two entirely separate, publicly listed companies; a retail services provider (Spark) and a network services operator (Chorus). Structural separation of Spark's retail business from the business that owns and operates the Fibre-To-The-Premise (FTTP) network was a pre-requisite for participation in the Government's Ultra-Fast Broadband scheme (UFB).
Spark has a significant level of operational scale within the New Zealand telecommunications market and provides fixed, mobile and IT products and services to consumer, small and medium-sized enterprise (SME), corporate, enterprise and wholesale customer segments.
SM: What is your company's greatest challenge, and what strategy is in place to overcome it?
CB: Digital technology can make a significant, positive impact on our nation's social and economic wellbeing – enabling stronger, safer, more connected communities (even in the most remote rural areas), opening more opportunities for our children (regardless of their socio-economic backgrounds), and improving health outcomes for New Zealanders of all ages and walks of life.
It can enable Kiwi companies to compete – and win – on the world stage and become smarter, more agile businesses by harnessing all the benefits of new technologies such as Cloud services and the Internet of Things.
Spark's success is dependent on our customers in one key market: New Zealand. That's why we're passionate about using technology to be truly useful to our customers, helping make our country better and enriching the lives of all New Zealanders. We want to be the most valued brand in the home, and the most trusted partner for business.
SM: What is 5G and what are the major features of 5G? What are the likely frequencies and spectrum considerations?
CB: 5G is the next generation of mobile technologies and is being designed to provide greater capacity for wireless networks, offer greater reliability, and deliver extremely fast data speeds, enabling innovative new services across different industry sectors. We expect to see peak data rates of up to 20 Gbits per second, a massive proliferation of connected devices, very low latency (1 millisecond round trip) and an ultra-reliable network with resilience architected across all aspects on the network.
SM: When will 5G be available for rollout and what is the optimum timing for 5G?
CB: On the 19th of March we announced the first New Zealand Outdoor Trial for 5G and intent to start rolling out 5G from 2020, subject to the spectrum availability.
http://www.sparknz.co.nz/news/Spark-switch-on-5G-test-site/
We see the control plane and mobility usage being delivered across the C Band (3.4 GHz to 3.7Ghz) and a significant amount of the user plane traffic using mm 26Hhz wavelength (24.5 to 26.4Ghz).
The trial we are running in New Zealand is currently using C-band – 3.6-3.7GHz (100MHz bandwidth) and mm Wave – 26.65-27.45GHz (800MHz bandwidth).
We see the contiguous allocation of spectrum within the bands being important to allow for best performance.
We are also studying the wider implications of 5G implementation on other aspects of the Network including Network Core, Aggregation and Transport. We are yet to decide to deploy as a Stand Alone or Non Stand Alone implementation but we are well underway of network planning which we see the Network Trial helping significantly in validating key assumptions on Network densification.
SM: What do you see as the growth opportunities and critical success factors to survive and compete in this market?
CB: The radio network continues to evolve to meet traffic growth and new capability. We will face an increase in throughput, capability and data rates in the coming 5 years due to a number of factors that directly or indirectly impact traffic on the mobile network.
Enhanced mobile broadband.
Increased take up of video streaming. High definition video (4K video, 8K video) & long session times.
Broadcasting services.
To support the vision of smart cities based on a connected society via the Internet of Things (an excess of 100 million devices being wireless connected)
Specialist networks such as intelligent transport, smart grids, disaster relief networks, etc
Wireless Broadband.
Virtual reality.
IOT/telemetry.
If you have further questions/comments, please contact: sachi.mulmi@frost.com
For further information about 5G in Asia Pacific, please visit:
https://store.frost.com/5g-in-asia-pacific-forecast-to-2022.html