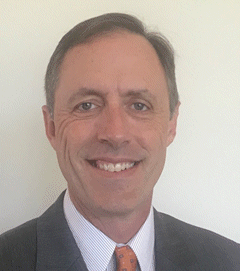 Chris Stogner, Triconex Offer Director at Schneider Electric, is responsible for defining and managing the strategy and investments for the company's Triconex safety and critical control business and product lines. Prior to this role Chris spent sixteen years with Invensys (now Schneider Electric) as both an Application Engineer and Project Manager and has been involved in the design, installation, testing, and commissioning of Safety Instrumented Systems around the world.
Chris holds a B.S. from Louisiana Tech University (class of 1996, summa cum laude) and is a veteran of the United States Air Force. He is a TUV-certified Functional Safety Engineer and intimately experienced in process and functional safety management.
Sachi Mulmi (SM), researcher with Frost & Sullivan, had an opportunity to conduct a Movers & Shakers interview Chris Stogner (CS) – Triconex Offer Director at Schneider Electric.
SM: What is your key value proposition that provides your firm a major competitive advantage over other players in the industry?
CS: Triconex safety systems—the most dependable in the industry—deliver safety for life; the measurable operational profitability improvements they enable can cover the cost of the system investment in fewer than six months while continually protecting people, production and profits. Additionally, when it comes to safety, credibility is everything…and we have it. We have more than 30 years' experience in safety and critical control applications. We have the industry's largest installed base of over 18,000 systems, operating in 80 countries around the globe, and more than 1 billion safe operating hours. Our products offer the highest levels of system availability and continuous operation for high hazard industries, thus maximizing process uptime and profitability. In addition to our market-leading safety controllers, we have a broad offering of software applications that validate that our safety systems are performing as designed throughout the entire safety lifecycle, while reducing the effort and expense required to do so.
SM: What is your vision for the future of the process safety systems market and what will be the competitive elements for your company in the short term?
CS: Industry needs to think differently about measuring and improving the safety of their operations to show that safety can actually be a profit center, not merely a cost center. Our value-focused solutions and expertise can help customers do that. We are beginning to see owner/operators transition from functional safety of the past, which was reactive in nature, to a more holistic approach to process safety, which can identify poorly performing safety elements and address them before they lead to costly downtime or an unsafe event. The ability to utilize Big Data to determine that safety functions are maintained and operated as designed will be broadened, as users look for ways to make safety profitable.
At the same time, we foresee a continuing trend of diminishing resources in the chemical, oil and gas industries, so users will continue to look for ways to manage their safety systems with fewer resources. We provide incredible value there too. We have applications such as Triconex Safety View, the only TUV-certified alarm and bypass HMI, which heightens operational awareness and insight of abnormal conditions. This eliminates the chance of a critical alarm being undetected, as well as a safety function being inadvertently bypassed. Another unique application is Triconex Safety Validator, which is the only available TUV-certified application logic-testing software. Due to its automated nature, Triconex Safety Validator has the ability to provide test coverage, which was previously impossible via traditional test methods. It also greatly reduces the time required to perform testing. One of our customers recently reduced their factory acceptance time by 50% and more importantly their site testing by 85% utilizing Triconex Safety Validator. This allowed them shorten their outage by four days, which in the continuous process industry leads to tremendous increased revenue potential.
SM: Is the market growing, how long will it continue to grow, and at what rate?
CS: We foresee market growth in the coming years due to the aforementioned drive toward profitable safety, an increase in monitoring of safety performance and the expansion of the global economy, as well as the growing number of obsolete safety systems in the industry, which require modernization.
SM: How are the safety regulations affecting the demand for safety systems? Is integration of safety products with other automation products useful?
CS: The safety regulations are increasing the demand. The newest version of IEC-61511 released in 2016 has introduced more prescriptive language regarding the performance of safety systems. Actions that the standard previously stated as users "should do" have now been replaced by "shall do." The customer must verify that safety functions are operating as designed, and where necessary take corrective action. Specific key performance indicators such as time and bypass, demand rate, and proof test intervals must be tracked versus what was prescribed in the risk assessment phase. Schneider Electric offers an application called SIF Manager, which tracks these KPIs automatically and alerts management to items that require attention. This assists users in identifying risk gaps due to underperforming safety functions and allows them to be addressed proactively. Conversely, SIFs that are performing better than design can be optimized in ways such as extending proof test intervals, thus maximizing process uptime.
SM: Are the products/services offered meeting customer needs or is additional development needed?
CS: Schneider Electric's Triconex products and safety services cover the entire safety lifecycle and make safety a closed loop. Triconex safety solutions are investments, not expenses, and they offer wide-ranging benefits. They are proven to reduce the likelihood of unexpected production outages, keep operations running continuously, improve manufacturing efficiency and avoid undesired consequences. Because they help our customers measureably improve their operational profitability and, more importantly, maximize the safety of their people, assets, and the environment, they can more quickly recoup the cost of their investments. That said, the market is always evolving and we as Schneider Electric will always continue to innovate in order to meet our customers' needs.
If you have further questions/comments, please contact: sachi.mulmi@frost.com
For more information on Analysis of the Southeast Asia and Australia–New Zealand Process Safety Systems Market, please visit https://store.frost.com/analysis-of-the-southeast-asia-and-australia-new-zealand-process-safety-systems-market.html