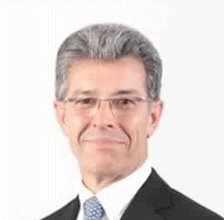 Jean-Claude Broido is Vice President of IBM Security for Asia Pacific. In this role, Mr Broido is responsible for the strategy, client value and growth of IBM's Security portfolio (including Cyber Security solutions and services) across the region. This includes bringing together a portfolio of advanced Cognitive and Cloud Security Solutions as well as proposing Enterprise Transformation Services to help clients make and implement strategic decisions about how to safeguard their business.
Prior to this role, Mr Broido was President of McAfee Japan with responsibility for the strategy and performance of Consumer and Enterprise. Under his leadership, the business experienced strong performance as Mr Broido focused on building a strong partner ecosystem, establishing deep relationships with both private and public organizations; building a reliable and high quality support and delivery organisation; and introducing new offerings to the Japanese Market. Before joining McAfee, he led business strategy, operating model transformations, merger integrations, and guided the development and management of very significant global client and partners relationships across multiple regions for high-tech companies such as Cadence Design System, Documentum and EMC.
Mr Broido holds an Electronic Engineering Degree from ENSICAEN and a Masters of Finance from the London Business School.
Sachi Mulmi (SM), researcher with Frost & Sullivan, had an opportunity to conduct a Movers & Shakers interview with Jean-Claude Broido (JCB), Vice President of IBM Security for Asia Pacific.
SM: What is the unique value proposition of your company, and what are your key competitive differentiators?
JCB: One of the greatest threats of our time is cybercrime and our response must be swift and strong. Our mission is to make the world a safer place, now, and in the future. We must enable organizations to safely deliver better services to their customers without fear. Our strategy reflects our belief that today's defenses will not suffice tomorrow. That belief pushes us to approach our work, support our clients, and lead the industry with more determination than the criminals themselves.
IBM Security is committed to providing comprehensive security products and services that meets the evolving technology needs of enterprises while offering down-to-earth outcome driven security. We understand that single problem solutions will not suffice in a complex IT environment where the needs of mobile, cloud, and IoT computing are a reality. Our Security Immune System approach, with AI technology at its core organizes the various security capabilities around their respective domains.
The Security Immune System, much like a human's immune system, layers defenses. It is analogous to organs that gather threat information, and send data throughout the system (central nervous system), processes the data using security analytics (the brain), prioritizes and eventually takes action. Our Security Immune System leverages cognitive capabilities to continuously understands, reasons, and learns the many risk variables across the entire ecosystem of connected capabilities and expands as it connects to an open partner security ecosystem that includes the IBM Security App Exchange. We offer our solutions, on-premise, as SaaS, and some via the cloud. Customers can also chose to allow us to provide our solutions via a service.
We continue to accelerate our strategic journey of building the best security company in the world that delivers higher-value solutions with analytics at the center to deliver integrated, intelligent, and orchestrated solutions to reduce risk in an uncertain world. We are one of the fastest growing security vendors while also being one of the largest. Our team of more than 8,000 people supports more than 17,500 clients across 133 countries. We have proven leadership across a wide range of security domains, in fact IBM Security is ranked as a LEADER across a dozen security markets according to various analyst firms. We are uniquely positioned as a leader in both providing security products and services. Our technology innovations have resulted in more than 3,500 security related patents.
SM: What do you want your company to accomplish in the next couple of years and how would you define success for your company?
JCB: IBM Security strives to be a premier trusted advisor to enterprises around the world. We are accelerating into the future as we focus on three strategic areas: delivering security from the Cloud, infusing Artificial Intelligence (AI) and Orchestration across the Security Immune System, and Leading the industry in collaboration.
Cloud security is the future of security in that it is scalable, responsive, and requires minimal management. By delivering capabilities through the cloud, enterprises will be able to confidently advance their digital transformation efforts. We offer managed cloud security services, have a large portfolio of security products that are "cloud ready", and provide software as a service (SaaS) offerings such as QRadar on Cloud. The next wave of IBM Security's cloud-based solutions will focus on threat hunting and response and will integrate cloud-based identity, risk and data protection. Ultimately our cloud security platform will provide protection for on-premise and cloud infrastructures.
AI and Orchestration is the future of security because it has the power to accelerate security outcomes and it is a foundation upon which an outcome-driven security program can be built. It provides the ability to quickly identify emerging threats, make decisions faster, and provides contextual reasoning to analysts. Orchestration offers a complete and dynamic response, enabling faster, more intelligent remediation. We've been embedding AI's machine-learning capabilities into our security technologies since 2015 and continue to expand the offerings that use artificial intelligence and machine learning to process volumes of data to spot anomalies and to more accurately understand user behaviors.
The future of security is collaboration in that is turns security into a team sport. Collaboration is a force multiplier for the hacking community. It is in this way that confederations of independent actors can succeed. IBM Security is leading the effort to provide the same collaborative capabilities to the defenders. By sharing threat information and new tools, organizations can proactively hunt for, and stop, attacks before they take hold. IBM Security's commit to collaboration was demonstrated by the X-Force Exchange and IBM Security App Exchange. With the X-Force IBM security has opened up its enormous threat intelligence database and others are sharing their threat intelligence for the benefit of others. The IBM Security community marketplace features hundreds of custom applications from IBM and Business Partners, fostering innovation and collaboration among the security community.
It is very difficult to measure success regarding security. There are tangible metrics such as a reduction in the number of successful attacks, fewer breaches, and fewer records being compromised, or less money stolen by cyber criminals. We view success differently. We define our success by the number of satisfied customers whom we have helped to safely digitally transform their businesses. We strive to provide the tools and services that allow people to comfortably and safely use technology.
SM: What are the most common network security threats in Asia-Pacific?
JCB: IBM's Security Services teams monitor billions of events per year across the globe and in Asia Pacific, most threats in 2017 fell into four categories: Phishing, Ransomware, Malware and DDoS.
The 2018 IBM X-Force Threat Intelligence Index found the number of records breached dropped nearly 25 percent in 2017, as cybercriminals shifted their focus on launching ransomware and destructive attacks that lock or destruct data unless the victim pays a ransom. Last year, more than 2.9 billion records were reported breached, down from 4 billion disclosed in 2016. While the number of records breached was still significant, ransomware reigned in 2017 as attacks such as WannaCry, NotPetya, and Bad Rabbit caused chaos across industries without contributing to the total number of compromised records reported.
SM: What do you see as future trends of this industry related to technology, legislation and customer demands?
JCB: Trends for network security include:
Consolidation. For on-premise network security solutions, the market continues to shift from standalone network security devices to consolidated solutions, such as next-generation firewalls. This is evidenced by the well-documented decline in the IPS market in conjunction with the growth in NGFW devices.
Increase in encrypted traffic. Some estimates have encrypted sessions comprising 70% of network traffic within the next couple of years, which will place a performance burden on network inspection that will be difficult to overcome. Further, the introduction of TLS 1.3 will introduce several challenges to inspecting encrypted sessions for network security purposes.
Increased focus on cloud inspection. As application workloads shift from on-prem data centers to cloud environments, the nature of network security changes. Rather than physical or virtual appliances performing the bulk of network inspection, the responsibility shifts to host-based agents running within the cloud workloads themselves. Analysis of cloud logs (e.g., Amazon CloudTrail) becomes an important component of cloud-based security as well.
Will network security continue to exist, or will other solutions and services take its place?
Network security will continue to exist, but given trends described above, the form factor for inspection of network traffic will shift in the coming years. For on-prem network security, NGFW will continue to displace standalone IPS for most use cases, and the IPS market is expected to continue its significant decline over the next several years. However, due to a combination of challenges presented by the increased prevalence of encryption, network traffic inspection will shift from "in-flight" on the network to the hosts themselves. This will especially be true in public cloud environments, where inspection at the network level is in many cases simply not possible.
If you have further questions/comments, please contact: sachi.mulmi@frost.com
For more information on Asia Pacific Network Security Market, please visit:
https://store.frost.com/asia-pacific-network-security-market-cy-2016.html?