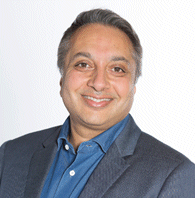 Sumit Nagpal is a visionary and healthcare futurist. LumiraDx represents the fifth generation of Sumit's work, which began while working with Steve Jobs and NeXT, Inc. Today, Sumit has taken his vision with the strength and backing of a trio of industry leaders, to build upon their combined experience to help transition healthcare to more convenient, less expensive near-patient settings, all while improving outcomes and cost. His vision of orchestrating entire healthcare ecosystems to shift care to more appropriate settings, tear down organizational silos, and engage community-based providers as first-class members of care teams to enable more proactive care before higher acuity and cost arises, is resonating worldwide. Sumit has been recognized for his accomplishments, securing several awards and accomplishments, most recently winning a lifetime achievement award in 2017 by Computerworld as a Premier 100 Technology Leader. He has secured HIMSS fellow designation and serves on HIMSS North America, Board of Directors.
Sachi Mulmi (SM), researcher Frost & Sullivan, had an opportunity to conduct a Movers & Shakers interview with Sumit Nagpal (SN), Co-Founder and CEO of LumiraDx, Inc.
SM: Can you please describe your product/technology/solution for our readers?
SN: The LumiraDx, USA, Inc. portfolio focuses on lifestyle interventions and positive behavioral change management allowing patients to communicate, access data, and manage consents online supporting best healthcare practices. LumiraDx has, at its core, a cloud platform capable of integrating point of care and home diagnostics, with real-time predictive analytics yielding early interventions of chronic diseases such as diabetes, heart failure, chronic obstructive pulmonary disease (COPD), and anticoagulation therapy. We are vendor neutral and can integrate EMR and data from pharmacies, laboratories, imaging centers, ambulatory services, social care systems, financial and claims processing services, diagnostics, and wearables. The LumiraDx Care Solution software, connected diagnostic devices, and wearable components, when united via LumiraDx's cloud platform, seamlessly assists patients with self‐management of chronic conditions all under the supervision of family, friends and caregivers. The LumiraDx diagnostics suite is cutting edge and offers a device to test for electrolytes, toxicology, chemistry, nucleic acids, cellular assays, coagulation, and many immune-assays, that combine disease and co- morbidity specific panels. The LumiraDx offering is comprehensive and all-encompassing enabling home Wi‐Fi hotspots providing access to patients with limited Internet connectivity.
SM: What is LumiraDx's greatest challenge and what strategy is in place to overcome it?
SN: I am an innovator and healthcare futurist. The industry needs to remove the traditional thoughts about what a "typical office visit" should look like and the healthcare delivery process overall. There needs to be a better way of engaging the patient and creating a more satisfying experience for all stakeholders. We are seeing that the healthcare industry's approach to delivery is finally evolving and realizing that the patient should always be at the center of care. LumiraDx's ultimate goal is to improve patient care while also making the experience of that care and its delivery, a positive and rewarding one. We are helping to define and shape the new "office experience" using mobile devices, wearables and diagnostics in virtually every aspect of the healthcare delivery process. Our cloud based offering along with our ability to provide Wi‐Fi hotspots for unlimited protected data access to patients and their family, friends and caregivers, is the future of where healthcare delivery needs to be and practiced. We are seeing patients using social media in healthcare today with a market driven by patient satisfaction and patient consumerism at the forefront. LumiraDx is supporting these efforts with our mobile devices and care management teams while simultaneously supplying quality metrics for the consumer to make wise choices to support healthy lifestyles.
SM: What would help maintain a sustainable business in health information exchange (HIE) right now?
SN: HIEs overall need to demonstrate value to all stakeholders: the patient who needs the highest quality of care, the payers who want better control of the quality of healthcare services they cover, and medical providers wanting easy access to make sound medical decisions. All of these result in better care for patients. If a HIE provides a unique and rich pool of data that patients and providers can utilize while being more cost-effective, then HIEs will fill a void in the healthcare industry long term. Without creating incentives for each stakeholder, HIEs will be underutilized and fall prey to being unsustainable.
SM: Are the products/services offered today meeting customer needs or is additional development needed?
SN: I think the products and services being offered are evolving and developing rapidly. We are seeing a healthcare shift with consumers looking for better value, access, and ease of use. We are seeing social media networks explode with communication channels to network consumers together based on their healthcare needs and disease states. So creating innovative solutions such as those we have at LumiraDx, USA, Inc. can create great opportunity for the entrepreneurial mind and communities at large to best gauge opportunity in the healthcare market. Products being offered are catering to this new mind set but there is much more that can be accomplished and it is the entrepreneurial spirit that I believe will drive healthcare and its delivery to its peak, servicing those in need regardless of disease state, geographic location or any social influences that impede healthy lifestyles.
SM: What are the future trends of this industry that are related to technology, legislation and customer demand?
SN: We are seeing healthcare consumerism front and center with the patient as the focus and more vocal about their healthcare needs, its delivery and the expectations associated with the two. We will see many more options online for example with immediate access to healthcare, along with retail chains like Walgreens and CVS and other commercial marketplaces that consumers frequent, creating additional walk-in clinic opportunities that immunize, diagnose and create additional treatment options. We will continue to see more consumer medical devices with an ability to predict consumer health risks and detect conditions more efficiently and at a more rapid pace than ever before. The legislation is needed to support these various efforts. Politicians will undoubtedly feel the pressure to support these efforts as consumers continue to be more vocal and demand actionable results for healthcare requests as the healthcare trajectory continues to be refined and developed.
If you have any further questions/comments please contact: sachi.mulmi@frost.com
Frost & Sullivan Digital Health Program
The Digital Health program offers clients unique insights into the competitive dynamics of the market, including coverage of sectors, such as electronic medical records, data and storage management, and emerging wireless technologies, from a regional and global perspective. Based on both quantitative and qualitative information, clients can leverage this information to stay abreast of challenges and trends, remain competitive, and grow their businesses.
For more information please visit
https://www.frost.com/sublib/subscription-index.do?subscriptionId=9612-B1