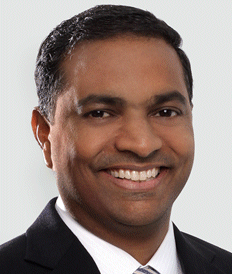 An accomplished business leader in the global enterprise software and healthcare IT industries with more than 20 years on the job, Karthik is a strong advocate for the innovative use of technology to derive increased productivity for healthcare providers.
As a thought leader, he has been driving productivity agendas for technology enabled delivery models across healthcare organisations globally, and envisioned the expansion of Napier's Acute Care product portfolio to include Long Term Care across all formats of services delivery. This vision of technology for senior care providers offering nursing home, home care and activity-centre services, enabled a Napier customer to win a Singapore National Healthcare IT excellence award recently. A passionate advocate of mobile technology, Karthik has underpinned all these solutions with a "mobile first" approach.
Having 'globalised' Napier's business across Asia, the US and the Middle East, Karthik shares his vision for the evolving healthcare landscape as a speaker at major conferences and a regular contributor to ICT journals. He is a passionate advocate of dementia care who also devotes his time and energy into mentoring aspiring innovators in a local university. An industry veteran who has worked in global firms such as SAP and HP, he is also an entrepreneur and the founder of an EDB-investee company. Karthik was awarded the 'Spirit of Enterprise Award' in 2007 for demonstrating exceptional self-reliance in the establishment and operation of his business as an entrepreneur in Singapore.
Sachi Mulmi (SM), content management executive for Digital Marketing, had an opportunity to conduct a Movers & Shakers interview with Tirupathi Karthik (TK) – CEO of Napier Healthcare.
SM: What is the unique value proposition of Napier Healthcare Solution Pte. Ltd., and what are your key competitive differentiators?
TK: Napier's technology stack is considered by many experts as being on the "leading edge". It uses an mFirst approach or mobile centric design thinking. Such implementations of technology are relatively rare in the healthcare industry where the most successful player uses the technology of the 1980s!
Another unique feature of Napier is that it offers solutions across the entire spectrum of healthcare providers including Acute Care, Long Term Care (LTC) as well as what we refer to as Xtended care. Our Xtended care offerings–such as our patient referral management system–enable our customers to deliver services across the entire continuum of care, from the hospital to follow up clinic to the home of a patient. Our customers in their drive towards providing patient-centric care are starting to take advantage of Napier technology's extensive reach. In fact, some of our Acute Care customers have already starting using our LTC products to launch new service lines.
Finally, our products have some of the best usability features. This is because we develop and test with healthcare practitioners on staff and in partnership with healthcare providers. One prime example of our product that offers high usability is an EMR (electronic medical records system) on Apple iOS. It is a mobile EMR that requires only a few key strokes by a physician to use. Another example is our Nursing Home product, which is being used and openly endorsed by an 80-year old nurse as being very useful for her daily care administration routine.
SM: What do you want the company to accomplish in the next couple of years and how would you define its success?
TK: Our success will come only when our customers in all geographies succeed. To that end, we continue to offer healthcare providers increasingly more powerful solutions that not only meet their functional needs, but score very high on Usability.
Part of that easy-to-use picture is language. At present, we have customers in Asia-Pacific, the Middle East (including Turkey), Europe, Africa, Australia and the US. Today, Napier is ready to deliver its applications in ANY language. So we see Arabic, Turkish and Chinese speakers among our customers freely interacting in their own language with our solutions, as they focus on taking better care of their patients. At the same time, we see them not having to bother with 'learning' the application because it is simple and easy to use.
We shall stay the course and continue to help healthcare providers everywhere.
SM: How does the current economic scenario for this industry look? What are the key factors?
TK: The healthcare market is going through a period of explosive growth. Almost all countries are investing in infrastructure to deliver increasingly better care for their residents. Public and private healthcare providers are expanding and enhancing their services to treat more people, more cost effectively and more profitably.
Forward-looking players in the healthcare industry have come to realize the value of IT as not only a tool to drive cost-efficiencies in their operations, but also as a strategic advantage to their overall business. To them now, specifically digitalization, mobility and the Cloud are key mantras to their success. And Napier stands ready to deliver on all three TODAY!
SM: What are the top industry challenges that you face as a company?
TK: A great number of hospitals and LTC providers are not investing sufficiently in their IT. They still consider an investment in technology a 'cost' and not a competitive differentiator. As a result, investments in this area tend to be on the weaker side, and there is very high cost sensitivity in the healthcare IT market. This is especially true in Asia and South Asia. The cascading effect of weak investments constrains investment in innovation by vendors. At the same time, regulatory frameworks in many countries–with the exception of Singapore, which is very open to all global players–tend to favour local players.
SM: What are the future trends of this industry that are related to technology, legislation and customer demands?
TK: I see one trend above all, in terms of its influence and impact for years to come: the consumerisation of healthcare. It cannot be reversed and on the contrary it will pick up momentum over the next few years. Patients will start demanding more friendly business practices and expect healthcare service delivery at point-of-care. Legislation in all spheres will need to be relaxed, except for cases of privacy and appropriation of personal data. Technology will play an ever increasing role in the life of a human due to the proliferation of different types of available devices for (pretty much) every use case. Personalized medicine due to genome mapping will make outcomes sharper and restore control back to the patient. Together, these trends will force radical changes in how, where and what kinds of care will be delivered to people.
If you have any further questions/comments please contact: sachi.mulmi@frost.com
Frost & Sullivan Digital Health Program
The Digital Health program offers clients unique insights into the competitive dynamics of the market, including coverage of sectors, such as electronic medical records, data and storage management, and emerging wireless technologies, from a regional and global perspective. Based on both quantitative and qualitative information, clients can leverage this information to stay abreast of challenges and trends, remain competitive, and grow their businesses.
For more information please visit
https://www.frost.com/sublib/subscription-index.do?subscriptionId=9612-B1