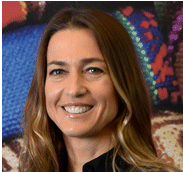 Interview made by Juan González, Digital Transformation Research Director at Frost & Sullivan. 
1) Juan: Vanesa, please describe your role for our readers.
Vanesa: I run the innovation area for VISA in Latin America. As part of my job, I do engage with clients and strategic partners of VISA to solve business problems around the areas of payments and e-commerce to come up with new ideas and solutions that we can bring to the market.
Right now, around 85% of private consumption expenditure in Latin America is done in cash , whereas in the region's largest economies, credit card penetration hovers between 25% and 30%. These present a tremendous opportunity to ignite and further expand digital payments. That, as a matter of fact, is also one of the key objectives of my role.
2) Juan: Besides digital transformation, VISA needs to cope with some very particular characteristics of our region, such as the substantial volume of cash transactions that you just mentioned. This is a very difficult challenge as it is not only about transformation, but also about changing the way people are used to dealing with money.
Vanesa: Of course, and the local infrastructure is one of the main reasons why digital electronic payment penetration is so low in Latin America. But lately, with the mobile and Internet boom, every device that is connected to the Web can potentially become a POS and a terminal to accept digital payments. So, as there is higher penetration of the Internet, more smartphones, increased 4G expansion, as well as more access to data, we will see significant growth in the digital payments industry.
The 16-digit credit card number is no longer just a plastic; it is also a digital payment credential that stays in the cloud and you can push those payment credentials to any device connected to the Internet. This can be done in a highly secure manner, encrypted and tokenized. So, just think about the growth of connected devices in the world and in Latin America. The great news for us is that all those devices can potentially be used as payment devices. So, the industry is going to grow exponentially.
3) Juan: Going back to your role, what you would like to accomplish in the next few years and how will you define success for your position?
Vanesa: The way I define success for my role, in terms of my duties with regard to clients and partners, is to really position VISA at the forefront of innovation in the payments industry and drive transformation in the region. What I mean by transformation is bringing new solutions that can really expand digital payments into the consumer world by making payments easier, better, and more secure.
But that is only one aspect, as I also need to support the internal transformation of the company, in terms of the way we look into innovation within VISA.
4) Juan: How does VISA manage the innovation process? What role within that process does the Innovation Center and Innovation Studio have?
Vanesa: Our Innovation approach is based on four pillars. First, there are the Innovation Centers and Studios, a global network of spaces to co-create new products and services with our clients. Second, we believe that it is very important that we (and our platforms) became more open. With that in mind, we have created the Visa Developer Platform offering open access to several of VISA´s most popular payment capabilities and APIs. The third component is VISA Ready, a program that provides structure and clarity to partners wanting to quickly introduce devices, software, and solutions that can initiate or accept VISA payments, while making sure those are interoperable and relevant everywhere. Finally, the fourth pillar is our Open Collaboration Ecosystem, where VISA engages with Fintechs and other startups that offer complementary capabilities to help design new solutions, while also working hand in hand with digital clients such as Facebook, Amazon, and Google.
Going back to the first pillar, at this moment, we have one Innovation Center in Miami and one Innovation Studio in Brazil. The only difference between the two is that Miami has more dedicated resources, a regional coverage, and bigger space. In Sao Paulo (Brazil), the team and space are smaller. Other than that, they serve the same purpose. However, the Brazilian Center focuses only on the Brazilian market. We believe that Brazil is already a large enough market to have an entire Studio dedicated to it. That said, we are also planning to open a Studio in Mexico by early next year (2019). These two markets are actually where the Fintech community is more advanced and developed in Latin America.
Our Innovation Centers and Studios are used as venues where we can discuss trends, find new solutions, and hold all types of meetings, like our experience tours where we showcase demos and the prototypes that we have worked on. We also run executive discussions, where we explore business opportunities with clients or business partners and look forward to finding common grounds to work together. Sometimes, the process starts with the client introducing to us a problem or situation he wants to solve, whereas in other instances, it starts after we hold a business or market trend discussion. And then, we find a common agenda that we can work on together.
Once we have identified an opportunity to collaborate on, we run what we call the co-creation process. Those sessions can span from one to three days, depending on the challenge. We follow and apply design thinking methodologies and are human-centric, so we always have the consumer and our clients in mind. The innovation process starts with defining a business problem to solve and trying to understand what is going on the market. During the process, we try to know our clients' and consumers' pain points and needs. And we leverage those to build and design the solution.
By day two, we usually have a prototype. We engage in rapid prototyping, so we try those prototypes really fast and test them to understand if they are fit for the market or not. Another key step is what we call open source, which means that we are not creating ideas alone, but always doing it with partners and clients while engaging frequently with merchants, startups, and governments.
5) Juan: You said, "Innovation is the process of creatively solving big problems, and discovering opportunities that others do not see". That being said, what are the problems VISA is trying to solve in Latin America and what opportunities are you discovering?
Vanesa: A lot has to do with expanding access. Financial inclusion is one of the biggest problems and addressing it is a priority. In a region where the level of bancarization is low, consumers are excluded not only from digital payments, but also from digital commerce and many other services. But as all that has started to change, thanks to mobile connectivity, many new opportunities will arise.
Other challenges are the inclusion of long tail merchants, access to information and accounts on the go that will allow for an improved user experience, and authentication to increase security. In all of the above areas, we have made some progress. Recently, we have rolled out a biometric solution for Neon Bank in Brazil, which uses facial recognition technology to authenticate online purchases. Also, we have developed a virtual assistant for Banco do Brasil that helps to provide answers to questions and queries on personal finance through Facebook Messenger. We are also actively engaging with merchants in different areas to improve authentication in order to expedite checkout lines at their stores.
6) Juan: In your view, what are the regional trends that stand out in the financial services arena?
Vanesa: Local or regional trends are not that different from global trends. We have observed the appearance of what has been called the universal connected consumer. Millennials in Latin America are connected two out of seven days a week (chatting, buying online, or on social media) and they want everything for now, driving higher customer expectations. Overall, customer preferences have changed with regard to their preferred platforms for interacting with companies.
Moreover, we are seeing many of our clients starting to work with biometric solutions, Artificial Intelligence, and Machine Learning to add more intelligence into commercial transactions. Also, there has been a lot of innovation in the region from Fintechs and startups. Another relevant aspect is the regulatory environment, with regulators focusing increasingly on financial inclusion and playing an active role for that to happen.
7) Juan: Considering the current status of the financial services market in Latin America, what are some of the challenges VISA is facing and what strategy is in place to overcome those?
Vanesa: The biggest challenge we have as an industry is to solidify the regional infrastructure, which means increasing smartphone penetration and access to the Internet. Another important challenge and opportunity is "tokenization". As payments turn progressively digital, securing these payments and credentials becomes key.
8) Juan: During our conversation, you mentioned that improving the customer experience is key. What is VISA doing in this regard nowadays?
Vanesa: That depends on how you define customers. If you are referring to financial institutions, Fintechs, and merchants, we are taking initiatives such asthe Visa Developer Platform to improve the way we serve them. Through this program, our clients and partners can have access to our latest innovations and technology in a very easy way. Nowadays, we have over 90 APIs available for our clients in our developer platform.
With regard to the end user, we are working on digitalizing the customer experience by leveraging chatbots to access account information and provide support during online purchases. Additionally, we are using biometrics and facial recognition to be able to authenticate and complete a transaction without having to remember passwords that we always forget. In a few months from now, we will be in a position to make a few announcements that will change the way we are delivering services to our clients.
9) Juan: As a general conclusion, what do you think the future holds for the financial services market and, more specifically, what role can we expect VISA to play in shaping the future of the industry?
Vanesa: Payments will continue to evolve, even becoming seemingly invisible transactions at some point. We already see an increase in new payment technologies, following a wider adoption of contactless and push-payments; for example, the use of wearables to pay, such as rings, bracelets, gloves, pins, and watches. At Visa, we are also piloting the introduction of payment capabilities with cars, home appliances, and other connected devices. The digital world of the future will have no place for a plastic credit card; at least, that is how I picture the evolution of the payments industry.
VISA will keep playing a leading role in driving innovation, promoting advances in infrastructure, and setting up the standards for the industry to operate, reassuring that the new payments solutions that come to market are secure and interoperable, while following protocols to protect consumers and businesses.
10) Juan: Finally, recapping on your recent participation in the Women, Innovation & Technology "Leading Ladies" panel in eMerge Americas, how is VISA empowering future generations of female leaders?
Vanesa: VISA has the women leadership network initiative, which is sponsored by our CEO, who is very passionate about it. And that is great because it sends a very important and strong message into the organization. VISA maintains its focus on emphasizing the importance and relevance of diversity, and as any other large organization, we have our own metrics and targets that keep an eye on that (diversity).
Also, VISA has a six-month executive leadership program, which is being conducted in collaboration with Berkeley University, to further develop female leadership within the organization.