Introduction
As one of the 48 countries classified by the United Nations as being "least developed", Nepal is taking huge strides toward digital transformation in order to move to the classification of being a "developing" nation. Although the country has only recently begun moving toward leveraging technologies and digital platforms, this is still highly commendable given that political stability has only recently been instilled.
With Internet penetration reaching 63% in January 2018 as stated by a Nepal Telecom (NTC) report, Internet connectivity is available to a larger mass, which makes it feasible for online services to gain momentum. In fact, by 2025, compared to its neighboring countries – India and China, the penetration of Internet and mobile connections is predicted to be much higher as shown below. According to the International Telecommunication Union (ITU), Nepal is expected to be a forerunner in Internet penetration at 79% with China, following at a 75% penetration rate. Similarly, Nepal is projected to lead with 124% mobile connection penetration, while India's mobile connected penetration is predicted at a mere 98% in 2025.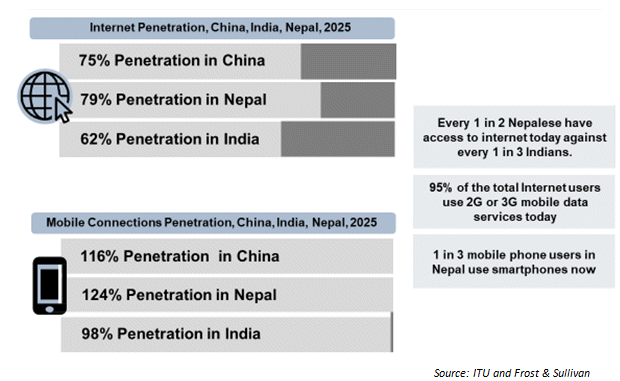 This will have a consequent effect on various sectors in the country. However, we can see a distinct digital influence in the government sector, international non-governmental organizations (INGOs), non-governmental organizations (NGOs), entrepreneurial ventures, and universities.
Current Digital Trends
The Government on the Go: Embracing Digital Technology

Traditionally, the level of adoption of digital technology in the Government sector has been low. This is mainly because of lack of skilled human resources in the technical field. Moreover, due to lack of funding in the Government sector, available skilled technical manpower got drawn toward the private sector where pay is much higher. In addition, as technology itself was outdated, it was difficult for digital transformation to take place.
Taking cognizance of the digital imperative, the Government sector has gradually started to invest in digital solutions. To begin with, Nepal Electricity Authority (NEA) is working toward replacing traditional analog meters with digital smart meters. This eliminates the need for meter readers and consequently, reduces electricity leakage and has a positive effect on NEA's revenue by eliminating pilferage.
Recently, the Department of Passports replaced traditional non-digitized passports with Machine Readable Passports (MRPs). The Department of Transport Management also introduced smart licenses embedded with electronic chips to replace non-digitized vehicle licenses. In addition, embossed number plates for vehicles are gradually entering the market, with the help of which vehicles can be detected when they pass through certain vehicle detection points. Currently, the Metropolitan Traffic Police Division relies on closed-circuit television (CCTV) footages to penalize drivers for traffic violation, thus reducing the number of potential accidents.
Moreover, CellApp Innovations developed Smart Palika, an integrated software system that digitizes local governing bodies. This includes a mobile application, Website, digital data, and a dashboard. By providing ward-level and municipal-level services online, it increases efficiency by saving time for both the public and government employees. Furthermore, it is easier for government bodies to gather demographic data efficiently and effectively. This application is yet to be adopted by the Government.
INGOs Leading in the Course of Adoption of Digital Technologies

INGOs, which are international in scope, have greater access to digital platforms and technologies. In order to speed up development, they adopt various forms of digitalization to uplift the society and one of the major spaces is the health sector.
For instance, Possible Health, an INGO, deploys technology to foster development by partnering with the Ministry of Health. The organization digitizes healthcare to equip health workers to record and report more efficiently. It looks toward discussing, disseminating, and improving the quality of healthcare, especially in rural areas. Pharmacies have been digitized and digital technology has been used to connect hospitals on different government levels. Automated reporting systems allow real-time data to be captured. Earlier, there was no built-in mechanism to follow up with the patients' progress regarding the improvement of their health. With the advent of technologies connecting hospitals to homes, this gap has been bridged. As a result, under-two mortality rate has considerably reduced in areas where these technologies have been adopted.
Similarly, One Heart World-Wide is another INGO functioning in Nepal that utilizes mHealth technologies to assist health workers with preventing maternal and perinatal mortality. These INGOs network with other international and government organizations such as the World Health Organization (WHO), the Deutsche Gesellschaft für Internationale Zusammenarbeit (GIZ), the United States Agency for International Development (USAID), the Government of Nepal and the Smart Health Unit within the Ministry of Health, Nepal. Clearly, INGOs have been actively looking into using technology to improve the healthcare system in Nepal.
Moreover, INGOs are active in other areas such as agriculture, renewable energy, education, and social protection. However, the adoption of digital technology in these areas could definitely benefit from a boost.
NGOs Impacting Society through Technology

At present, there are approximately 40,000 NGOs registered in Nepal. As compared to INGOs, NGOs have relatively less access to aid and digitalization is not as rampant. However, NGOs are making use of social media and social marketing to reach out to larger audiences.
For instance, Open Learning Exchange (OLE) Nepal has pioneered the integration of technology in classroom teaching-learning process. It has provided more than 5,000 laptops in over 100 schools and trained 600 teachers on integrating Information and Communications Technology (ICT) in the classroom teaching-learning process. The organization has created a digital library known as E-Pustakalaya, which contains a variety of books, full text documents, informative videos, audio files, newspapers and magazines that can be freely accessed by students through the Internet. The library also contains education software such as E-learning for Kids, Learn English, Phet Stimulations (a quiz for Maths and English) and Environmental Activities to make students more interactive and creative. E-Paath is a collection of digital interactive learning activities which is subject-specific and is conceptualized for the nation's curriculum-based subjects and grades. Similarly, OLE Nepal has been extending these services for more than a decade enveloping 394 schools over 50 districts.
Another NGO, Centre for Rural Technology Nepal (CRT/N) is developing rural technologies such as improved cookstoves and solar cookers among others, thereby improving the livelihoods of rural people. CRT/N has partnered with various organizations to conduct programs and projects such as Energy and Research Programme, Rural Community Electrification with Water Mill, and Micro Enterprise Development in Nepal. These programs have enhanced the lives of rural people.
Through the use of digital technology, NGOs have made a positive social impact toward poverty alleviation, human rights, healthcare, eradication of child labor, and gender equality.
Innovative Technologies Opening New Avenues for Entrepreneurial Ventures

There has been a steady rise in the number of entrepreneurial ventures or startups in Nepal, thanks to increasing Internet penetration. In the process of digitization, some of the prominent revenue garnering sectors such as agriculture and tourism have been deploying mobile applications to improve productivity and efficiency. The country has also witnessed significant digital transformation in the space of transportation.
For instance, in Kathmandu, applications such as Tootle are being widely used. Such applications allow transportation-hailing online. Tootle is an android application which provides bike hailing services with the help of Global Position System (GPS) tracking. Similarly, other transport hailing companies are gaining traction in the city. Such transport-oriented applications are creating a shift in the domain of public transportation.
Similarly, Telematics Tech is a start-up that specializes in GPS Tracking solutions. It is a fleet management service that provides real-time vehicle location along with driver-passenger details through their Website and android application. This service has a unique feature of storing data for the period of a year. It is mostly used by logistics companies and the automotive industry to ensure better service and customer satisfaction. Telematics Tech has also developed an application called 'Schoolmate' where schools can track their students' school and bus attendance, exam marks, and status of fee payment. This helps schools maintain student records with ease.
All in all, entrepreneurial ventures are utilizing digital platforms and technologies to penetrate the market and to make themselves visible. They are aggressively involved in digitization and are making significant progress, thus contributing to the digital transformation of the nation.
Universities: The Forerunners in the Space of EduTech

Although EduTech has not relatively gained much acceptance in Nepal in comparison to its neighboring countries, major universities in the country such as Kathmandu University (KU) and Tribhuvan University (TU) have realized its significance.
KU has adopted the practice of paperless work in what is known as active classrooms, whereby assignments are digitized. Mural is an open learning course that the university uses so that students can access their lecture notes and assignments online. In addition, after conducting a research to investigate the optimum method to teach students, the university discovered that students were more comfortable with their smartphones and tablets and therefore introduced ubiquitous learning (U-Learning), a combination of e-learning and m-learning that allows independent learning via tablets and smartphones. Currently, the university has 200 tablets for students in this program. This gained popularity only in the past year and a half and started in the IT faculty. It is in the process of being implemented in other faculties as well.
It has realized that digitization is integral to all departments. The university sees its significance in receiving real-time information for both parents and faculty members. As an immediate plan, KU is engaging with a pilot project involving SMARTClassrooms. Evidently, there is an optimistic trend for digital transformation in the education sector as well. Leveraging digital platforms and technologies is expected to be the next wave in education. While developed countries have successfully adopted EduTech, Nepal, although it lagging, is working toward implementing it.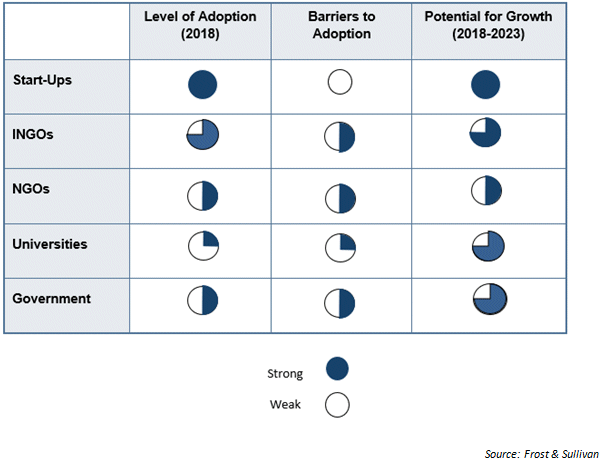 The figure above shows that the level of digital adoption is highest in the start-ups sector, followed by INGOs; moderate in the NGO and Government sectors, and very low in universities. INGOs, NGOs and the Government sector face more barriers to adoption, while there is potential for growth in all sectors.
Future Opportunities

Each of the sectors mentioned above point toward the onset of digitalization in Nepal. There is enormous opportunity to invest in government projects. For instance, digitalization of mobility, infrastructure and governance proves to be lucrative. The Government of Nepal is already moving toward digital transformation and it is gradually gaining pace. The Government can introduce tolls for roads through smart cards, and smart card systems for public transport. This lucrative prospect is attracting private sectors such as Telcos and tech start-ups as well as INGOs and NGOs. For instance, FinTech is gaining excessive popularity in the space of finance as mobile wallets, mobile banking, and e-commerce. Similarly, the Department of Hydrology and Meteorology recently introduced a new technology to forecast weather for up to three days. This involves installing weather radar and radiosonde balloons. Parallelly, cloud computing can play an essential role in data storage and retrieval in all sectors. For universities, it is imperative to change the mindset of educators and introduce EduTech on a larger scale. The University Grant Commission states that all universities need to be under the same umbrella which means that all faculties in universities need to follow suite and move toward digitization. Advancing digital transformation in the education sector will help normalize EduTech from a nascent stage. In essence, Nepal is going to experience a paradigm shift in the space of digital transformation as the initiation taken by the Government, private sectors, NGOs, and INGOs will be contributing significantly in this regard in the near future.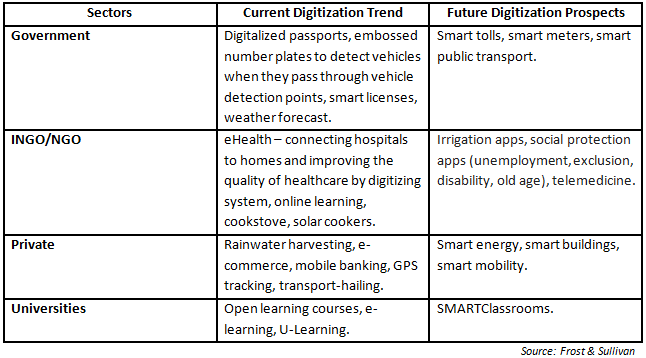 Current and Future Digitization Prospects in Different Sectors in Nepal
Conclusion
Clearly, Nepal is embracing technology and digital platforms. Although it has not yet made substantial progress, it is an emerging digital nation moving toward being technologically adept. The country's progress toward integrating technology and digital platforms in numerous sectors is indeed promising. Given the momentum of progress, Nepal can evolve into building smart cities in near future. The first step is to introduce digital transformation so that digital technology is incorporated into the daily lives of every citizen. Investing in the parameters that qualify a smart city (as defined by Frost & Sullivan) – smart energy, smart healthcare, smart infrastructure, smart technology, smart governance, smart citizen, smart mobility and smart building, is indeed the way forward.