by Franck Leveque, Partner & Business Unit Leader, Mobility Group, Frost & Sullivan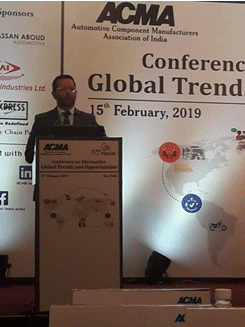 The 4th ACMA Automechanika New Delhi, India's leading trade event for the automotive service industry was held from February 14-17, 2019. The event brought together over 500 exhibitors from Asia, Europe, the US and the Middle East highlighting product innovations in electronics & systems, parts & components, repair & maintenance, and dealer & workshop management, among others.
Two high-level conferences on the Indian auto component industry and the global automotive aftermarket were organised as part of the event. As one of the speakers, my presentation on the 'Global Automotive Aftermarket Trends & Outlook' assessed the market through four prisms: disruptive trends, emerging opportunities, the impact of digitisation, uberisation and aggregation of products/services, and the evolution of automotive business models.
The automotive industry is currently being transformed by four overarching trends that span Connectivity, Autonomous, Services and Electrification (CASE) based business models. As vehicles change in response to these trends, so is the aftermarket. Vehicle parc is ageing, even as vehicles now have longer service intervals. Vehicles are becoming more complex which has implications for service and repair requirements. In the meantime, new mobility solutions are improving vehicle utilisation but are, simultaneously, accelerating the pace of service and maintenance demands on them. Connectivity is presenting tremendous opportunities, both in terms of new ways of engaging with the vehicle as well as with the customer. OEMs and Tier 1 supplier are now keen on understanding vehicle performance characteristics based on customer profiles and vehicle usage. Electric vehicles (EVs) are a source of concern due to the changes they will bring to the supply chain and the number of vehicle parts that will reduce since EVs are estimated to have 95% less moving parts than their internal combustion engine (ICE) based counterparts. Both these factors will impact the aftermarket. This rising complexity is creating a growing skill gap, especially in the traditional and independent aftermarket segments. The increased incorporation of electronics within vehicles for regulatory compliance further emphasises the gap in skills related to service and maintenance.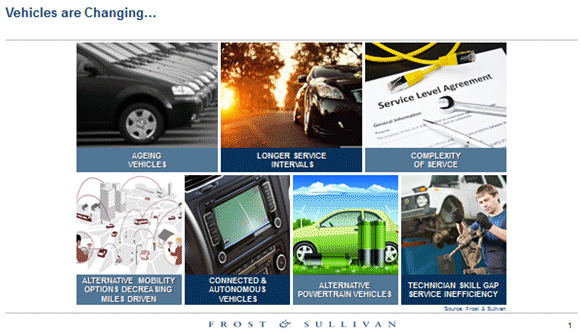 In the meantime, customer expectations are changing in relation to their own experiences in other parts of their life. They are now demanding greater convenience, expect a digital experience, want a seamless end-to-end customer journey, are keen on more personalised offerings, and are pushing for an aftersales domain that expands beyond the traditional boundaries of service and repairs to include financing, mobility, and much more. In essence, from a technology standpoint as well as from a customer perspective, the automotive aftermarket is ripe for change and transformation.
Today, the automotive industry confronts three powerful technology trends. The first trend relates to autonomous technologies where, by 2025, 60-80% of vehicle parc in North America will be equipped with advanced driver assistance systems (ADAS)/autonomous capabilities. This will mean a 20-30% reduction in the collision repair business, one of the key drivers of the aftermarket, by 2030.The second trend relates to electrification. Europe is projected to have 6.9 million EVs by 2025. This will mean a 95% reduction in the number of moving parts in a car which, in turn, will have implications for vehicle wear and tear, another major driver for aftermarket services. The third trend relates to connected vehicle technologies, with penetration rates of connected vehicles in the overall vehicle parc projected to reach 40-50% in Europe and 55-57% in North America, by 2025. This will have multiple benefits for the aftermarket in terms of connectivity technologies supporting 10-20% reductions in warranty/recalls, 12-15% shorter repair times, 2-5% lower product development costs, 5-10% reduced inventory costs, along with revenue opportunities of $10-15 billion in telematics, $4-5 billion in infotainment, $15-20 billion in features on demand, $1 trillion in new mobility, and $30 billion in data monetisation. Overall, therefore, connected vehicles will enable the aftermarket to become more efficient and cost-effective and will present opportunities that extend well beyond just customer relationships.
Globally, the aftermarket was estimated at $405 billion in 2018 and is projected to reach $525 billion in 2025. In emerging markets, growth is being driven by an increase in the vehicle parc. In fact, the aftermarket exhibited double digit growth in both India and China in 2018. In Europe, there are two parallel trends; on the one hand, the vehicle parc is growing older in the West, while in Central and Eastern Europe, growth is deriving from an increasing vehicle parc. In 2019, growth is expected to slow down both in emerging and developed markets, mainly due to a more subdued overall economic outlook, trade and tariff tensions between China and the US, and an uncertain political scenario in Europe. Nevertheless, this is a market hungry for innovation and transformation.
Additionally, Frost & Sullivan's analysis of around 20 selected markets that most closely resemble the Indian market in terms of passenger vehicle types and technology developments reveals that these countries offer potential opportunities estimated at $28-30 billion in 2019. Countries like Brazil, Russia and Mexico—with sizeable vehicle parc, aftermarket sales growth and significant component business—are clearly target markets for component exports by Indian companies. An analysis of the commercial vehicle market for the same cohort reveals potential opportunities worth $33-$35 billion in 2019. Here again, Brazil, Russia and Mexico emerge at the top.
The takeaway, both in terms of passenger vehicle and commercial vehicle target markets, is that the Indian industry needs to optimally structure and position itself in order to fully leverage these opportunities. It is also important to note that as India is starting to implement Euro 6 from 2020 onwards, it is opening itself to look beyond emerging markets to target developed markets as well with the latest technologies.
As the automotive aftermarket transforms, many parts of its value chain are changing. For instance, 3D printing and direct eStores are disrupting the manufacturing segment, while enabling reductions in the cost of personalised solutions. In the distribution space, new business models and processes are emerging around Click and Collect/ Click and Pose/Click and Fit. New retail formats and marketplaces for parts and services are changing the dynamics and strengths of different parts of the ecosystem. At the same time, service delivery is being disrupted by the growing appeal of service aggregators. As such changes unfold, the aftermarket will witness a plethora of new players while traditional companies will go digital with specific solutions. Digitisation in retail means growth in ecommerce. Overall, ecommerce made up only 3% of all industries globally in 2010, rising to current levels of 12% and is expected to rise further to almost 20% by 2025. The automotive aftermarket is following similar trends. In 2015, ecommerce accounted for $17 billion or 3.3% of the global automotive aftermarket, increasing its share to $27 billion or 4.5% in 2018 and $51 billion or 6.5% in 2025.
Overall, we expect tremendous growth in ecommerce across several industries, globally. Companies that don't respond to this powerful new trend are likely to face a Blockbuster situation and find themselves frozen out of the market. Industry participants need to embrace this new channel to get their parts and services to the end-user, while leveraging it for B2C and B2B purposes. Among the key products that will receive a filip from this trend will be accessories and tires in terms of revenues and then followed by maintenance parts including lubes, lighting, filters, brakes, and batteries, among others.
Innovations in the aftermarket can be broken into six main thematic areas. These include: channels including ecommerce, marketplaces, aggregators and In-vehicle sales; technology covering telematics/connected cars, 3-D printing, augmented reality; services that embrace remote sensing/diagnostics, mobile/express repair; geography that encompasses revised capillarity and formats; customers including B2C and B2B (including the booming B2B ecommerce segment) and; and products like software updates, and services contracts. In fact, the aftermarket which has long been seen as the stodgy underdog is now cool and exciting.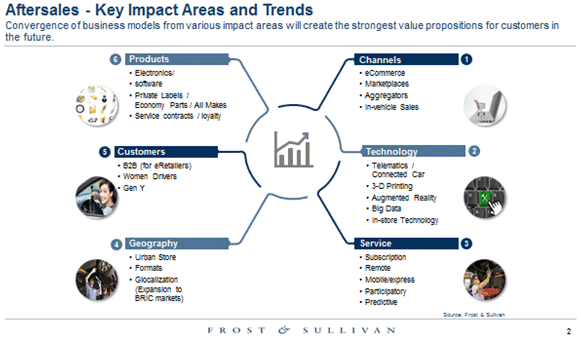 Companies such as Amazon—with their focus on end-to-end digital vehicle management solutions for owners, fleets and installers—are becoming strong competitors in the automotive distribution space. Amazon's strategy rests on four main pillars. Firstly, they are using car catalogues and virtual showrooms to sell both new and used vehicles. Secondly, in terms of B2C parts sales, they are leveraging online stores and pushing in-vehicle personalisation through their own products like Alexa. Thirdly, in order to promote B2B parts sales, they have developed dedicated online platforms, are investing in brick and mortar stores to achieve greater agility and efficiency, and are enhancing their diagnostic capabilities. The last, and perhaps the most critical pillar, is service management. Here, Amazon is building an ecosystem of service solutions and is positioning itself as a service aggregator. In many ways, this service management strategy is actually the most powerful as the service drives the parts business upstream, even as it enables Amazon to directly reach vehicle owners/users.
However, while services offer tremendous opportunities, the fragmented nature of this market continues to pose challenges. This is changing rapidly thanks to companies like Britain's Who Can Fix My Car which represents a good example of a service aggregator that has already transformed the industry by bringing aftermarket players together on a consolidated platform. The principle is simple. The consumer defines their vehicle and what needs to be done. In turn, garages, service centres and dealerships bid for the work. This is similar to Tripit or Bookers, both popular travel platforms, with the providers then rated by customers on various parameters.
Today, service aggregators and service marketplaces are seeing strong development with OEMs partnering with, or even directly investing into, these platforms. Among some prominent examples are PSA with Autobutler and BMW with Caroobi. Most of these initiatives are driven on a country-by-country basis for now, but we can expect to see the development of multiple partnerships across countries and across OEM platforms. In this high volume, low margin model we can expect new players as well as consolidation taking place soon. Interestingly, these new players are already driving business models with flat fees, subscriptions, and commissions.
Finally, to step back for a more holistic view, the automotive industry and automakers, in particular, are shifting from an upstream, one time sale business model to a downstream, and value creation model throughout the vehicle life cycle. This will be reflected in an increasing share of the revenue being generated from new mobility services, financial services, driving services, and vehicle services. Such downstream services based business models will be the driving force to ensuring market sustainability.
The focus for Indian component manufacturers over the next 5 years will be three-fold. Increasing the share of export revenues is expected to trigger new product development strategies across small and medium enterprises. With the Automotive Skill Development Council [ASDC] focusing its efforts on bridging skill gaps, the next 3-4 years will see a heightened trend towards learning Mechatronics, both at the smaller component manufacturer level as well as at the level of individual mechanics and garages. The final objective is expected to be towards capability development in long term technologies, such as electrification and autonomous vehicles, as India marches towards developing infrastructure both for EVs and autonomous vehicles.