The global electric light commercial vehicle (e-LCV) faces a host of formidable challenges: limited driving range, lack of adequate charging infrastructure, and high initial purchasing costs. However, such challenges are poised to wane with technological advances and rising volumes. The favorable total cost of ownership (TCO) will reinforce adoption trends while motivating fleets to switch from traditional ICE LCVs to electrified alternatives.
Boosted by positive customer, technological and competitive trends, we expect the e-LCV market across North America, Europe, China, and the Asia-Pacific (APAC) to reach 5.6 million units by 2030.  Frost & Sullivan's analysis of current trends indicates that China and Europe will push e-LCV adoption until 2025, accounting for 68.2% of global volumes. The baton will then be passed to North America, where the market will take off, accounting for almost 1 of 3 e-LCVs sold globally by 2030.
Current challenges set to wane
Frost & Sullivan's optimistic forecasts for the market stem from our understanding that many of the significant challenges faced by the e-LCV market today will be overcome during this decade. For instance, we anticipate improving battery technology to enhance range performance and the establishment of a robust EV charging infrastructure to alleviate range anxiety. We are also confident that higher volumes will support economies of scale, offsetting the high purchase prices and component costs that have, so far, proved a deterrent to uptake.
Over the short-term, policy mandates seeking to lower the carbon footprint of the transport sector and OEMs and large fleets moving towards zero-emission vehicles to ensure sustainable mobility will add a fillip to the development of e-LCVs.  Frost & Sullivan believes that a critical long-term growth catalyst will be favorable TCO.  Reducing battery prices and EV component costs, allied with lower maintenance and service expenditure, will make the TCO proposition of e-LCVs progressively more attractive than that of their ICE counterparts.
BEVs to dominate
Such drivers will mean higher e-LCV penetration; by 2030, we anticipate penetration levels to peak at around 40% in Europe, followed by China at 35%. Plug-in hybrid electric vehicles (PHEVs) are expected to experience the most significant appeal by 2030. Fuel cell electric vehicles (FCEVs) will account for only a tiny proportion of the market and battery electric vehicles (BEV) will dominate.
One of the main reasons for the dominance of BEVs will be their ability to offer superior TCO in high mileage applications. BEVs will achieve TCO parity quicker than their diesel-based counterparts in high mileage applications. Their lower acquisition costs due to reducing EV component prices will allow them to seize market share from diesel powertrains.
Distinct regional e-LCV markets to emerge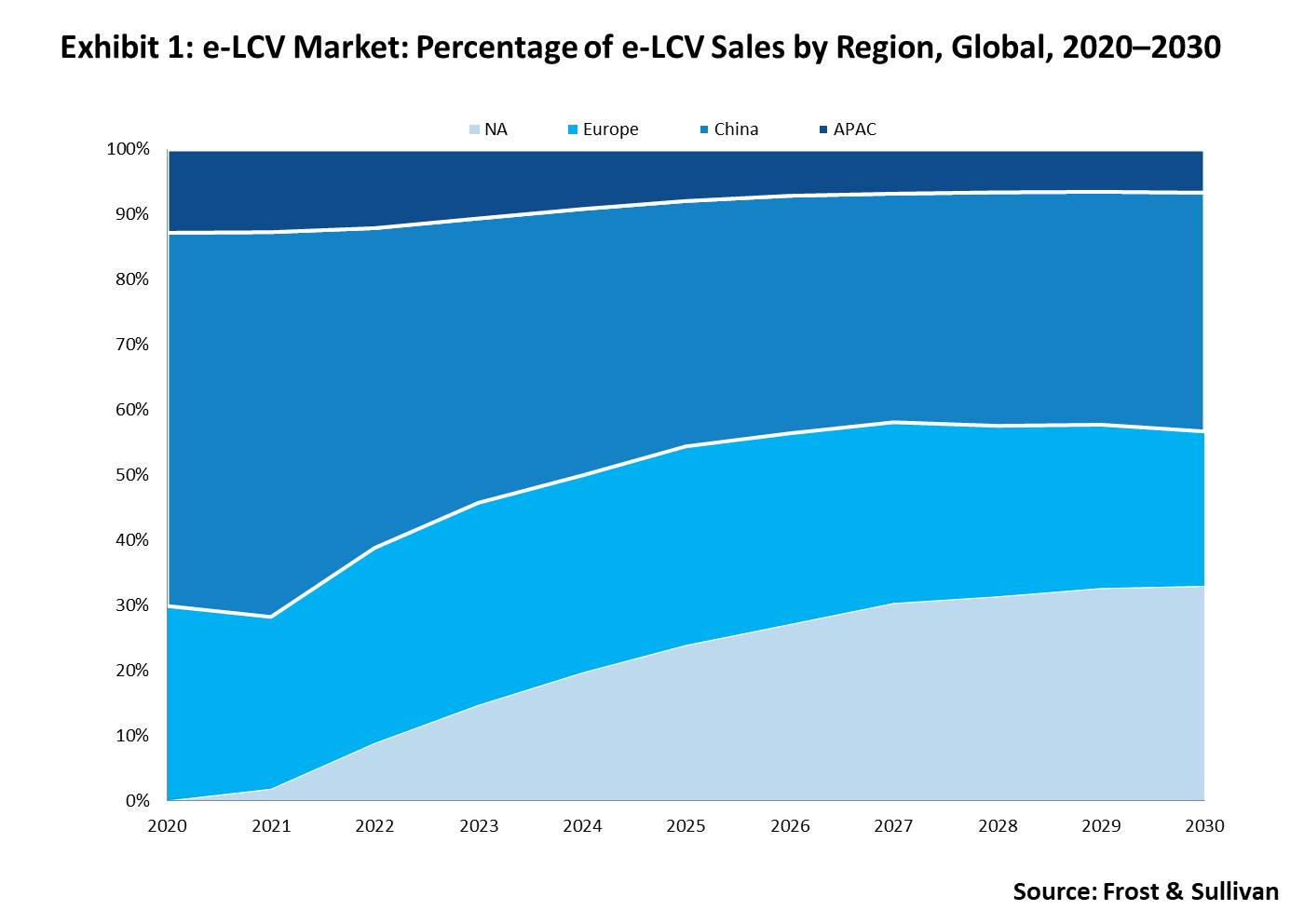 In terms of regional trends, we anticipate China and North America to collectively account for just short of 70% of global e-LCV volumes by 2030. Aggressive volume growth in North America will overtake Europe, whose contribution will fall to 23.8%.  While heavier e-LCVs in the over 3.5 tons category will enjoy strong growth potential in Europe and North America, we are likely to see a preference for lighter e-LCVs of less than 3.5 tons in China and APAC.
Each of these key regional markets will display distinct trends as they evolve. For example, our research reveals that e-LCVs in North America may have higher power output and battery capacity, be costlier, weigh more, and clock higher daily mileages than other regions. Meanwhile, e-LCVs in Europe, China, and APAC will be comparable in battery capacity, range, and power requirements. However, European e-LCVs are likely to both weigh and cost marginally more.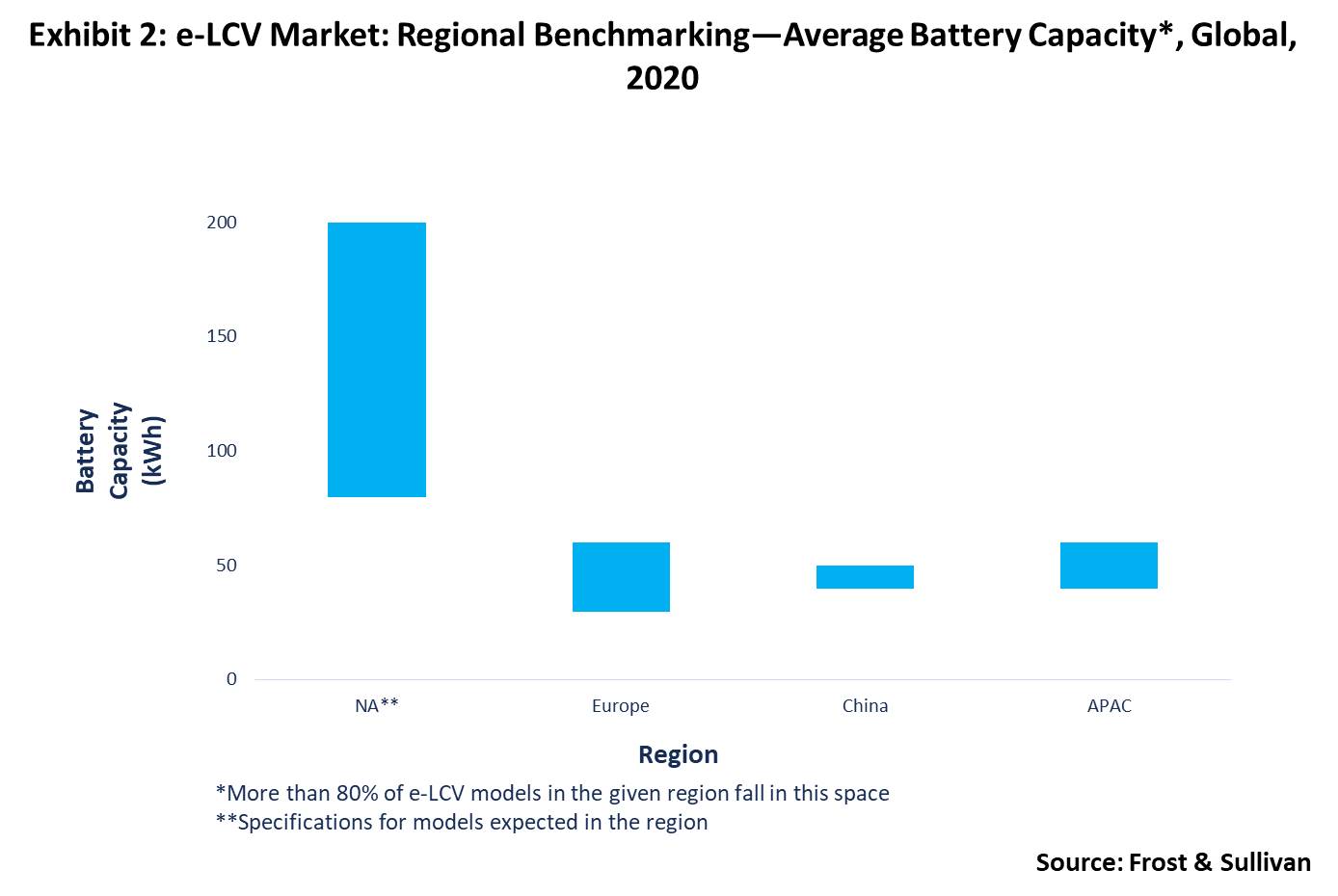 Competition to heat up, use cases set to expand
As the market develops, the competition will further heat up. Most global OEMs are currently focused primarily on North America and Europe, with a few in APAC. The Chinese market is characterized by local OEM participation.
We will see a host of pure-play EV manufacturers enter the e-LCV market, targeting specific applications. The thinking behind this strategy will be to minimize the risks of overstretching themselves across multiple application segments; once they are better entrenched, we expect many of these new entrants to spread to more application areas. The more established OEMs will cover almost all major application areas serviced by LCVs by introducing electrified variants to complement their existing ICE product line.
Use cases for e-LCVs will span the gamut from construction sites, utilities, and mobile services to delivery services and passenger carriers. While European manufacturers will cover a broad range of applications with their e-LCVs, U.S. manufacturers will focus on heavy-duty applications like construction. This signals the growth prospects that OEMs foresee for more comprehensive electrification in heavy-duty applications.
There will be variations in adoption levels. For instance, despite a slew of e-LCV model announcements in North America, we are unlikely to see any notable increase in volumes over the next 3-4 years. Europe has been ahead in the electrification game, with OEMs having electrified much of their line-up.  We anticipate this trend to continue over the short term with the addition of a few fuel cell variants. The strong initial growth rate of e-LCVs in China is likely to taper off in the medium term, although robust volumes will persist over the long term. In APAC, we believe South Korea, Japan, and Thailand will push volume growth over the short- to medium-term.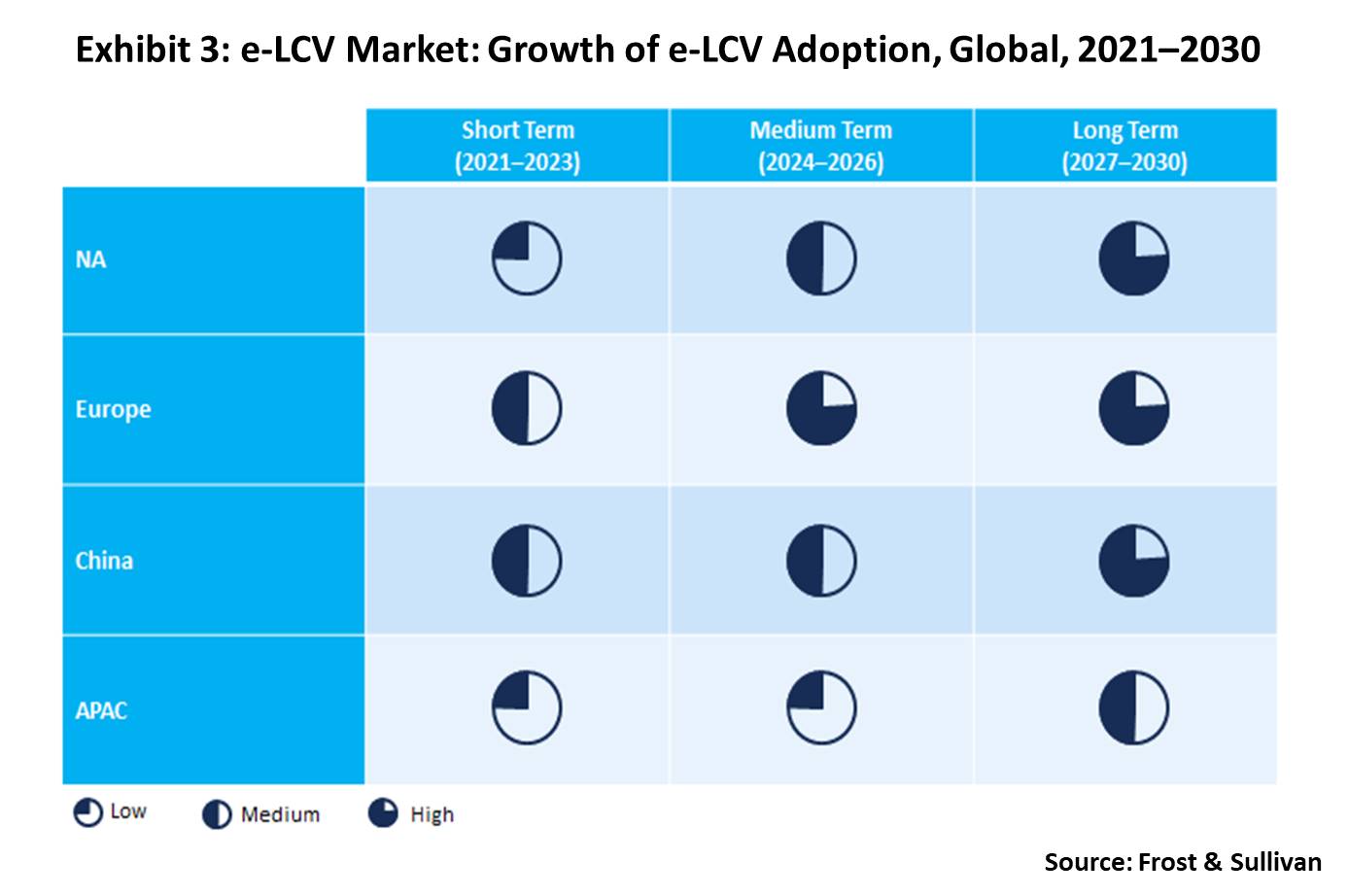 Drawing on Synergies
The similarity in e-LCV product specifications in battery capacity, range, and power output across Europe, China, and APAC offers OEMs the chance to draw on mutual synergies. We see this as an opportunity for OEMs in these regions to share parts, modules, subsystems, and platforms. This collaborative strategy will save on development expenditure and help achieve higher production volumes at lower costs. At the same time, the surging customer demand for technologically advanced, financially viable green pickups and vans will further underline the need for a collaborative approach among industry stakeholders.
We believe the e-LCV market offers exciting growth prospects for start-ups. Our advice to new entrants would be to focus their energies on building dedicated products and platforms geared towards electrification. This will help them lead the charge towards offering highly efficient, environmentally, and economically friendly e-LCVs.
Schedule your Growth Pipeline Dialog™ with the Frost & Sullivan team to form a strategy and act upon growth opportunities: http://frost.ly/60o.