Aroop Zutshi, Global President & Managing Partner, Frost & Sullivan – an excerpt from SPS IPC Drives 2018 presentation to be delivered 28th of November 2018, 14:20-14:40 CET, Forum Hall 3.
Change is said to be the only constant force. It is imperative for companies to identify, and adapt to, Mega Trends and other forces of change to survive and succeed in the near future. The industrial manufacturing sector has always been a keen observer, influencer and a leader in terms of adopting new technologies and course-correcting strategies to beat out the competition. Digitization is one such key Mega Trend that has been around for a while now. It can be seen as an amalgamation of multiple advanced technologies working together to create a digital factory.
Frost and Sullivan have identified four key digital Mega Trends that are set to influence the future of manufacturing. When properly capitalized, digitization strategies and their implementation methods are expected to become the sole criteria to determine the success of an enterprise in the future.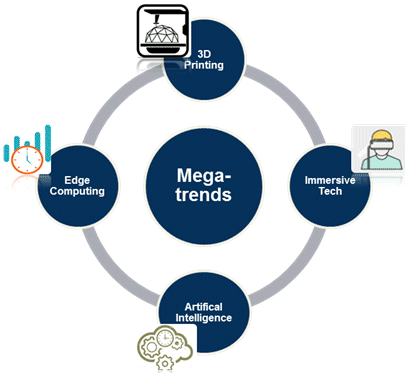 Moving to the Edge of Computing
Edge computing will redefine analytics for industrial manufacturers as data becomes more valuable at the edge. It delivers real-time business insights that save time and cost across varied industrial manufacturing verticals, while ensuring the right processing of data at the right time and at the place of its origin.
Cloud computing, on the other hand, provides the capabilities to track, record, and analyse high volumes of transactional data in the minimum amount of time. This makes it highly suitable to draw a minute-by-minute status update of the global business, aiding in critical decision making by senior management. The agility and speed of cloud computing, when moved to the edge of devices, will enable high speed analytics to provide real-time decisions.
As edge computing technologies are still not fully mature, there is ample scope to add and modify additional features to accelerate industrial adoption and create high impact.
Machines Thinking with Artificial Intelligence
Artificial intelligence, fully realized, will have a powerful impact across all levels of operation in industrial and commercial sectors. As technology matures and costs drop, the future of AI will become feasible in emerging applications such as unmanned automobiles, factory production lines, and industrial robots.
Artificial intelligence allows machines on the factory floor to listen to their sensors, analyze the data, and fine-tune their working parameters accordingly, with human approval. In a group, similar machines can talk to one another to troubleshoot a bug in a faulty machine. Such futuristic scenarios will drastically improve overall factory productivity, reducing downtime and saving maintenance costs. As AIs are capable of learning from scenarios and performing course corrections, the probability of the same fault occurring repeatedly eventually reduces to zero, leading to the idealistic scenario factories running with minimal or no stoppage.
Immersive Technologies Move outside Gaming
Augmented Reality (AR) and Virtual Reality (VR) have been extensively used in gaming and consumer retail to provide a real-world user experience. Its ability to replicate life-like scenarios and allow user interaction has attracted the interests of the industrial world. These immersive technologies have the potential to reshape major manufacturing areas such as industrial design, training, and machine maintenance. Many organizations have already started to leverage these for internal operations that include immersive on-job training and improving employee safety in hazardous environments.
According to Frost & Sullivan, approximately 40% of large companies use immersive technologies to train new employees in sophisticated machinery and production processes. Another interesting use of immersive technologies is in the field of research and development and product design and development. When done in the traditional way, product design requires creation of multiple prototypes that pass between various stakeholder departments until a final design consensus has been reached. When this is done with VR, multiple teams can collaborate in real time to create a design that ticks all the points on the checklist, and then be prototyped for functionality tests. This significantly reduces the time and cost required to develop a product, improving time-to-market and team efficiency.
3D Printed Manufacturing
Additive technologies have been around for a while now. They have eased into product prototyping and research labs, but have yet to nudge their way onto the manufacturing shop floor due to high ownership costs. The next phase of 3D printing within industrial manufacturing will involve extension of capabilities from rapid prototyping through to the assembly line. Additive processes will be increasingly used to make parts that would finally constitute the final product.
With the exponential rise in the need for product customization, especially in sectors such as automotive, manufacturers are looking for ways to reduce lead times and production cost while still be able to maintain product quality. Additive technologies offer just that. When integrated into production floors. 3D printing will allow manufacturers to efficiently deal with low volume product mix without affecting lead times. Automotive and Aerospace sectors are expected to be the pioneers in the adoption of additive technologies.
With dynamic change driven by the consumer mind-set, global organisations are scouting for innovative ways to stay close to the consumer and translate their individual needs into customised products, services, and experiences. This requires combining multiple capabilities to initiate an era of long-term collaboration between the operational experts and software wizards of the industrial world.
Over the next five years, Frost and Sullivan believes that the paradigm of digital industries will be dictated by partnerships, partnerships, and more partnerships. Partnerships will become essential as an increasing number of industrial device and equipment manufacturers will need to forge relationships with analytics and cloud service providers.
Skilled labor shortage will resolve itself—all the fuss about shrinking workforce and lack of talent will become less relevant as advanced and more job opportunities will be created as a result of the IT-OT convergence.
Digitization will see a gradual shift from concept to reality—a movement that has been hyped for several years now will gradually see a shift towards adoption as increasing number early adopters begin to reap benefits from implementation.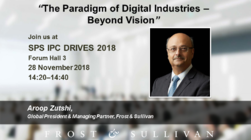 Join Mr Aroop Zutshi on the 28th of November 2018, 14:20-14:40 CET, at SPS IPC Drives 2018 in Forum Hall 3, where he will deliver an in-depth presentation on the subject of "The Paradigm of Digital Industries – Beyond Vision".
Register your interest in participating or find out more about this presentation or research by contacting Magdalena Ford, magdalena.ford[at]frost.com . Visit Frost & Sullivan's Exhibition Stand 3-172.
Be part of SPS IPC Drives 2018 register for a free Frost & Sullivan partner ticket with this code 1812301064SFS14 here: SPS IPC Drives 2018