Until recently, healthcare providers did not view telehealth as a necessary service to remain competitive. However, with COVID-19 triggering a 70%-80% drop in patient visits and customers now expecting remote consultations, telehealth has emerged as key to survival. It is empowering healthcare providers and enabling more meaningful engagement with patients.
In the research report "Telehealth – Transformation and Rise of Virtual Care in India, 2019-2024," Frost & Sullivan estimates the telehealth market to grow at a CAGR of 27.5% from 2019-2024. The research delved into the sub-segments of telehealth markets, i.e., virtual visits, remote patient monitoring (RPM), and mHealth. It also addressed how the healthcare industry has hit the reset button on delivery practices and assessed changing dynamics and growth opportunities in the Indian telehealth market in the current market scenario.
Growth Opportunities in Telehealth Market in India
Enabling RPM device interoperability will drive the connected care ecosystem in India: RPM devices available in the market are largely incompatible with the present technical infrastructure, which is a hurdle to the adoption of RPM devices. The medtech industry must focus on manufacturing accurate pocket-sized connected devices with interoperability between RPM devices and hospital IT systems.
Optimally priced integrated mHealth devices will boost the accessibility of care: The market has numerous personal mHealth apps, including solution-based rather than technology-based apps focusing on clinical outcomes, and patient satisfaction is still lacking. So, mHealth players need to shift from a business-to-business to a business-to-customer model in India due to the trend of consumers actively tracking and monitoring their health.
Tele-ICU to bridge the rural-urban divide of availability and accessibility to intensive care: The imbalance in intensive care beds and intensivist doctors' availability between urban and rural areas is linked to the high cost of ICU setup and relatively lower ROI, which makes the tele-ICU solution one of the best and most feasible options clinically, operationally and financially. Centralized tele-ICU has even become a necessity during the COVID-19 pandemic as tele-ICU companies manage COVID-19 patients admitted in multiple remote hospitals in other states.
Telehealth Usage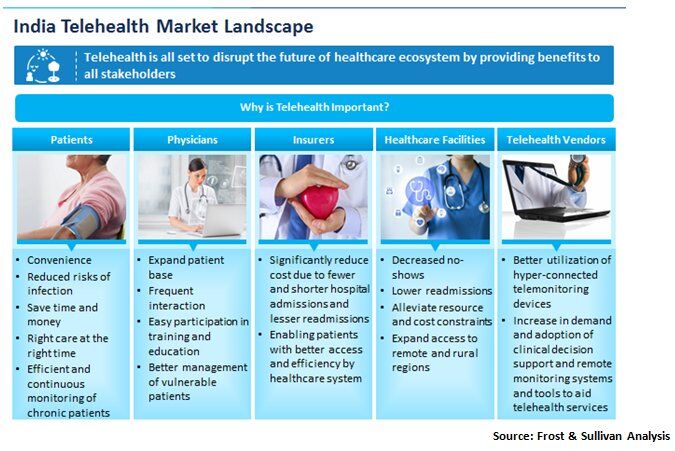 According to the research, conventional ways of treating patients, including face-to-face consultations and monitoring of patients, will account for a majority of consultations, but complementary ways of treating patients like virtual visits, remote patient monitoring, and mHealth will dramatically alter the nature of delivering healthcare.
Today, the Indian healthcare industry is struggling with plummeting patient footfall caused by COVID-19. Against this backdrop, Frost & Sullivan forecasts exponential growth in telehealth. Growth drivers include telemedicine practice guidelines, which have made telehealth legal and formal; permission from IRDAI to include telehealth as part of claim settlement wherever applicable; fear of COVID-19 infections; and increasing awareness about the availability of online consultations as an alternative to physical hospital visits.
Virtual visits are expected to emerge as a critical way to treat patients and as a major contributor to the total telehealth market in India. Frost & Sullivan anticipates revenues generated by virtual visits to grow more than three times from 2019 to 2024.
The government of India has taken multiple initiatives in this space, such as the National Health Stack (NHS) and National eHealth Authority (NeHA), which are the digital framework to support healthcare across India. e-Sanjeevani, an online OPD (doctor-to-patient), integrated telemedicine solutions developed by C-DAC (Centre for Development of Advanced Computing) Mohali in 2019. It has been rolled out across many states in India, including Punjab, Maharashtra, Tamil Nadu, and Kerala. The major goal of these initiatives is to compile digital health records for all citizens by 2022 to leverage the benefits of telemedicine and e-health for Indians.
For more information on this topic or to schedule an interview/interaction with our spokespersons, please email Priya George at priyag@frost.com.