Russian Commercial Aircraft Platforms
At present, Russia has only one indigenous commercial aircraft in production – Sukhoi Superjet 100 from United Aircraft Corp. It is powered by a SAM146 engine manufactured by PowerJet, which is a Franco-Russian 50-50 joint venture of Safran's Snecma and NPO Saturn. Russia planned to introduce the new commercial aircraft MC-21 in the second half of 2022. The MC-21 comes with an engine option; between US-based Pratt and Whitney's GTF and PD-14 from Russia's UEC-Aviadvigatel JSC. Russia redeveloped its regional turboprop Ilyushin Il-114, which is seen as a replacement for the Antonov-24. It is powered by Russia's Klimov's TV7-117ST-01 engine.
Exhibit 1: Russian Commercial Aircraft Platforms Order and Demand

Source: Cirium, Frost & Sullivan
Aircraft Orders by Russian-based Airlines
The total commercial aircraft order from Russian-based airlines is 217, out of which 78.3% of the aircraft order is fulfilled by their indigenous aircraft. Boeing and Airbus have orders from Aeroflot Russian Airlines for A350, Utair for 737MAX, and AirBridge Cargo for 777F. Russian-built aircraft orders are majorly from the Russian airlines only with 7 Sukhoi Superjet 100 orders from Thailand-based airlines start-up Thai Kom Airlines. Furthermore, Sukhoi Superjet 100 has 131 aircraft in service, whereas 41 aircraft are in storage.
Exhibit 2: Aircraft Orders by Russian Airlines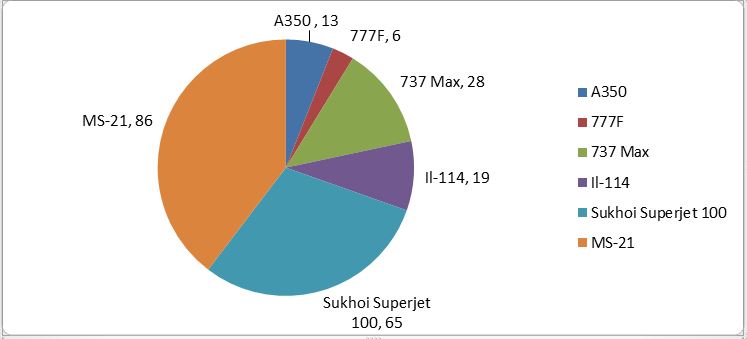 Source: Cirium, Frost & Sullivan
Impact of Sanctions on Non-Russian Aircraft Lessors
EU ordered the non-Russian aircraft lessors to cancel all their contracts with Russia by 28 March 2022. The sanction also meant the non-Russian aircraft lessor can't continue their business operation in Russia and forced non-Russian aircraft lessors to bring back their aircraft. There are around 830 western-built aircraft that are used by Russian-based airlines of which 62% are leased from non-Russian lessors. Major Russian-based airlines like Aeroflot have 50% of the total aircraft fleet on lease from non-Russian lessors, whereas Nordwind and S7 have more than 90% leased aircraft fleet and Ural cent percent leased aircraft fleet.
Russian Transport Ministry assured they will return the aircraft to the non-Russian lessor when they land at foreign airports, but airlines like Aeroflot have halted their international operations, which made it difficult for non-Russian lessors to get back their 500 plus aircraft worth around $10 billion. Now the non-Russian lessors are looking forward to knocking on the door of the insurers to recoup their losses. Insurers are closely observing the situation as the magnitude of the potential loss is worth billions of dollars. If insurance companies agree to settle the claims of the aircraft lessors, it will be the biggest loss the aviation insurance industry has ever witnessed.
In March 2022, Bermuda and Ireland suspended the aircraft registries for aircraft that are operating in Russia. On the other hand, Russia cleared a rule which allowed Russian-based airlines to re-register their aircraft in Russia. The new law allows Russian-based airlines to use western-built aircraft and utilize them on domestic routes. The non-Russian aircraft lessors, therefore, catalyzed their insurance claim process and are preparing to fight the long legal battle.
Looking at the panic of non-Russian aircraft lessors, Russia agreed to negotiate with non-Russian aircraft lessors, but according to their transport ministry, the non-Russian aircraft lessors are not interested in negotiations, as the financial settlement with Russia can be considered a violation of the sanction.
Impact of Sanctions on Western Aerospace Industry
Sanctions limit the business opportunity for the western aircraft OEMs and components suppliers, but the impact is minimal. Leading commercial aircraft OEMs like Boeing and Airbus will have minimal impact from sanctions as Russian accounted for only 0.9% of the total 737Max orders, 1.5% of the 777 orders, and 3.2% of the A350 orders. Other commercial aircraft OEMs like ATR, De Havilland Canada, and Embraer does not have any order from Russia-based airlines, therefore, for them, there will be no impact of sanctions. Aircraft engine OEMs like PowerJet and Pratt and Whitney will not be able to sell their engines on 71 Sukhoi SuperJet and 86 MS-21. Furthermore, aerospace component suppliers for landing gear, electrical power systems, airframe, avionics, and auxiliary power unit will also not be able to continue their business in Russia.
Future of Russia's Aerospace Industry
Russia, even before the war with Ukraine, wanted to become self-reliant by increasing its aerospace manufacturing capability, as Sukhoi Superjet 100 is highly dependent on western countries for components. This signifies that the production of the Sukhoi Superjet 100 will be ceased, and the same will be future for MS-21.
Russia is well placed to operate on domestic routes and can look forward to China for aftermarket support. There is a very high probability that Russia can perform the technology transfer of their commercial aircraft engine to develop aircraft engines for C919 and ARJ21, which are powered by GE Aviation's CF34 and CFM LEAP engines. Furthermore, both countries can explore opportunities to strengthen the in-house manufacturing of aerospace components.
In 2017, CRAIC (China-Russia Commercial Aircraft International Corporation Limited) – a 50-50 joint venture between China and Russia, was launched to manufacture widebody aircraft. The joint venture showcases Russia did its homework and prepared a strategic roadmap to reduce its dependency on the western world for aerospace components and aircraft.
Schedule your Growth Pipeline Dialog™ with the Frost & Sullivan team to form a strategy and act upon growth opportunities: https://frost.ly/60o.