When consumers expect their cars to function as an extension of their digital lifestyle and personalized in-vehicle services are emerging as a critical differentiator, automakers continue to struggle with delivering on such expectations. Automotive software development is typically time-consuming and resource-intensive, particularly when one factors in non-recurring software engineering costs and time to market.
And while there has, undoubtedly, been significant progress in the space, current digital cockpit software platforms still suffer from certain limitations resulting in less than optimal user and brand experiences. The recently announced launch of an open digital cockpit software development platform – TomTom's IndiGO – is advertised as an industry-first, it enables enhanced user experiences and brand value, minimizes the costs and risks associated with such software development ventures, and accelerates time to market.
A Set of Building Blocks 
At the most fundamental level, IndiGO has been designed to provide a set of building blocks to support an integrated, intuitive, and immersive digital cockpit experience.
So how does it work? The platform integrates different displays in the vehicle's cockpit onto a single integrated screen, with a common user interface that allows customers to easily access car functions (from various apps and services to in-vehicle temperature settings) from the dashboard.
Its clever design uses a modular approach, making it instantly ready to use, easily configurable, rapidly scalable, and highly customizable.
Cockpit All Screens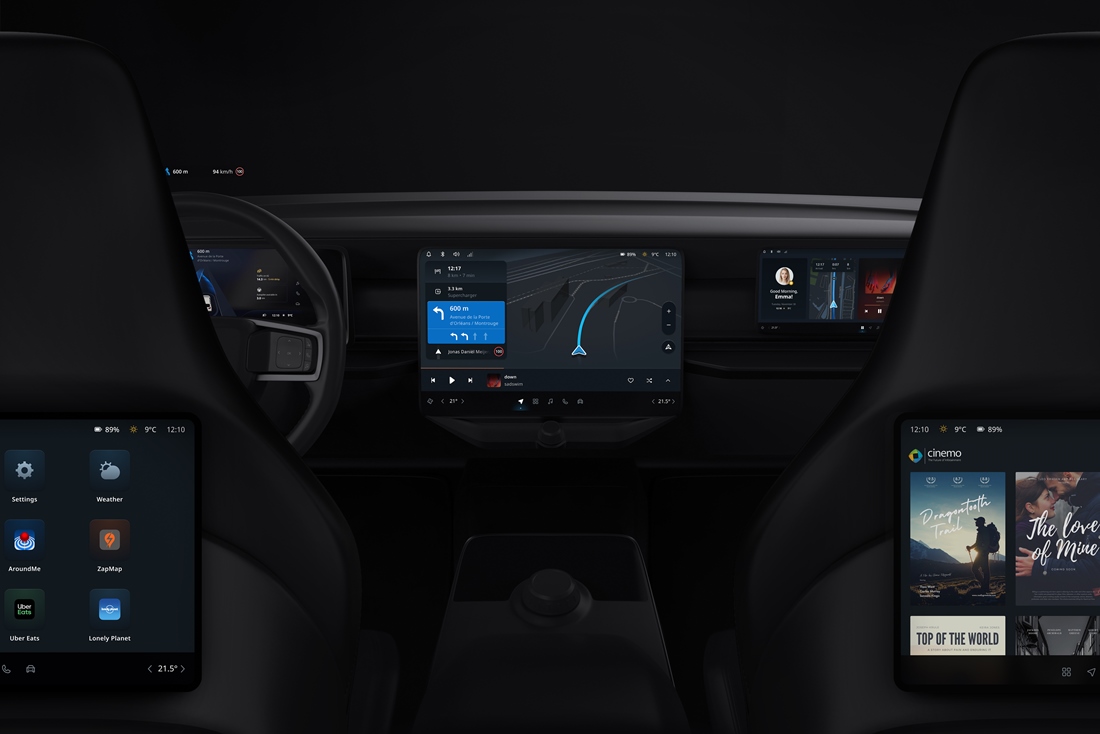 Source: TomTom
The platform combines a range of applications, application programming interface (APIs), and platform services as a seamlessly interwoven whole. For instance, the application spectrum ranges from navigation and calls and messaging to media services and voice; APIs cover virtual private assistant (VPA) APIs and Messaging APIs to System UI APIs and Settings APIs; platform services embrace analytics, software, and companion app support.
An extensive app store with access to a wide-ranging suite of work and entertainment apps – rendered possible by the wide range of TomTom's specialist partners – will resonate strongly with drivers and passengers.
Technology-driven, in-vehicle personalization has become a competitive imperative. IndiGO allows users to access customized in-vehicle apps and services menu based on their preference courtesy of voice and touch activation capabilities and synchronization with the driver's mobile device.
Among the other hallmarks of IndiGO are its flexibility and configurability that allow automakers to build their own branded user interface and modify the platform to suit their evolving needs. New apps and services can be easily added as the platform runs on the widely used Android Automotive Operating System (AOOS). Updates and extensions to services and apps can be done quickly and conveniently over-the-air.
Meanwhile, for users, high levels of configurability and flexibility can mean many things, from the size and orientation of the screen to the ability to control and "own" their digital in-vehicle experience.
Frost & Sullivan Perspective
TomTom has set the bar higher with IndiGO. Its many noteworthy advantages apart, one of the highlights for Frost & Sullivan is the platform's integration with TomTom's advanced Navigation for Automotive and Electric Vehicle (EV) technology suite. While this will allow both internal combustion engine (ICE) and EV users to access rapid, up-to-date information on routing and maps, for EV users, it will also offer up that much-needed commodity – accurate range information.
We are also impressed with IndiGO's integration with vehicle sensors that enables it to provide information related to advanced driver assistance systems (ADAS). For EVs, associated benefits include assessment of range estimates and battery pre-conditioning.
And, finally, full marks from us for IndiGO's scalability quotient. The platform has been designed for easy deployment across different regions, different vehicle categories, and different automotive brands.
Schedule your Growth Pipeline Dialog™ with the Frost & Sullivan team to form a strategy and act upon growth opportunities: http://frost.ly/60o.