Nearly every business today has a digital element to it. As such, limiting access to business productivity software (email, calendar, office apps), systems of record (e.g., project management, CRM) and unified communications (presence management, video conferencing, team chat) from computers and mobile devices to a specific set of roles or job duties is no longer an option for most organizations. Soft clients or software user interfaces (UIs) have enabled a more consistent employee experience, empowering people to quickly learn their jobs and efficiently accomplish those tasks from anywhere, at any time. Such capabilities are not only expected but are now a competitive necessity today.
Frost & Sullivan surveys find that over 50% of enterprise IT decision makers plan for their organizations' workforces to increase usage of soft clients this year and that more organizations are planning to evolve their communications environments into end-to-end single-vendor solutions.
Leading software developers have taken similar, but different paths to building and delivering unified clients for access to their applications. By and large, nearly every application (e.g., email, team chat and video conferencing) maintains its own distinctive desktop and mobile app. As businesses add more digital services, the number of apps that need to be installed and maintained on users' multiple devices is further compounded.
This approach is unsustainable over time. Siloed applications break the user experience due to the required app switching. Toggling between multiple so-called "best of breed" applications is almost always a negative disruption to employee workflows, and inevitably injects human error into business systems. Most popular soft clients can also be characterized as homogenous because, in general, most users receive access to the same capabilities with limited ability to customize or personalize their experiences in any meaningful way.
A recent study conducted by Harvard Business Review found that, "on average, the cost of an app switch is approximately two seconds and the average user participating in the study toggled between different apps and websites nearly 1,200 times daily. As a result, people spent approximately four hours per week reorienting themselves after toggling to a new app. Over the course of a year, this amounts to five working weeks, or 9% of their annual time at work"[1]. Across an organization, the waste can be detrimental.
Recognizing these issues, Zoho is delivering new solutions to bring more apps together across its Workplace portfolio. Zoho Workplace with its newest unified communications (UC) apps, that include Webinar within Zoho Meetings and Phone system within Zoho Cliq and Zoho Meetings is helping users do their jobs more efficiently and effectively, without context shifting and associated loss of focus. "Positioned as the "Center of Gravity for Business", Zoho aims to address a number of challenges faced by modern organizations and their users. The Center of Gravity for Business gives users a central place to organize and orchestrate their work and collaborate with others. Specifically, Zoho has identified five aspects that need attention amid evolved work styles, business models and customer expectations: 1) context; 2) collaboration; 3) continuity; 3) culture; 4) and convenience.
The new Zoho Trident desktop app for Windows and Chrome empowers users with their own Centers of Gravity from which Zoho Mail Suite office productivity, Workplace Suite collaboration and other apps can be accessed. Importantly, Trident gives users the opportunity to personalize and customize their Center of Gravity or UI by choosing the layout of the apps in their client and content in dashboards. For example, email-heavy users can place Zoho mail front and center of their UI to prioritize access, with other apps (e.g., calendar, calling, meetings, task management, CRM) strategically organized elsewhere in the client however each user needs or prefers. In addition, content can be dragged and dropped across apps, further improving information context and productivity while also reducing app switching.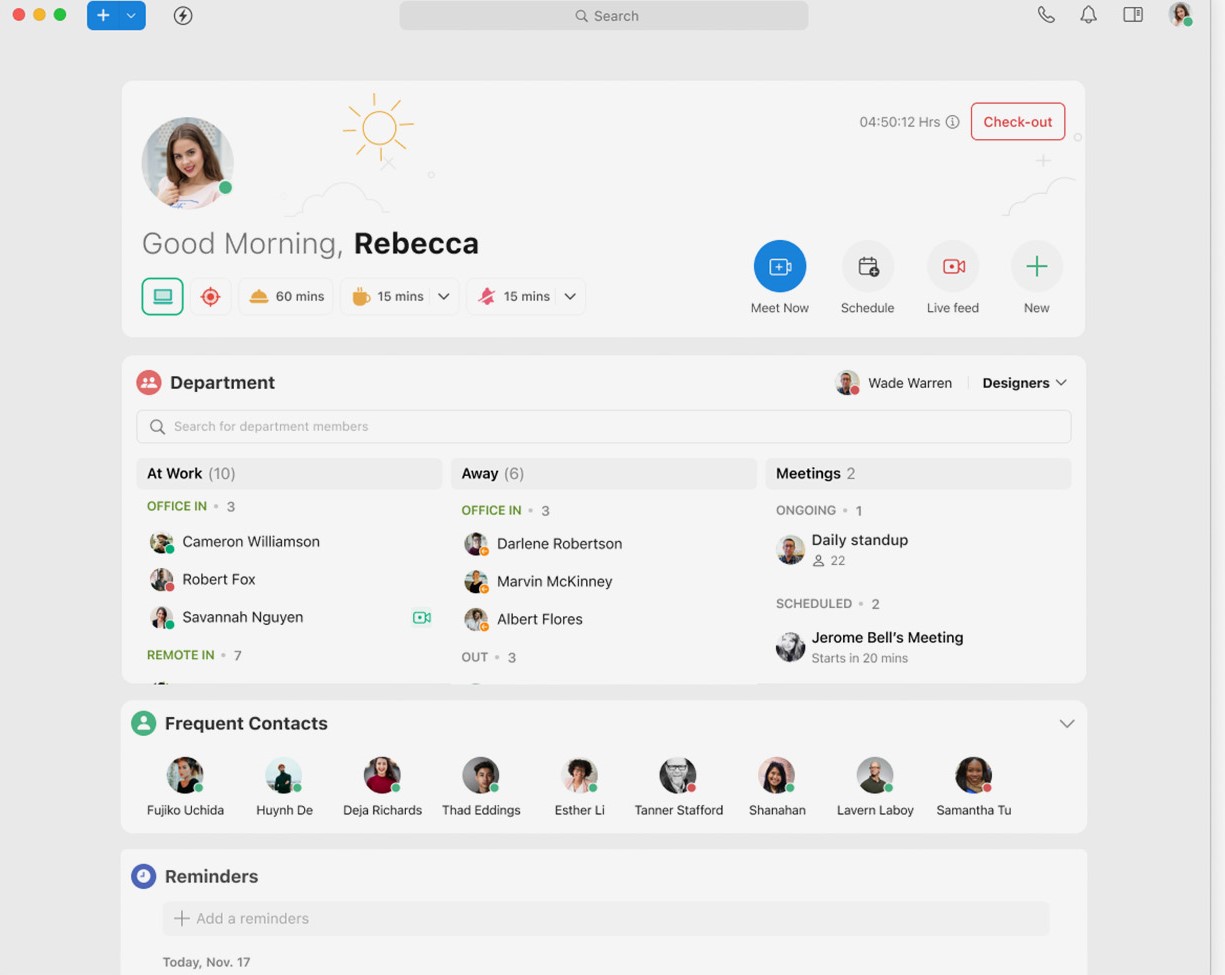 In the current business climate, attracting and retaining skilled employees can be difficult. This makes it even more important to equip users for success. They must have the tools to achieve their tasks and communicate smartly and easily.
The Zoho Trident desktop client is leaps forward at a time just as many leaders are struggling to modernize their operations. Compared to many monolithic browser-based clients, Zoho users can work offline, adding to the flexibility and anytime access required today. More workflows have rapidly become digital across an unprecedentedly distributed workforce. Customization and personalization, along with improved access to information, will lend to productivity and employee satisfaction as well as to support a culture of collaboration that motivates people to stay engaged and feel included to contribute their expertise and perspectives.
[1] How Much Time and Energy Do We Waste Toggling Between Applications?