Since the launch of its first product, Zoom has morphed considerably from a cloud video conferencing provider to its current, fast-growing focus on end-to-end enterprise communications. Zoom's strategy of building a strong, well-functioning core, i.e., its wildly successful video meetings business, and using it as a base to expand into many adjacencies is playing out well. After seeing strong growth for Zoom Meetings, Zoom Rooms, and Zoom Webinar, Zoom leaped into voice calling last year with Zoom Phone. In addition, Zoom's recently announced investment in Neat, a video appliance startup, signals a multi-directional effort that could eventually find Zoom offering all the pieces of the business communications and collaboration stack. And that's quite an ambitious leap.
Moving Beyond the Core
For the quarter ending July 31, 2019, Zoom reported revenue growth of 96% over the same quarter last year. While continuing to report impressive revenues, Zoom's top-line growth rate is declining. It is evident that the company must aggressively accelerate expansion within enterprise customers.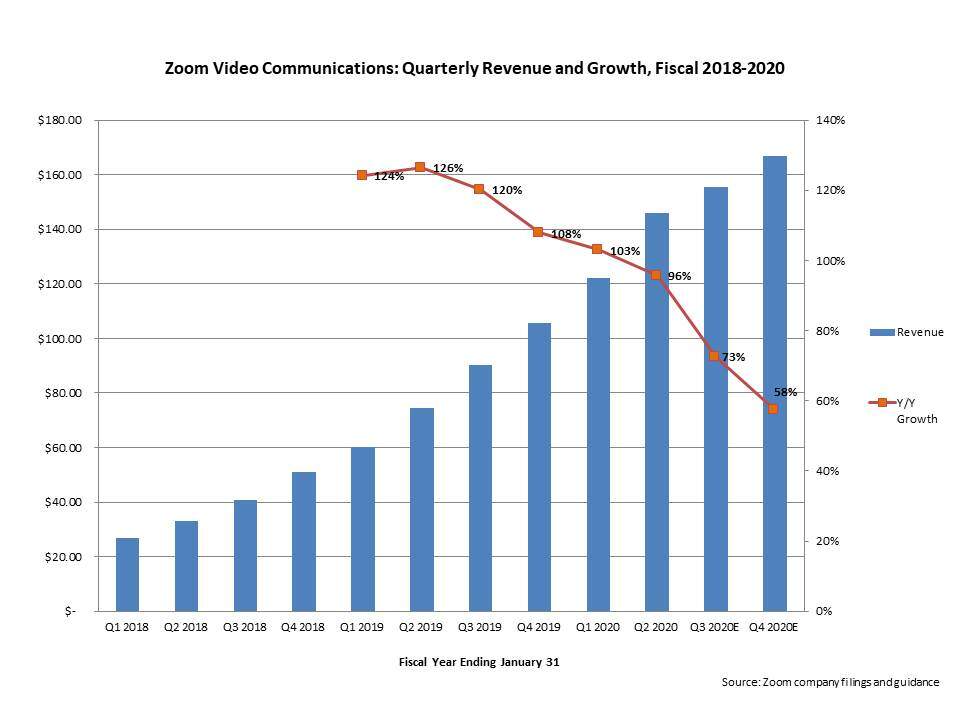 Zoom's roots are in its freemium service, which disrupted the meetings market and became popular due to its simplicity and user experience. Today, Zoom has a vast and loyal customer base among SMBs, verticals like education and healthcare, and teams of users within large organizations that have adopted Zoom as part of the growing BYOD movement. While best of breed will continue to thrive in businesses of all sizes, IT decision-makers in large enterprises want to invest in a comprehensive business communications portfolio that has the fewest moving parts. More and more enterprise IT buyers are seeking a single solution for their telephony, collaboration, and contact center needs. It's a challenge that Zoom faces when going upmarket against the tech giants Cisco and Microsoft.
As of July 31, Zoom reported that it had approximately 66,300 customers with more than 10 employees. Of those, 466 customers (or less than one percent of its customer base) spent $100,000 or more in the previous 12 months. This group of customers brings in 30% of its revenue, validating Zoom's growing quest for a higher upmarket mix. The long tail of customers that bring in less than $100,000 represents a big upsell potential for Zoom, an opportunity it is targeting with a stronger Zoom Phone offering. With a fast-growing feature set and wider geographic availability, Zoom Phone is now becoming a legitimate UCaaS contender and the linchpin to the company's growth strategy. Zoom has announced more than 2,000 paid accounts and some sizeable wins (one customer has over 10,000 seats). Zoom's primary strategy has been to land Zoom Phone deals among existing customers. It is now starting to see net new wins for Zoom Phone. Combined with Zoom's evolving strategy for meeting room devices, Zoom Phone will be the mainstay of its growth in 2020.
Video Conferencing Cloud Plus Device: When One Plus One is Greater Than Two
2019 finally saw the emergence of the video-first enterprise. Meeting rooms, in particular, are becoming pivotal to workplace transformation. For some time, meeting rooms were one of the most outdated and underutilized business assets, but that's quickly changing. Modern businesses are focused on revamping meeting spaces of all sizes from phone booths, meeting pods, huddle rooms, to mid- and large-sized conference rooms, turning them into collaboration hotbeds. Open offices can be disruptive and are creating unprecedented growth in huddle rooms, which represent the fastest-growing segment of the video conferencing market.
According to Frost & Sullivan's 2019 Global Huddle Room Video Conferencing Market research:
There are 33.3 million huddle room spaces worldwide and only 2.8% are enabled for video conferencing.
Huddle room video meetings will grow from less than 18% to more than 73% of all room video meetings in just five years.
Huddle room units will grow 5x and revenue will almost quadruple by 2023.
2019 has also been the year of the modern meeting room appliance—turnkey appliances that are tightly integrated and configured specifically for leading cloud services. Typically priced at less than $2,000, these purpose-built appliances run a dedicated client for cloud services like Zoom to deliver a significantly better experience than integrated kits or BYOD options. When deployed in huddle rooms, they solve several pain points. By bringing together all the hardware, software and a natively integrated cloud service, they are easier to deploy and use compared to the alternative: pieced-together multi-vendor components, requiring IT to install meeting software and self-manage all of the configuration, administration, and security settings. Zoom's recently launched Appliance Program with Poly, DTEN and Neat brings customers a wide variety of meeting room appliances to choose from, with assured compatibility and ease of use.
With Neat, Zoom takes the single device and cloud service advantage a step further. Neat was formed in February 2019 after an invitation from Zoom CEO Eric Yuan to design devices specifically for Zoom Rooms. While other Zoom partners have built devices with native Zoom Room integration, from the outset they were building the hardware as a platform that satisfies the requirements of multiple cloud partners. In contrast, Neat has looked into all the details of how the Zoom Room operates and has designed its appliances to accentuate features and capabilities that are unique to Zoom Rooms. For example, Zoom uses ultrasonics to pair personal devices with the Zoom Room. Neat has built a dedicated ultrasound tweeter into its video bar for better and more reliable ultrasonic coverage in the Zoom Room. Similarly, the Neat display takes into account the need to be both a tabletop display for room control as well as a wall-mounted display for scheduling. These details are expected to make the Neat solutions perform incrementally better when paired with Zoom Rooms.
The varied go-to-market and sales approaches of Zoom's many device partners will serve distinct market segments. Poly's broad audio-video device portfolio and its strong channel program fulfill enterprise customers' demand for end-to-end solutions paired with service and support. Neat, on the other hand, offers a path for Zoom's many low-spending customers (including unpaid subscribers) to invest in affordable out-of-the-box room solutions through a direct sales model. Zoom ensures it's covering all its bases for a broader market reach.
Broad industry trends such as growing interop are further leveling the playing field for all, including Zoom, to get a better foothold with enterprise customers. An announcement this week at Microsoft Ignite that Microsoft is opening up interop will enable Teams Room users to natively join meetings on Cisco Webex and Zoom via browser-based technologies. Microsoft is working with Cisco and Zoom to enable a direct guest join capability from the respective video conferencing devices to the video meeting service using the web app. We see this as a necessary survival move for all vendors so they are not excluded from the mix when IT is forced to make an either/or decision.
Zoom's unwavering focus on user experience (UX) and making video meetings simple has clearly been its advantage. However, as competition catches up and as the UX reaches a level of maturity, Zoom is now focusing on every aspect of the customer experience (CX). CX is the sum of all the engagements a customer has with a business throughout the customer life cycle. That means not only should the technology be easy to use, but it should be equally easy to procure, deploy and manage. Zoom's Appliance Program equips its sales force to sell solutions better using an infinitely configurable open hardware ecosystem. As IT looks at deploying video everywhere, a single tightly integrated hardware, software and service solution that can be turned on with the flip of a switch leads to "better together" outcomes.
AI at the Forefront
Zoom's continued progress on AI is further proof of its commitment to improving the experience for its users. Zoom is tapping into many aspects of AI that make meetings smarter. After launching Machine Learning-based recording transcripts and virtual backgrounds, Zoom has added a host of other capabilities to its platform. Many of these AI features are more than bells and whistles and address long-standing user behavior issues that have impeded adoption. Features include:
A simultaneous interpretation capability that enables people from different geographies to come together on the same call and have productive conversations.
Real-time transcription and voice notetaking, powered by Otter.ai, which allows users to take meeting notes within the Zoom interface. Customers don't want to treat meetings as a one-and-done event and transcription addresses post-meeting content issues. Making the transcripts searchable and taggable adds further value.
Video backgrounds that offer a more realistic experience than static virtual backgrounds. They address user concerns about not wanting to get on camera with cluttered backgrounds or when they are in public locations like airports, which cause distractions, ultimately taking away from the meeting experience.
The list of AI possibilities keeps growing. An area where we expect to see significant progress in the industry is in federated Machine Learning, i.e., deeper partnerships between the devices and cloud service so all the deep learning that's happening at the device level will be transferable to the cloud and vice versa. Devices will continue to get more and more intelligent and capture a wealth of data, which will be fully leveraged by the connected cloud for better and more customized meeting experiences. Once again, the tightly coupled device and cloud solution will win and allow for deeper learning and outcomes.
The Missing Link
As Zoom fires all engines and scales up its business, its overarching direct-to-customer model will increasingly be challenged by the lack of a broad channel partner ecosystem. Zoom has built strong technology partnerships, which have been fundamental to its growth. However, it has yet to lay out a comprehensive global distribution strategy. The company primarily relies on direct sales. With its forthcoming channel partner program launch, Zoom expects to start filling the gap. However, its channel strategy remains primarily that of a true SaaS company despite its fast-changing DNA.
Large enterprise customers prefer a one-stop shop, one order history, and one point of contact for business communications, including localized support. In addition, long-term contracts that provide services for hardware, software, and project planning are part of the investment consideration. Particularly in the video conferencing market, the nuances of implementing the technology, often in complex multi-vendor environments and speaking the language of the customer, uniquely equip channels to transform business models and become long-term partners.
Conclusion
Zoom's journey from 2011 to the present day has been an unmatched success story, but the company is not resting on its laurels and is continuing to build its business. An inevitable outcome of this rapid expansion is the changing dynamics with its closest technology partners, which Zoom heavily relied on. The tables are starting to turn. As Zoom raises the stakes, it will increasingly be at a crossroads with some of its partners. Zoom's business model is all about putting the building blocks together piece by piece to form a coherent whole. It hopes to prove that it's the whole that counts, not the pieces.