Balbix Earns Acclaim from Frost & Sullivan for its Risk-Based Vulnerability Management Platform, BreachControl™
Balbix's use of AI to address all types of enterprise IT assets and 200+ attack vectors provides customers with a more complete and risk-based approach to vulnerability management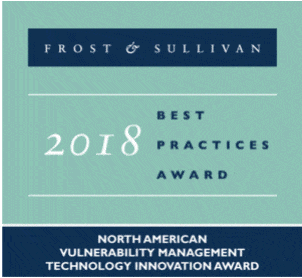 SANTA CLARA, Calif. — November 7, 2018 — Based on its recent analysis of the North American vulnerability management market, Frost & Sullivan recognizes Balbix, Inc. with the 2018 North American Technology Innovation Award for leveraging advancements in deep learning (DL), artificial intelligence (AI), and machine learning (ML) to develop its risk-based vulnerability management solution, BreachControl. The platform, which was built from the ground up with over 20 specialized algorithms, addresses the highly challenging process of identifying and mitigating business cyber-risk in enterprise networks.
"Balbix's unique BreachControl platform empowers security and SOC teams with actionable insights to mitigate potential breaches and then prioritize those mitigations according to business risk," said Hiten Shah, Analyst at Frost & Sullivan. "Based on the complexity of enterprise networks, Balbix designed its solutions to maintain visibility over all kinds of devices, apps, and users connected to the network. The platform can analyze physical as well as virtual assets across more than 200 attack vectors, both inside and outside the perimeters of the enterprise network and across geographies."
BreachControl collects vital data on all connected assets and users in real-time and continuously evaluates the enterprise's risk and resilience posture by cross analyzing this data with information on existing and emerging threats on the Internet/dark web. The platform leverages a combination of software- and hardware-based sensors equipped with AI and ML capabilities for the initial data processing and basic risk assessment. Because these sensors are deployed on both on-premise networks and cloud environments and feed data to the Balbix Brain running on the Amazon Web Services (AWS) cloud, the platform can be employed by companies with a global geographic footprint.
Furthermore, the platform eases the workload of security teams by presenting an automated prioritized risk dashboard that displays a heatmap of vulnerabilities in the network/cloud and recommends remediation measures. BreachControl is searchable via natural language questions, making it very simple to use by the full range of an enterprise's security stakeholders, from SecOps analysts to C-level executives.
"BreachControl's application scope also covers compliance management and integrates with ticketing systems," noted Shah. "Overall, Balbix has integrated a unique set of ML- and AI-powered capabilities into a comprehensive risk-based vulnerability management platform."
Each year, Frost & Sullivan presents this award to the company that has developed a product with innovative features and functionality that is gaining rapid acceptance in the market. The award recognizes the solution's quality and the customer value enhancements it enables.
Frost & Sullivan Best Practices Awards recognize companies in a variety of regional and global markets for demonstrating outstanding achievement and superior performance in areas such as leadership, technological innovation, customer service, and strategic product development. Industry analysts compare market participants and measure performance through in-depth interviews, analysis, and extensive secondary research to identify best practices in the industry.
About Balbix, Inc.
The Balbix breach avoidance platform, BreachControl™, is the industry's first system to leverage specialized artificial intelligence (AI) to provide comprehensive and continuous predictive assessment of breach risk. Visualized via a searchable and clickable risk heat-map, it is designed for CISOs, CIOs and IT security teams. BreachControl can forecast critical breach scenarios and prioritize/recommend fixes by business risk, improving security operations, compliance and cyber-resilience. Learn more at www.balbix.com.
Contact:
Kim Diesel
10Fold for Balbix
E: balbix@10fold.com
About Frost & Sullivan
Frost & Sullivan, the Growth Partnership Company, collaborates with clients to leverage visionary innovation that addresses the global challenges and related growth opportunities that will make or break today's market participants. For more than 50 years, Frost & Sullivan has been developing growth strategies for the global 1000, emerging businesses, the public sector, and the investment community. Contact us: Start the discussion.
Contact:
Samantha Park
P: 210.247.2426
F: 210.348.1003
E: samantha.park@frost.com