The DigitalOcean platform's user-friendliness helps smaller teams within an organization prototype new concepts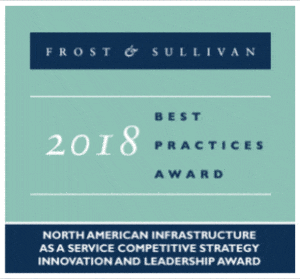 SANTA CLARA, Calif. — December 6, 2018 — Based on its recent analysis of the North American Infrastructure-as-a-Service (IaaS) market, Frost & Sullivan recognizes DigitalOcean with the 2018 North American Competitive Strategy Innovation and Leadership Award for its powerful cloud that allows developers to effortlessly create innovative software applications. The company's distinct approach to products, pricing, and support has helped it steadily gain revenue, servers, users, and community members in the IaaS market.
"DigitalOcean's on-demand, public cloud services are built for simplicity, scale, hassle-free use, and rapid provisioning. Developers can employ a 'one-click' deployment option to access pre-built applications or open source distributions," said Lynda Stadtmueller, Vice President of Cloud Services for Frost & Sullivan. "Meanwhile, in response to developers' requests for higher-value tools and features, DigitalOcean has expanded its portfolio to include storage options, network firewalls, and platform monitoring. The company's roadmap includes enterprise-friendly services, including virtual private cloud, Kubernetes, and Database-as-a-Service."
At the time of its launch, DigitalOcean had focused on start-ups because they were the main developers of next-generation, cloud-native, open source-based apps. Over the years, the company has broadened its customer base from individual developers to development teams, and more recently, to entrepreneurs and teams within the enterprise. Its strategic focus on simplicity, support and community aids developers in quickly taking their ideas from concept to production and facilitates application scaling.
DigitalOcean provides the optimal cloud to support innovation in the form of rapid development, integration, and testing of new ideas. The open source-based platform easily fits into companies' DevOps frameworks to support continuous development and integration processes. High levels of support and the user-friendliness of the platform allow businesses to use DigitalOcean to fill the expertise gap within their own firms, as it can quickly train less experienced developers. Furthermore, the company uniquely includes technical support at no charge to customers.
"The scalability of the DigitalOcean cloud and the company's 12 data centers in eight regions worldwide give customers the flexibility of choosing to keep their DevTest workloads on the platform once they move into production," noted Stadtmueller. "With DigitalOcean, users have access to a range of integration and development tools, including Chef, Ansible, Puppet, and others. Developers can deploy their code directly to a pre-built application image, thus avoiding tedious installation and configuration tasks. Meanwhile, the DigitalOcean API gives developers access to apps, wrappers, and integrations created by the members of the development community."
For its customer-focused development strategy, Frost & Sullivan is proud to present DigitalOcean with the 2018 North American Competitive Strategy Innovation and Leadership Award.
Each year, Frost & Sullivan presents this award to the company that has leveraged competitive intelligence to successfully execute a strategy that results in stronger market share, competitive brand positioning, and customer satisfaction.
Frost & Sullivan Best Practices awards recognize companies in a variety of regional and global markets for demonstrating outstanding achievement and superior performance in areas such as leadership, technological innovation, customer service, and strategic product development. Industry analysts compare market participants and measure performance through in-depth interviews, analysis, and extensive secondary research to identify best practices in the industry.
About DigitalOcean, LLC
DigitalOcean is the cloud of choice for developers around the world to create modern applications. With a community of more than 3.5 million developers and a global network of data centers, we focus on open source and simplicity to allow developers and their teams to spend more time on innovation instead of managing complex infrastructure. For more information, visit https://www.digitalocean.com or follow @digitalocean on Twitter.
About Frost & Sullivan
Frost & Sullivan, the Growth Partnership Company, works in collaboration with clients to leverage visionary innovation that addresses the global challenges and related growth opportunities that will make or break today's market participants. For more than 50 years, we have been developing growth strategies for the global 1000, emerging businesses, the public sector, and the investment community. Contact us: Start the discussion.
Contact: 
Samantha Park
P: 210.247.2426
F: 210.348.1003
E: samantha.park@frost.com