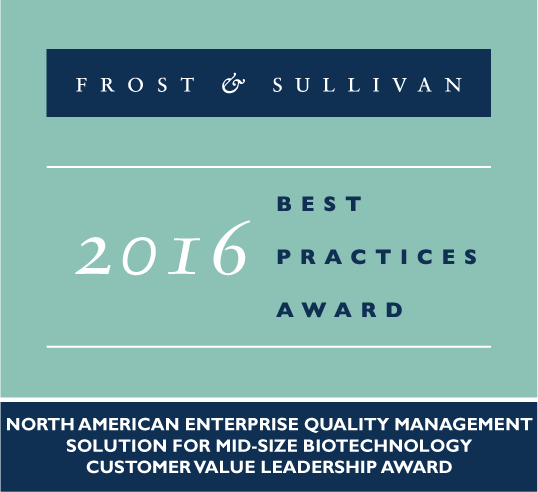 SOLABS QM10 is one of the most collaborative EQMS, with functionalities in line with the latest technological advances
MOUNTAIN VIEW, CA — September 13, 2016 — Based on its recent analysis of the enterprise quality management solution (EQMS) market for the mid-sized biotechnology industry, Frost & Sullivan recognizes SOLABS with the 2016 North American Customer Value Leadership Award. SOLABS has gained a distinct competitive edge by leveraging its 3-section design of document, process, and training to provide an integrated EQMS solution:  SOLABS QM10. The solution's flexibility and scalability enable phased implementation, while its app-based model for quality processes supports the integration and interoperability of processes.
Unique and perfectly designed to address the requirements of customers from different industry backgrounds, the fully integrated SOLABS QM10 is in its sixth iteration. The solution is fully expandable and scalable and, therefore, more future-ready than its peer solutions. Additionally, the solution has apps for all types of quality processes in the biotechnology, medical device, and life sciences industries. SOLABS QM10 helps users manage corrective and preventive action (CAPA) and investigations, non-conformances, deviations, complaints, controlled documents, change control, audits, and employee training records on a single user interface that is intuitive and standardized across all functional areas.
"SOLABS QM10 comes with advanced analytics as well as ready-to-use reporting capabilities for users to create and distribute reports that aid superior decision making," said Frost & Sullivan Senior Analyst Sankara Narayanan. "The substantial increase in the volume of real-time actionable insights from SOLABS QM10 gives customers better visibility, control, coordination, and execution to reduce cycle times in quality processes. This improves response time for audits and product releases, which lowers the risk of non-compliance and, ultimately, maximizes return on investment."
SOLABS identifies the processes most important to a customer, and its Best Practices unit develops apps that can be quickly and easily deployed. Additionally, the small installation footprint of SOLABS QM10's core software and related components allows organizations to set up the solution easily in virtual environments. SOLABS presents a dedicated hosting option, wherein each customer has its own dedicated cloud environment.
SOLABS' Best Practices unit conducts on-site workshops to understand an organization's needs and to ensure its apps meet all customer requirements. The company's developers and quality assurance team collaborate on what is normally a 3-cycle deployment process. Because SOLABS offers template flavors and directly oversees development through several lines of configuration, the solution can be operational within a few weeks.
"SOLABS QM10 can be implemented as a turnkey solution or as a shared system. For instance, SOLABS can work with its customers and take over the implementation activities in case its customers do not have adequate resources for process implementation," noted Narayanan. "Its ability to promote customer value leadership has attracted investments from leading companies from the medical device, pharmaceutical, clinical trial, and R&D verticals."
Directly improving measurable key performance indicators strengthens SOLABS' potential to expand its solution's scope of application further. SOLABS has more than 5,000 active users worldwide, handles more than 2,000 transactions daily, and completes 95% of its projects within budget. The company's positive cash flow, double-digit growth for the past 5 years, 100% turnkey project management, and 100% renewal rate all make SOLABS a clear winner.
Given its high levels of customer satisfaction and retention rates as well as its continuously expanding customer base, SOLABS is expected to cement its position in the North American EQMS market in the coming years.
Each year, Frost & Sullivan presents this award to the company that has demonstrated excellence in implementing strategies that proactively create value for its customers, with a focus on raising the return on the investment that customers make in its services or products. The award recognizes the company's inordinate focus on enhancing the value its customers receive beyond simply good customer service, leading to improved customer retention and, ultimately, customer base expansion.
Frost & Sullivan Best Practices awards recognize companies in a variety of regional and global markets for demonstrating outstanding achievement and superior performance in areas such as leadership, technological innovation, customer service, and strategic product development. Industry analysts compare market participants and measure performance through in-depth interviews, analysis, and extensive secondary research to identify best practices in the industry.
About SOLABS
SOLABS was founded by Philippe Gaudreau in 1999, over 15 years ago. The company has offices in Quebec, Canada, Massachusetts and San Francisco, USA. Through a team of highly-skilled, dedicated and collaborative professionals, SOLABS' mission is to consistently provide superior EQMS solutions for mid-sized enterprises in the life sciences industry. As a result, its industry leading product generates value for its clients, return for its shareholders and recognition and reward for its employees.
About Frost & Sullivan
Frost & Sullivan, the Growth Partnership Company, collaborates with clients to leverage visionary innovation that addresses the global challenges and related growth opportunities that could make or break today's market participants.
Frost & Sullivan's Growth Partnership supports clients by addressing these opportunities and incorporating two key elements driving visionary innovation: the Integrated Value Proposition and the Partnership Infrastructure.
The Integrated Value Proposition provides support to clients throughout all phases of their journey to visionary innovation, including research, analysis, strategy, vision, innovation, and implementation.
The Partnership Infrastructure is entirely unique as it constructs the foundation upon which visionary innovation becomes possible, including 360 degree research, comprehensive industry coverage, and career best practices as well as Frost & Sullivan's global footprint of more than 40 offices.
For more than 50 years, Frost & Sullivan has been developing growth strategies for the global 1000, emerging businesses, the public sector, and the investment community. Is your organization prepared for the next profound wave of industry convergence, disruptive technologies, increasing competitive intensity, Mega Trends, breakthrough best practices, changing customer dynamics, and emerging economies?
Contact Us:     Start the discussion
Subscribe:       Newsletter on "the next big thing"
Register:         Gain access to visionary innovation
Contact:
Chiara Carella
P: +44 (0) 207.343.8314
F: 210.348.1003
E: chiara.carella@frost.com