Commercial off-the-shelf solutions and modernisation strategies will ignite fresh growth opportunities, finds Frost & Sullivan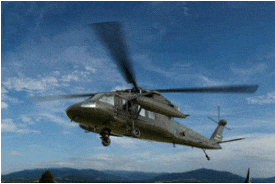 After almost 10 years of stagnation and delayed programmes in key regions, the global market for military and public services helicopters is facing recovery. Growth is primarily driven by geopolitical tensions, replacing and upgrading obsolete helicopters, new development programs such as rotary unmanned aerial systems (UAS), and manned-unmanned teaming (MUM-T) of operations to strengthen battlefield readiness.
"Ongoing deployment overseas and rising threats will drive market recovery and fuel demand for additional helicopters," said Alix Leboulanger, Senior Industry Analyst, Defence at Frost & Sullivan. "There will be a focus on commercial off-the-shelf (COTS) solutions to minimise training, sustain costs and improve adoption timeframes with modernisation plans preferred due to budget sensitivity and operational readiness requirements."
For further information on this analysis, please visit: http://frost.ly/2uq
Leboulanger recommends helicopter original equipment manufacturers (OEMs) look towards recent developments in the rise of UAS and their increasing operational usage on front lines. The development of rotary UAS has generated new opportunities for helicopter OEMs in terms of new platform developments and designs and is one of the most promising growth areas within this market.
Five key trends creating growth opportunities in the market include:
North America remains the biggest market for military helicopters;
Operators are increasingly looking at optimising their fleets with fewer types and more operational capabilities;
Global renewal cycles hold billions of dollars' worth of planned and forecasted opportunities in new procurements and modernisation programmes;
Significant investment in MUM-T as joint deployments of manned and unmanned assets become the new standard; and
Collaboration with non-traditional military players and start-ups involved in robotic fields to refine and improve UAS.
"Despite stringent replacement requirements and operational readiness objectives pushing forward military helicopter replacement plans, financial recovery remains very fragile" noted Leboulanger. "Political uncertainty over international trade agreements and the reissuing of trade barriers could impact helicopter production lines and exports. Original equipment manufacturers need to consider new strategies for international competition and to retain traditional export customers."
Frost & Sullivan's recent analysis, Global Military and Public Services Helicopters Market, Forecast to 2026, assesses disruptive trends, drivers and restraints, market share and the competitive environment for players such as Boeing, Sikorsky Aircraft, Airbus Helicopters, Bell Helicopters, Leonardo Helicopters, Hindustan Aeronautics, Russian Helicopters, MD Helicopters, and AVICOPTER, L-3 Technologies, and Lockheed Martin. Spending forecasts, key findings, and engineering measurements for segments such as attack, maritime, utility, transport, and public services helicopters are provided. Regional analysis includes Africa, Asia-Pacific, Central and South America, Europe, Central and South Asia, Middle East, and North America.
About Frost & Sullivan
For over five decades, Frost & Sullivan has become world-renowned for its role in helping investors, corporate leaders and governments navigate economic changes and identify disruptive technologies, Mega Trends, new business models and companies to action, resulting in a continuous flow of growth opportunities to drive future success. Contact us: Start the discussion.
 Global Military and Public Services Helicopters Market, Forecast to 2026
MD6A_16
Contact:
Jacqui Holmes
Corporate Communications Consultant
E: jacqui.holmes@frost.com
Twitter: @FrostADS
LinkedIn: Frost & Sullivan's Aerospace, Defence and Security Forum
http://www.frost.com