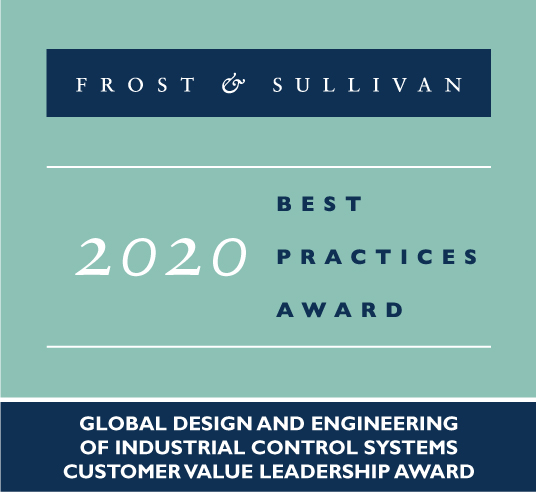 SANTA CLARA, Calif. — June 17, 2021 — Based on its recent analysis of the global market for industrial control systems design and engineering, Frost & Sullivan recognizes Honeywell International, Inc. with the 2020 Global Customer Value Leadership Award. A leader in the distributed control systems (DCS) space, its integrated Experion® Process Knowledge System (PKS) system is a valuable tool in helping industrial customers achieve operational efficiency and speedy return on investment.
Click here for the full multi-media experience of this release – https://best-practices.frost.com/honeywellcv/
"In 2019, Honeywell took its DCS technology to the next level with Experion PKS Highly Integrated Virtual Environment (HIVE) technology," said Chirag Rathi, Consulting Direct at Frost & Sullivan. "Building off of Honeywell's LEAP™ technology, Experion PKS HIVE seeks to improve the way engineers design projects, keep automation off the critical path, and eliminate non-value-added work. Decoupling I/O modules from process controller assignment allows I/O modules to communicate with any process controller, not just the ones they connect to in a traditional configuration. Any controller that connects into the HIVE network can access any I/O module, and by extension, any device that connects to the I/O modules."
Experion PKS HIVE combines the IT HIVE, IO HIVE, and Control HIVE into a single solution; engineers can use each of these elements independently, in combination with one or both of the other elements, or with their existing infrastructure. It also centralizes up to 80% of project engineering IT infrastructure, which reduces costs and enables engineers to leverage skills efficiently and provide consistent physical and cybersecurity management. Furthermore, it endows the I/O and control distribution with flexibility, enhancing the standardization of project deliverables.
With the Experion PKS HIVE, rather than spending numerous hours designing control systems, engineers can assign I/O modules to the IO HIVE and controllers and strategies to the Control HIVE. The Experion system then automatically matches devices, I/O modules, control strategies, and controllers in an optimized manner. It also simplifies maintenance and upgrades, enabling engineers to perform them at any time without having to wait for a downtime window.
"Honeywell offers Experion® PKS HIVE as a modular and systematic deployment, eliminating the need to 'rip and replace' clients' systems. Not only is this approach more affordable, but it also helps the company's customers mitigate risks," noted Jeffrey Castilla, Best Practices Research Team Leader at Frost & Sullivan. "Overall, the company's innovative approach to creating and implementing new technology has positioned it for continued success in the design and engineering of industrial control systems."
Each year, Frost & Sullivan presents this award to the company that demonstrates excellence in implementing strategies that proactively create value for its customers with a focus on improving the return on the investment that customers make in its services or products. The award recognizes the company's unique focus on augmenting the value that its customers receive, beyond simply good customer service, leading to improved customer retention and customer base expansion.
Frost & Sullivan Best Practices awards recognize companies in a variety of regional and global markets for demonstrating outstanding achievement and superior performance in areas such as leadership, technological innovation, customer service, and strategic product development. Industry analysts compare market participants and measure performance through in-depth interviews, analyses, and extensive secondary research to identify best practices in the industry.
About Honeywell International, Inc.
Honeywell (www.honeywell.com) is a Fortune 100 technology company that delivers industry-specific solutions that include aerospace products and services; control technologies for buildings and industry; and performance materials globally. Our technologies help aircraft, buildings, manufacturing plants, supply chains, and workers become more connected to make our world smarter, safer, and more sustainable. For more news and information on Honeywell, please visit www.honeywell.com/newsroom. 
Media Contact:
Blake Herbert
+1 (832) 252-5828
Blake.Herbert@Honeywell.com