Product line extension will be vital in a mature, consolidated market, finds Frost & Sullivan's Visionary Science Team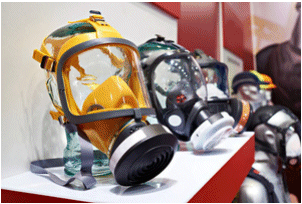 A mature, consolidated North American respiratory protection equipment market is witnessing moderate growth driven by mandatory health and safety regulations and developments in end-user industries such as construction, firefighting, oil and gas, and manufacturing. While integrating technology with the equipment and using analytics to monitor activities is predicted to form the basis of new product development, a focus on improving ergonomics is anticipated to play a key role in driving respiratory protection sales.
"In the coming years, product development will pivot on wearer comfort and technology integration to enhance worker safety. Market participants have already introduced smart respirators by incorporating devices such as sensors, monitoring systems, and thermal imaging cameras, which enhance the efficiency and safety of end users," said Hrishikesh Vikas Dhatrak, Research Analyst, Visionary Science, Frost & Sullivan. "Furthermore, connectivity, coupled with the Internet of Things, is expected to provide lucrative opportunities for technology advancements."
                                                   For further information on this analysis, please visit: http://frost.ly/2xu
To gain a competitive advantage, Dhatrak recommends that small market participants emulate market leaders such as 3M Scott Safety, MSA, Honeywell, Moldex, and Draeger, and extend product lines to expand the product reach. This is likely to provide maximum market exposure.
Key trends creating growth opportunities in the market include:
Rising demand for lightweight PAPRs with high-efficiency filters in the pharmaceutical industry
Large market share gain for non-disposable respirators due to shifting consumer demand for disposable respirators
Respirable crystalline silica regulations propelling compliance rates in the construction industry
Rising oil and gas exploration activities influencing respirator demand
Technology forming the basis for higher adoption of respirators in firefighting and mining industries
"The respiratory protection equipment industry is negatively impacted by a lack of innovation. Furthermore, factors such as development and testing costs have emerged as key deterrents for the innovation of new products," noted Dhatrak. "OSHA budget cuts are also expected to affect compliance rates and market growth."
North American Respiratory Protection Equipment Market, Forecast to 2022 market intelligence identifies disruptive market and technology trends, drivers and restraints, market share and competitive analysis. Market engineering measurements, revenue forecast by end user and country, and competitive factors are provided for segments including disposable respirators, non-disposable respirators, powered air purifying respirator, self-contained breathing apparatus, escape respirator, and airline respirator.
North American Respiratory Protection Equipment Market, Forecast to 2022 is the latest addition to Frost & Sullivan's Visionary Scienceresearch and analysis available through the Frost & Sullivan Leadership Council, which helps organizations identify a continuous flow of growth opportunities to succeed in an unpredictable future.
About Frost & Sullivan
For over five decades, Frost & Sullivan has become world-renowned for its role in helping investors, corporate leaders and governments navigate economic changes and identify disruptive technologies, Mega Trends, new business models and companies to action, resulting in a continuous flow of growth opportunities to drive future success. Contact us: Start the discussion.
 North American Respiratory Protection Equipment Market, Forecast to 2022
K2C7-39
Contact:
Jacqui Holmes
Corporate Communications Consultant
E: jacqui.holmes@frost.com
LinkedIn: Future of Chemicals
Twitter: @Frost_Sullivan