Vectra Earns Accolade from Frost & Sullivan for its AI-powered Cognito Cybersecurity Platform

Cognito harnesses the power of AI, ML, and behavioral analytics to ensure that all attacks related to credential abuse and insider threats are identified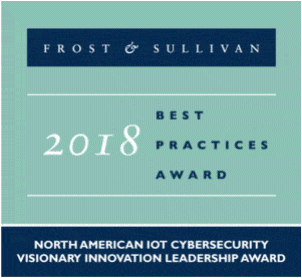 SANTA CLARA, Calif. — October 17, 2018 — Based on its recent analysis of the North American Internet of Things (IoT) cybersecurity market, Frost & Sullivan recognizes Vectra Networks with the 2018 North American Visionary Innovation Leadership Award for raising the bar in cybersecurity with its artificial intelligence (AI)-driven Cognito threat detection and hunting platform. This platform monitors, analyzes, and contextualizes all network traffic by employing a combination of AI, machine learning (ML), and behavioral traffic analysis to address a broad range of security use cases.
"Vectra stands out for its ability to offer an unparalleled level of flexibility and agility to identify a variety of fundamental attack behaviors such as command-and-control communications, abuse of account credentials, data exfiltration, botnet monetization, and early indicators of ransomware activity," said Vikrant Gandhi, Industry Director at Frost & Sullivan. "Furthermore, through internal reconnaissance and lateral movement detections, Cognito can uncover hidden attackers and insiders because advanced hackers usually quietly watch and learn the tools that an organization uses and then blend stealthily. This function is critical because an attacker that has gained this mode of access to internal networks is, for all intents and purposes, an 'insider'."
The Cognito platform includes Cognito Detect™, which provides enterprise-wide visibility to find and stop attackers in real time; and Cognito Recall™, which leverages the cloud to present professional threat hunters with an efficient way to store and search enriched metadata from network traffic. Together they help enterprises significantly improve cyberattack-detection and threat-hunting capabilities in ways that are best suited to their unique network characteristics and requirements.
The Cognito platform from Vectra is well positioned to grow rapidly in this environment, as it collects and analyzes rich network metadata to ensure real-time automated threat detection, manual threat hunting, retrospective threat hunting, and incident investigations.
"Cognito employs a combination of supervised and unsupervised ML algorithms to detect attacker behavior immediately, as well as continuously learn and adapt to the local environment to identify explicit attacker behavior," noted Vikrant. "The adoption of Cognito in verticals such as healthcare, education, media and entertainment, and industrial automation is a testament to the soundness of its capabilities and go-to-market strategy."
Each year, Frost & Sullivan bestows this award upon the company that demonstrates excellence in growth and customer value. It recognizes the superiority of the product/service, as well as the overall customer, purchase, ownership and service experience offered, which has resulted in the recipient company seeing above-market growth and greater share of wallet. The award lauds the growth, diversification, and sustainability strategies of the company.
Frost & Sullivan Best Practices awards recognize companies in a variety of regional and global markets for demonstrating outstanding achievement and superior performance in areas such as leadership, technological innovation, customer service, and strategic product development. Industry analysts compare market participants and measure performance through in-depth interviews, analysis, and extensive secondary research to identify best practices in the industry.
About Vectra
Vectra® is transforming cybersecurity with AI. Its Cognito® platform automates cyberattack detection and empowers threat hunters from data center and cloud workloads to user and IoT devices. Cognito correlates threats, prioritizes hosts based on risk and provides rich context to empower incident response with existing security systems, reducing security operations workload by 36X. The company has been issued 10 U.S. patents with 11 patents pending for cybersecurity applications of machine learning and artificial intelligence. Vectra is headquartered in San Jose, Calif. and has European regional headquarters in Zurich. For more information, visit vectra.ai.
About Frost & Sullivan
Frost & Sullivan, the Growth Partnership Company, works in collaboration with clients to leverage visionary innovation that addresses the global challenges and related growth opportunities that will make or break today's market participants. For more than 50 years, we have been developing growth strategies for the global 1000, emerging businesses, the public sector and the investment community. Contact us: Start the discussion.
Contact:
Samantha Park
P: 210.247.2426
F: 210.348.1003
E: samantha.park@frost.com