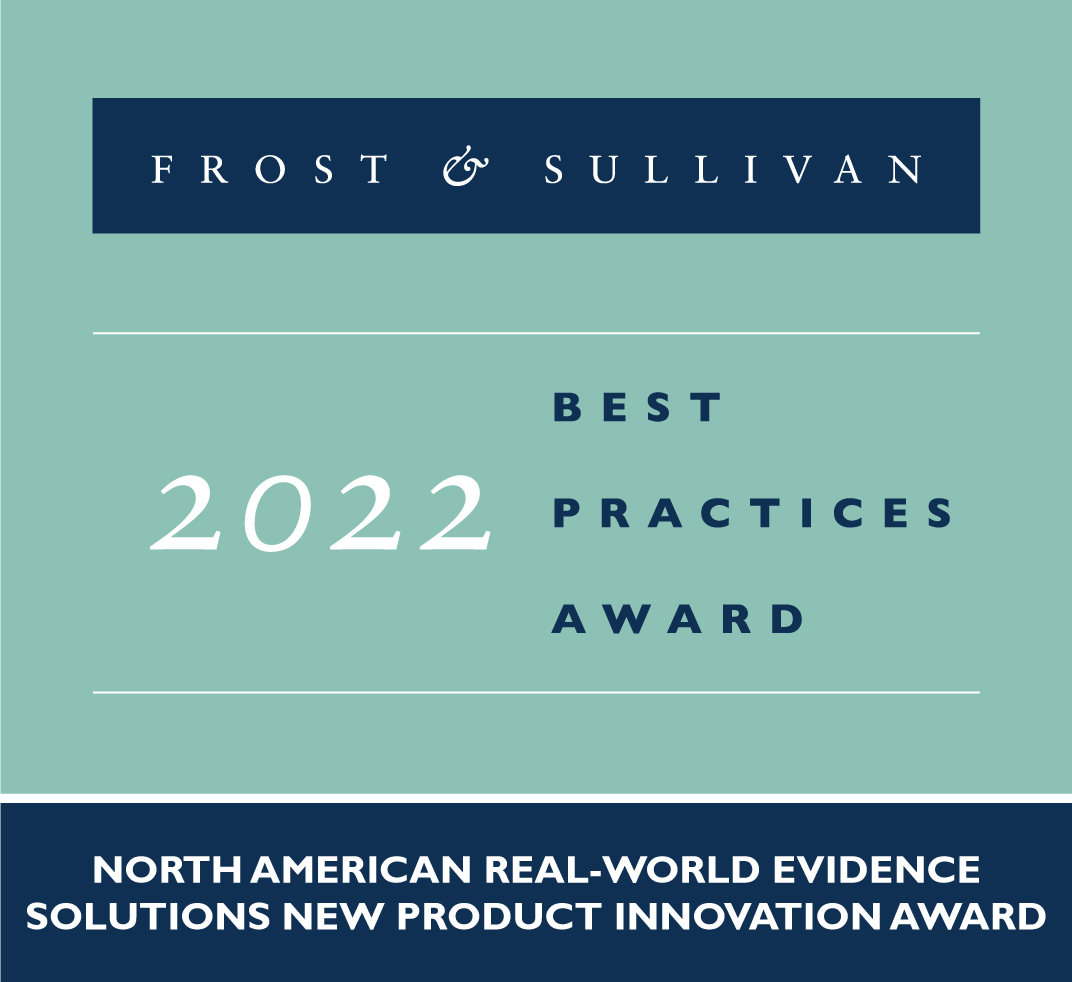 SAN ANTONIO, TX. – Jan. 11, 2023 – Recently, Frost & Sullivan analyzed the real-world evidence (RWE) solutions industry and, based on its findings, recognizes Verana HealthⓇ with the 2022 North America New Product Innovation Award. The digital health company uniquely leverages its expertise to meet current unmet market needs, cementing its leadership in the RWE solutions space. It delivers quality drug lifecycle and medical practice insights from real-world data (RWD), which is exclusively entrusted to Verana Health by key specialty medical societies, enabling it to manage de-identified data from more than 20,000 healthcare clinicians and more than 70 electronic health record (EHR) systems.
Verana Health's VeraQⓇ population health data engine transforms structured and unstructured EHR data into curated, quality data (QdataⓇ) to power insights on care quality, treatment patterns and outcomes, clinical trial site selection, therapeutic market share, and more. The engine ingests and curates de-identified EHR data from three unparalleled databases: the American Academy of Ophthalmology IRISⓇ Registry (Intelligent Research in Sight), the American Urological Association Quality Registry (AQUA), and the American Academy of Neurology Axon Registry. It then often links the de-identified data to other sources such as medical and pharmacy claims, diagnostic images, genomics, and mortality data. Verana Health maintains, protects, and curates its data ecosystem using clinician oversight, natural language processing, and machine learning. It also provides insights closer to real time into the overall drug lifecycle. The platform leverages information on:
More than 500 million patient visits
More than 20,000 contributing clinicians
More than 9 years of longitudinal data
Approximately 90 million de-identified patients
More than 70 contributing EHR systems
3 therapeutic areas
Unmesh Lal, a Frost & Sullivan research director specializing in healthcare, observed, "Information technology solution providers explore value creation and extraction from the growing RWD volumes to enhance patient recruitment and engagement, reduce trial costs, and increase longitudinal trials and digital patient data."
VeraQ creates curated, fit-for-purpose data modules, called Qdata, to help answer complex questions requiring observational inputs from de-identified clinician notes and EHR records. VeraQ is the foundation for quality insights derived from RWD across clinical research. Qdata in ophthalmology, urology, and neurology help to power observational research studies and accelerate trial activity, identifying patients cohorts that may qualify for select clinical trials.
"Verana Health developed a lifecycle solution model for life sciences ranging from clinical development to market expansion. Ultimately, it integrates a customer-centric approach to ensure its offering addresses users' wants and needs," added Manuel Albornoz, a Frost & Sullivan Best Practices Research analyst. For its strong overall performance, Verana Health is recognized with Frost & Sullivan's 2022 North America New Product Innovation Leadership in the RWE solutions industry.
Each year, Frost & Sullivan presents this award to the company that develops an innovative element in a product by leveraging leading-edge technologies. The award recognizes the value-added features/benefits of the product and the increased return on investment (ROI) it gives customers, which, in turn, raises customer acquisition and overall market penetration potential.
Frost & Sullivan Best Practices awards recognize companies in various regional and global markets for demonstrating outstanding achievement and superior performance in leadership, technological innovation, customer service, and strategic product development. Industry analysts compare market participants and measure performance through in-depth interviews, analyses, and extensive secondary research to identify best practices in the industry.
About Verana Health
Verana Health® is a digital health company elevating quality in real-world data. Verana Health operates an exclusive real-world data network of more than 20,000 healthcare providers (HCPs) and about 90 million de-identified patients, stemming from its strategic data partnerships with the American Academy of Ophthalmology®, American Academy of Neurology, and American Urological Association. Using its clinician-informed and artificial intelligence-enhanced VeraQⓇ population health data engine, Verana Health transforms structured and unstructured healthcare data into curated, quality data modules, QdataⓇ. Verana Health's Qdata helps power analytics solutions and software-as-a-service products for real-world evidence generation, clinical trials enablement, HCP quality reporting, and medical registry data management. Verana Health's quality data and insights help drive progress in medicine to enhance the quality of care and quality of life for patients. For more information, visit www.veranahealth.com.