08dec2:00 PM3:00 PMAgile and Scalable Contact Centre Solutions: Ensuring Business Continuity and Reliable Customer ExperiencesWebinarCategory:Webinars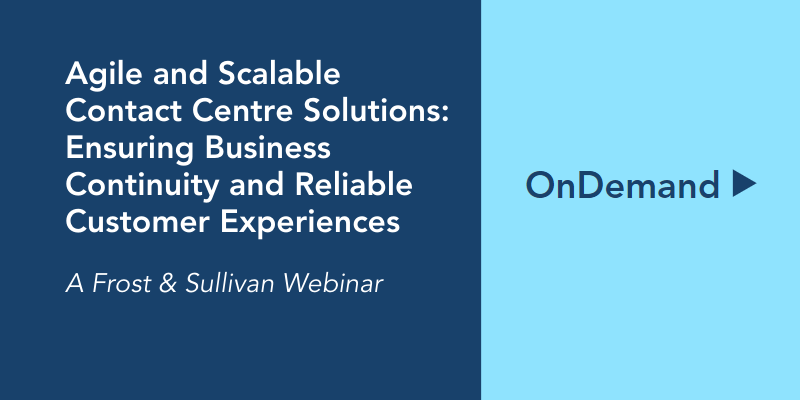 Time

(Tuesday) 2:00 PM - 3:00 PM
Location

Webinar

7550 1H, 10 W Dr Suite 400
Event Details

Today we are seeing the critical need for organisations of all sizes to ensure business continuity across functions, and to seamlessly enable remote work throughout global locations. Our way of working has fundamentally changed, and this will be a constant as workforce strategies continue to embrace a distributed, but highly connected, model.

The need for companies to differentiate and deliver personalised, engaging experiences is exploding as customer demands grow for experiences that deliver a level of familiarity and connectedness through video, voice, chat, messaging and verification. It is a fundamental paradigm shift across all industries to accelerate digital transformation and the delivery of services. Contact centres in particular are playing a key role in delivering value to customers and growth to businesses.

During this webinar, we will discuss the keys to building a successful contact centre solution and how this enables you to:
Understand the value that deep integration brings to your business
Best prepare for remote work and remote delivery of services, long-term
Build a contact centre solution that has the agility and resilience necessary to withstand any challenges – no matter what the future looks like
Join Frost & Sullivan and leaders from Vonage and Salesforce for a complimentary webinar, as we present and discuss how business continuity is key to a winning customer experience.

Featured Industry Speakers:
In Cooperation with: