12jan3:00 PM4:00 PMIntrinsic Security at the Heart of TransformationWebinarCategory:Webinars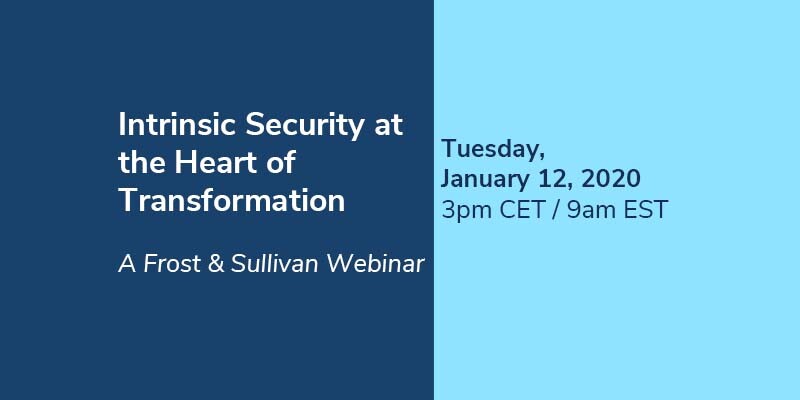 Time

(Tuesday) 3:00 PM - 4:00 PM
Location

Webinar

7550 1H, 10 W Dr Suite 400
Event Details
Cybersecurity is taking center stage.
Security breaches are becoming increasingly prevalent and making front-page news, while attack vectors are proliferating and the sophistication of attackers is reaching new levels. With widespread adoption of cloud, exponential growth of Edge, and the rapidly expanding remote workforce, security challenges continue to intensify.
Security must evolve; a more all-encompassing approach is needed. Intrinsic Security is a new strategic approach where simplicity is essential, security is baked in rather than bolted on, and security is proactive rather than reactive. Intrinsic Security means considering how to secure the endpoint, the data center, clouds and everything in between it allows enterprises to handle threats in a more effective, cohesive and simpler way.
Join Frost & Sullivan, Dell Technologies, VMware and Bernard Marr & Co. as we take a dive deep on the topic of security and underline why you and your organization need to think about limiting the "blast radius" of any possible security breach.
In this timely webinar, experts will discuss what organizations must do to ensure they remain secure:
Defining security in the cloud era
How the move to widespread homeworking has accelerated the awareness of security vulnerabilities
Why an all-encompassing approach that simplifies and enhances security posture is essential
How intrinsic security can empower teams with deep context and insights that accelerate how they identify risk and respond to threats
This is a challenging and exciting time in security. Listen to the experiences of experts, participate in a live Q&A and walk away with actionable strategies for your organization.
Find out more about Dell Technologies' Transformation Tune-In: click here

Featured Industry Speakers:
Jarad Carleton
Global Program Leader, Cybersecurity Market Research Practice
Frost & Sullivan
Kevin Cross
VP Chief Information Security Officer
Dell Technologies
Patrick Morley
SVP, General Manager
Security Business Unit
VMware
Bernard Marr
Founder and CEO
Bernard Marr & Co.
In Cooperation with:

Jarad's career at Frost & Sullivan spans 20+ years in the USA and Europe. He spent 14 years in Frost & Sullivan's growth consulting practice and 6+ years in the research practice. During his tenure at Frost & Sullivan he has worked on numerous strategic projects for international clients of all sizes in North America, Europe, and Asia in areas including, but not limited to: managed security services, mobile threat defence (MTD), digital risk protection (DRP), digital trust, IoT security and privacy, end-to-end encrypted voice and text messaging, automated breach and attack simulation (BAS), IT/OT security convergence, regulatory compliance, and corporate governance.

Kevin Cross serves as Vice President and Chief Information Security Officer for Dell Technologies' Security and Resiliency Organization. In this role, Kevin leads the Cybersecurity team which supports Dell Technologies' business by managing risk, maintaining compliance and securing the enterprise environment.
Kevin has extensive experience leading incident analysis and response, threat intelligence, threat hunting, ethical hacking, forensics and e-discovery, penetration testing and vulnerability management functions for large organization in both the public and private sectors.
Prior to joining Dell, Kevin served as Vice President and Deputy Chief Information Security Officer at Sony and was responsible for all global security shared services. Kevin also founded and developed world-class security operations centers at Sony, the U.S. Counterintelligence Field Activity (CIFA), the Pentagon and the Defense Intelligence Agency.

Under Patrick Morley's leadership, Carbon Black has grown from niche startup into endpoint security leader. He joined the company as CEO in 2007 and, since then, has led the team through several major milestones including: a merger with Bit9, three acquisitions, a company transition to a SaaS model, a successful IPO on NASDAQ (in 2018) and, most recently, a $2.1 billion sale to VMware. Patrick now serves as the General Manager for VMware's Security Business Unit. He has been recognized as one of the industry's most thoughtful and reputable leaders.

Bernard Marr is an internationally bestselling author, futurist, keynote speaker, influencer and strategic advisor to companies and governments. LinkedIn has ranked Bernard as one of the top 5 business influencers in the world. He has authored 18 best-selling books, is a frequent contributor to the World Economic Forum and writes a regular column for Forbes. Bernard has about 2 million followers across different social media platforms where he generously shares content every day.