It is still fast and furious in the fleet industry. After facing a rough ride courtesy of the pandemic, we estimate overall contract sales in the global vehicle leasing and rental industry to have dipped 14.9% YoY in 2020 – the industry is mounting a strong response on the back of targeted consolidation.  We have seen a spree of mergers, acquisitions, and partnerships since late 2019, beginning with Sixt Mobility Consulting's acquisition of Flottenmeister's fleet business. Since then, we have tracked over twenty major mergers and acquisitions involving major players like Cox Automotive, Arval, Cazoo, Leasys, Intel, and others.
What is motivating such consolidation trends? Today, fleet companies are trying to navigate through a dynamic landscape marked by rapidly changing business models, digital technologies, and vehicle electrification. Consolidation means an almost instant increase in fleet size (and, by extension, superior bargaining power over OEMs and leasing service providers), a larger geographical footprint, improved efficiencies of scale, more competitive offerings, diversified product and service portfolios, wider customer access, and more partnership opportunities. It also means the prospect of stability amidst market uncertainties, while offering the potential for cost, resource, and operational optimization.
For more information on leasing market intelligence data and market forecasts, please access Frost & Sullivan's Fleet & Leasing – Market Intelligence Database, or contact Abishek Narayanan at abishekn@frost.com to schedule a private briefing.
Our Perspective
A major consolidation wave began with Hertz selling Donlen to Athene Holding in April 2021. At that time, we also reported that the year would end with Wheels Inc merging with Donlen. Frost & Sullivan forecast the acquisition of LeasePlan by ALD Automotive, which came true at the beginning of 2022 when ALD Automotive acquired LeasePlan for €4.9 billion resulting in the formation of a new company, NewALD, with a substantial fleet size of around 3.6 million.
The latest addition to the list is Athene Holding led Wheels Donlen's acquisition of LeasePlan USA through a stock purchase agreement. As per Frost & Sullivan's market intelligence database published in 2020, this consolidation is expected to catapult the Athene-led trio to become the third-largest player in the North American leasing market. In short, the new entity will be a powerhouse in the North American fleet industry while triggering further repositioning in the global leasing ecosystem.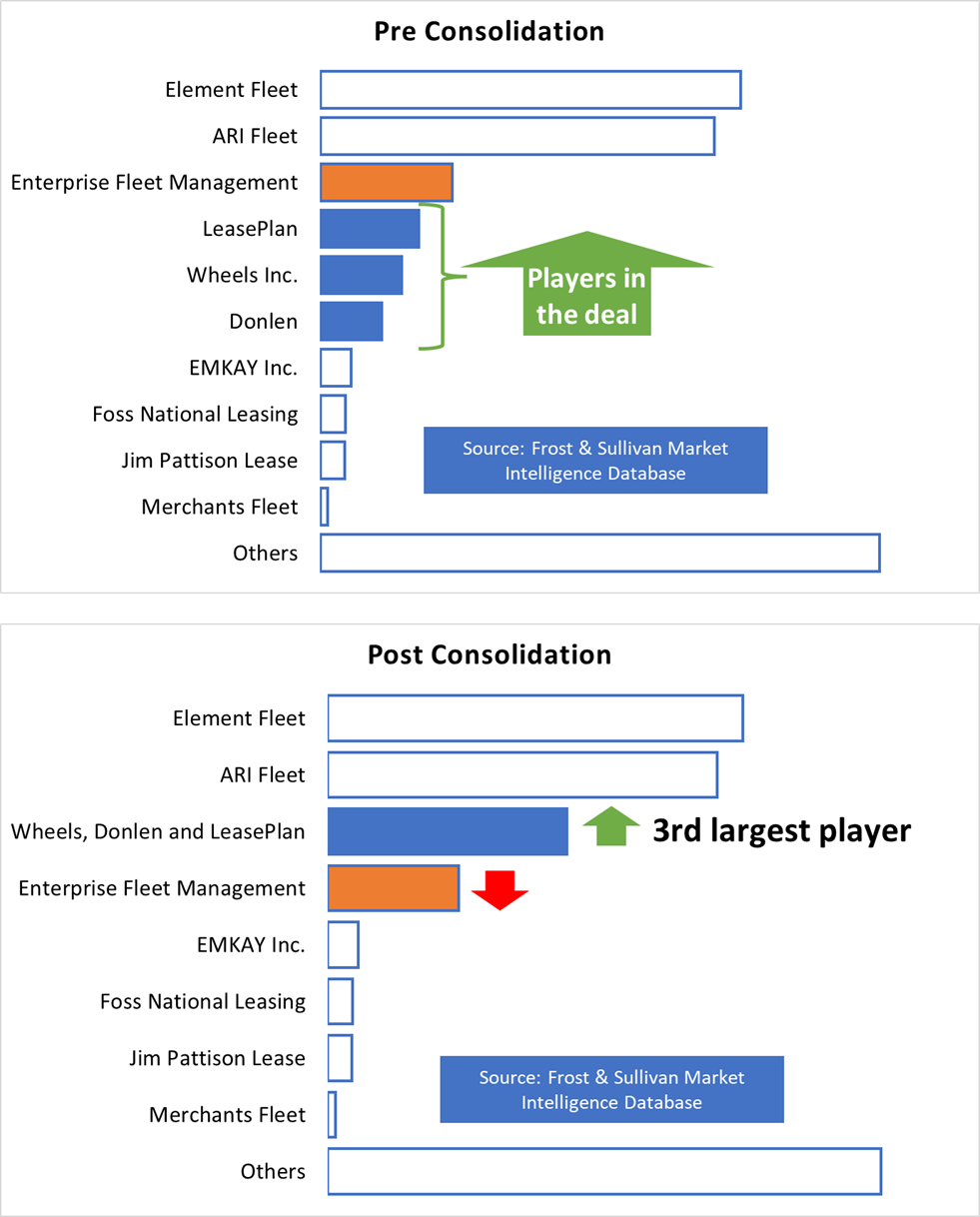 As someone who has been tracking the fleet and leasing markets for several years now, the Wheels Donlen-LeasePlan USA consolidation is symptomatic of a trend where deals— acquisitions, mergers, partnerships, and joint ventures across regions—are getting bigger and more frequent. Although each of these deals is a separate transaction, I perceive it to be a network of inorganic transactions occurring in a marketplace that is traveling towards becoming one big service provider or entity in the leasing space.
Indeed, it would be intriguing to imagine a long-term game plan where companies operate as standalone firms with different names but report to one major investor who controls the global market.
Schedule your Growth Pipeline Dialog™ with the Frost & Sullivan team to form a strategy and act upon growth opportunities: https://frost.ly/60o.