Not only does Dubai have locational advantages, its world class infrastructure attracts business organisations to set up their head offices here. Trade consists of exports, re-exports, imports and other support services that aid in the continuous churning of the sector. After the recent oil crisis, focus has shifted to non-oil trade and it has helped the Emirate look at innovations and possibilities that go beyond traditional notions.
Dubai has a trade network of 179 countries around the world with its major trading partners being China and India. Asia topped the list of markets that conduct non-oil trade with Dubai, accounting for business worth AED 208 billion in Q1 2017.
In 2017, imports accounted for the lion's share of non-oil foreign trade at AED 201 Billion (3% growth) while exports accounted for AED 35 billion and re-exports AED 91 billion (5% growth).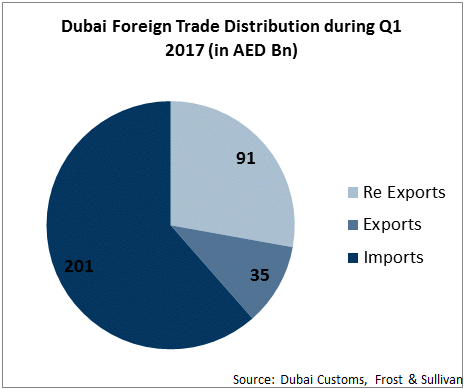 F&B products form a large chunk of imports as there is very little arable land in the Emirate to support domestic demand. Dubai imports almost 80% to 85% of the F&B products from around the world.
Dubai's main exports are pearls and other precious metals and stones; machinery, sound recorders, reproducers and parts, and transport vehicles.
Dubai is the world's third largest re-exporter and largest re-exporter in the Middle East region. An integral part of its success is the world-class ports, warehousing, and storage facility available. Re-exports in both direct foreign trade and free zones rose significantly due to the ability to handle wide range of cargo. Not only are the storage facilities world-class, but they are also cost-effective and efficient in the transportation of goods. Jebel Ali is expected to become the largest container port by 2030. Other projects such as Dubai Logistics City and Al Maktoum International Airport have and will contribute to the growth of the trade sector in Dubai.
One of the major drivers is EXPO 2020 wherein expenditure on infrastructure is only set to grow, which will have a positive effect on trade. Although Dubai is a major transportation and logistics hub in the region, regional competition could have an effect on the overall economy of Dubai. The Government of Dubai has already started addressing the issue by investing more on updating technology of existing facilities available in the Emirate and also paving way for more innovations in the sector.
Warehouses in Dubai are owned by logistics companies or by the manufacturers themselves. Dubai deals with a wide range of cargo and requires different kinds of warehousing facilities for different kinds of goods. Warehousing facilities are available for lease or rent in different free zones.
Export Credit Insurance Company of the Emirates (ECIE) is the only local insurance firm that protects trading companies in the UAE from the risk of non-payment by customers. It supports companies in managing their funds and also helps them explore new markets.
Dubai Trade is the single window for cross border trade in the Emirate. It works with the objective to make the city a preferred destination for trade through the adoption of e-services. There are also stringent laws to regulate import and export and warehousing of goods.
According to the World Bank, Dubai's 'Ease of Doing Business' ranking is lower due to stringent customs laws, need for excessive paper work and high operating costs due to lack of bank funding. Efforts are on to reduce red tapism and make Dubai a more trade-friendly Emirate.