The sustainability narrative is being molded by various factors that can be positioned in the 6P Framework — Policies, Products, Processes, People, Partnerships, and Platforms — in the dynamic environment of Environmental, Social, and Governance (ESG) reporting and platforms.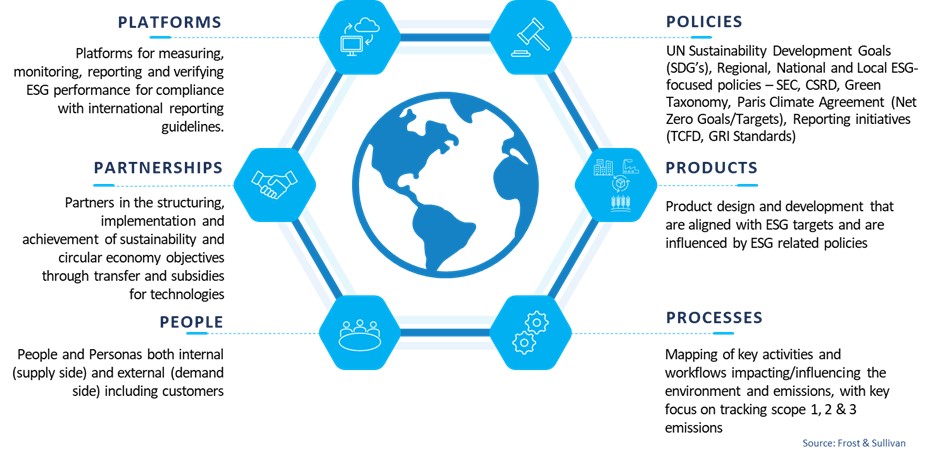 The Frost & Sullivan's System Thinking 6Ps Framework to Future of the Sustainability & Circular Economy to do "more with less"
GreenPlaces and ESGFlo are two companies that are embarking on this incredible ESG journey. They have harnessed the power of international ESG-focused policies, such as the UN Sustainability Development Goals (SDGs), SEC regulations, CSRD, Green Taxonomy, and the Paris Climate Agreement, to guide their ESG initiatives. Their commitment to aligning with these policies not only ensures global compliance but also fosters a sustainable future for all.
We had the chance to speak with GreenPlaces' founder and CEO, Alex Lassiter. We discussed how his comprehensive sustainability platform assists clients in achieving their objectives, including carbon reporting, emission reductions, quantifiable ROI, and creating ESG goals. In important industries including legal and accounting services, multilocation facilities, and now the education sector, GreenPlaces provides an all-in-one solution to businesses that face new reporting requirements, but don't have ESG departments. Customers praise the company's high customer retention and satisfaction rates and point out how the user-friendly platform provided by GreenPlaces is a crucial component of its commitment to sustainability.
These companies are not just aligning with ESG targets; they are actively influencing product design and development to meet those targets. Their innovative solutions are not only ESG-compliant but also environmentally conscious, setting new benchmarks for sustainable product creation and eco-friendly business practices.
Patrick Obeid, CEO of ESGFlo, spoke with us about their innovative platform, which offers services along the entire value chain, from data suppliers to reporting and verification, using artificial intelligence (AI) to generate trustworthy, comprehensive, and auditable ESG data. ESGFlo is a vital part of the discrete manufacturing business that is expanding and evolving, and they have ambitious plans to penetrate new markets and keep expanding their client base.
Collaboration is key, and GreenPlaces and ESGFlo exemplify this through their partnerships. They work closely with other organizations to structure, implement, and achieve sustainability and circular economy objectives. This includes technology transfers and subsidies that enable the widespread adoption of sustainable practices.
In a world where ESG considerations are at the forefront of business decision-making, GreenPlaces and ESGFlo serve as inspiring examples of how the 6P Framework can drive meaningful change. Their holistic approach, guided by policies, and empowered by innovation, processes, people, partnerships, and platforms, paves the way for a more sustainable and responsible future.
At Frost & Sullivan, we are currently working on a growth opportunity analysis focused on the ESG Climate Risk Platforms and Reporting Industry and a Frost Radar on the same topic to benchmark leading companies in this industry. We had the opportunity to discuss with GreenPlaces and ESGFlo about their impact in this industry. Other companies included in this industry are Intelex, Sphera, Watershed, Persefoni, Measurabl, Novisto, Workiva, Diligent, Integrity Next, and UL, among others. Between other upcoming reports, we are also working on the Top 100 2023 Climate Tech Pioneers, focusing on solutions for climate adaptation and mitigation.