A new look Japan Mobility Show 2023 (JMS 2023) is currently underway in Tokyo. Previously known as the Tokyo Motor Show (TMS), the biennial event which has since been rebranded JMS 2023 makes a strong comeback following the cancelation of the 2021 edition because of the Covid-19 pandemic. Running from October 26 to November 5, 2023, JMS 2023 looks beyond the automotive industry to cover the entire mobility ecosystem. Accordingly, there are around 475 exhibitors at the first edition of JMS 2023, more than double the 192 exhibitors at the final edition of TMS 2019.
Passenger Vehicle OEMs on Overdrive
In an apparent move to correct the prevailing perception that Japanese OEMs lag behind in vehicle technology development, Toyota, Honda, Nissan, Mitsubishi, Suzuki, Daihatsu, Subaru, Mazda, and Sony Honda Mobility all showcased electric vehicle (EV) and connected vehicle concepts.
On the opening day, Toyota unveiled the "Kayoibako", a "transformable" battery EV (BEV) that "can keep you connected to social infrastructure and service providers and bring more fun and convenience." Toyota President Koji Sato noted that AreneOS, Toyota's software platform would, in the future, allow users to "share electricity in the energy grid mode."  Honda announced an early 2026 target for the launch of its robotaxi in Japan. The robotaxi is being developed in collaboration with Cruise. Nissan publicized a series of "Hyper" EVs that will be powered by solid-state batteries and that will have a range of up to 1,000 kilometers. Suzuki highlighted its "Emotional Versatile Cruiser", a battery electric SUV. Mitsubishi displayed a "future Delica" or "D:X" concept that is a plug-in hybrid MPV. Daihatsu spotlighted three different concepts for small EVs – the Memo, Osanpo, and Vision Copen. Subaru looked skywards as it shared an air mobility concept and stayed on terra firma as well with a BEV sport model. It presented its Sport Mobility and Solterra concepts. Mazda showcased its MX-30 BEV model. Finally, Sony Honda Mobility said that its "simple and futuristic" Afeela EV would be available for sale in the US and Japan from 2026.
Commercial Vehicle OEMs Accelerate Electrification and Alternative Fuel Agenda
The intensified focus on electrification and alternative fuels adoption were the central themes running through the Japanese commercial vehicle market. Isuzu and Honda unveiled the GIGA FUEL CELL, a fuel cell powered heavy-duty truck co-developed by the two companies that, along with the Profia, marks the growing prominence of heavy-duty trucks powered by hydrogen. Electrification and battery swapping were in focus in the light-duty trucks segment.  Battery swapping, in particular, has been gaining attention as stakeholders attempt to reduce vehicle downtime and counter the lengthier charging times associated with large-capacity batteries installed on trucks. Mitsubishi Fuso's collaboration with Ample, US-based modular battery swapping technology startup, on its new E-canter vehicles exemplifies synergistic partnerships between Japanese commercial vehicle OEMs and overseas companies.
On display at JMS 2023 were a range of electric dump trucks, light-duty delivery vans of varying sizes, and electric buses from companies like Isuzu and EV Motors Japan. Tightening labor regulations and driver shortages across the country's supply chain have been creating growth opportunities for last-mile delivery vehicles. Interestingly, foreign manufacturers have been entering this space. Vehicles manufactured overseas like the IAT x Yamato Industry EV48 and the HWE Elemo series represent efforts to design comfortable and efficient last-mile delivery vehicles. In contrast, Japanese companies are concentrating on more familiar K-vehicles and microcars. Brands like Suzuki, Daihatsu, and Honda have introduced EV delivery vans in this category. The Kurosuke, a Japan made EV microcar designed by Blue Sky and manufactured by Tonox, embodies an unconventional approach. It accommodates only a driver and just enough cargo for a small vehicle. Additionally, Honda presented an autonomous work vehicle, an electric-powered platform designed for carrying materials and goods at construction sites.
The acceleration of electrification in the Japanese commercial vehicle market predominantly focuses on putting proven technologies in microcars, K-cars, vans, and light-duty trucks. However, to further expedite fleet electrification, industry players have been stressing the importance of governmental support, advocating for tighter regulations, and pushing for vehicle subsidies to make these sustainable transportation options more accessible and attractive to consumers.
Two-Wheeler and Micro Mobility Makers Look to the Future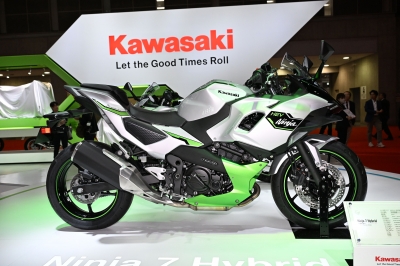 The big four Japanese OEMs—Honda, Yamaha, Kawasaki, and Suzuki—showcased their electrification capabilities in the two-wheeler segment by revealing both upcoming models as well as innovative concepts. Moreover, they spotlighted the potential of hydrogen engines: Suzuki and Yamaha presented the test models of their motorcycles and Kawasaki did its own mock-up of a hydrogen engine. These exhibits follow on the heels of the Big Four establishing a consortium in 2019 to promote the standardization of swappable batteries and battery stations, with a view to capturing opportunities related to vehicle electrification. More recently in May 2023, the formation of a Hydrogen Small Engine Technology Research Association – of which Toyota and Kawasaki Heavy Industry are among core members – has aimed at fast-tracking the development of hydrogen engines.
While the Big Four demonstrated common strategic focus, each showcased their own take on mobility with unique, future-focused concepts. The exception was Kawasaki which decided to highlight its traditional motorcycles. Honda introduced a prominent personal mobility offering – "UNI-ONE" – a single, sofa-shaped, hands-free vehicle that enables the user to move smoothly in all directions just by sitting and shifting their weight, while giving them the sensation of walking. Yamaha unveiled "MOTOROiD2", a two-wheeler which comes with capability of recognizing the owner and autonomously reacting to the owners' motions through AMCES, an autonomous balance control system that keeps the vehicle in an upright position, and Image Recognition AI, which determines the vehicle's condition by understanding the owner's intentions. Suzuki presented the Modular Quad Based Architecture or "MOQBA", a pony-like mobility vehicle having four feet with joints and a wheel on each, allowing users to reshape the structure to change the mode on board to sitting, standing, and lying, depending on the use case.
In the micro mobility segment, various two- and three-wheeler micro mobility models were showcased not only by leading two-wheeler OEMs but also by four-wheeler OEMs like Toyota, as well as by startups like glafit with the aim of enhancing last mile transport. This could be the outcome of a regulatory amendment to the Road Transport Law enacted in July 2023 that introduces a new vehicle category, "Specified Small Motorized Bicycle" for micro mobility where no driving license is required and only riders 16 years old and above are allowed.
Suppliers Share their Vision of the Future
Earlier TMS editions were marked by enthusiastic product displays from auto suppliers. At JMS 2023, a few major auto suppliers highlighted their visions of the future, albeit with very few to virtually no product exhibits. For example, Denso showcased its vision for 2035 through imagination and technology using four future "stories". Similarly, Aisin shared its vision of the future principally through immersive theater with only a few product displays.
Electrification continued to hold centerstage for suppliers. Bridgestone and Hitachi Astemo revealed an in-wheel motor that enhances the flexibility of interior design as the electric motor cannot be installed in the chassis itself. In addition, Bridgestone exhibited inductive charging solutions for tires from the road which seeks to improve charging efficiency as the tire is the closest point to the road.
Safety has typically been a central area of interest for tire makers. Sensing technologies are being leveraged by tire makers to diagnose conditions such as worn-out and flat tires as well as road conditions.
Customization is set to be another key future trend. Foxconn-initiated MIH Consortium has been promoting B2B customized vehicle solutions in JMS2023. Such solutions will allow fleet providers, including vehicle sharing companies, to customize their vehicles.
All in all, JMS 2023 lived up to its motto of: "Discover a future you can't wait to navigate!"