This decade will be marked by a decisive shift to electric mobility. Tesla, a prime catalyst in this transformation, is set to unleash further disruption, not just in terms of its trailblazing products but equally because of its unique and unconventional aftersales service delivery model.
The company's vertically integrated aftersales format differs from traditional paradigms on two key counts: one, the absence of third-party intermediaries, and two, its limited reliance on service fixed operations for profit generation. Over-the-air (OTA) update capabilities that leverage in-car data, a rapidly expanding mobile service fleet, and an ultra-lean physical service network underpin this innovative aftersales strategy.
Needless to say, this new model will have widespread implications for legacy automakers moving into vehicle electrification, pure-play battery electric vehicle (BEV) start-ups, independent aftermarket participants (IAMs), and of course, Tesla itself.
For more information on key features and implications of Tesla's aftersales strategy, please access our research report – Growth Opportunities in Tesla's Global Aftersales Strategy, or contact Anuj Monga at anujm@frost.com to schedule a private briefing.
Amidst Threat of Regulatory Pushback, Out-of-Warranty Vehicles and Enhanced OTA Capabilities to Drive Service Revenues
Globally, many Tesla vehicles are reaching the end of their warranty period. Accordingly, the company's services segment will emerge as a major contributor to gross margins. Service gross margins will receive a further fillip from the customer preference for mobile services.
Tesla Vehicle Population, Global, 2010-2020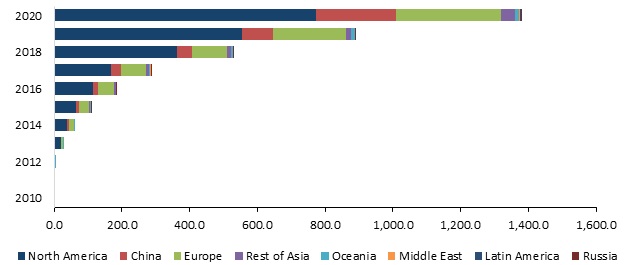 Source: Frost & Sullivan
Over Q1-Q3, 2021, Tesla had an estimated 2.1 million vehicles in operation (VIO), with 1,281 mobile service units (including mobile vans for tire repairs). Last year, services and other revenues, covering vehicle repairs, insurance, merchandise sales, and used car resale generated almost $2 billion for the company.
Advances in its OTA update capabilities, beyond infotainment and navigation system updates, will open up new subscription-based aftersales revenue streams for Tesla over the next 3-4 years. Moreover, capabilities in OTA updates and mobile services mean that Telsa can persist with its ultra-lean physical service network.
In parallel with these drivers are some major challenges. In the more immediate term, Tesla – which operates in a closed-loop ecosystem with ready access to in-car data and personal user information that are used to improve user experience – could face regulatory pushback driven by privacy concerns. This could compromise its ability to introduce value-added services.
Over the long term, the company might also have to contemplate a shift away from its modular repairs approach toward repairs and remanufactured parts to account for the customers' unwillingness to spend large sums on aggregate replacements. It will also have to fend off government-supported IAMs in major automotive markets. The improved EV service capabilities and preparedness of these IAMs could result in the denudation of service revenues in Tesla's original equipment channel.
A Unique Service Strategy
Frost & Sullivan reveals four key differentiators in Tesla's aftersales strategy: a vertically integrated service delivery model, new revenue streams that leverage tremendous volume of in-car data, service data monetization, and battery lifecycle management.
As mentioned earlier, the central aspect of Tesla's vertically integrated aftermarket value chain is the elimination of third-party intermediaries.  Globally, over 400 Tesla-owned and operated workshops engage directly with end customers, both individuals and fleets. However, this ultra-lean approach has implications in terms of overstretched work bays and extended turnaround times for repairs and maintenance. Going forward, Tesla will need to focus on strengthening its Customer Service Index (CSI) by ramping up its mobile services, boosting in-house body repairs, and promoting higher workshop stock-keeping units (SKUs).
Tesla's closed-loop system enables it to continuously access a wealth of vehicle data. This has implications in terms of driving-related feedback loops and predictive maintenance capabilities for fleets and individuals. Over time, Tesla's competencies will expand to cover telematics insurance, intelligent vehicle routing, and advanced OTA updates.
Service data monetization imperatives will motivate Tesla to allow IAM access to technical repair information and training/certification programs. This will mean the emergence of a steady service subscription revenue stream for Tesla rooted in globally monetized repair information, diagnostic software, and technical training and certification.
Any discussion about EVs is invariably accompanied by concerns over battery lifecycle management. The value extension of the 4Rs – remanufacturing, repurposing, refurbishing, and recycling – to retired Tesla batteries and its integration with the company's energy storage business will burnish Tesla's profile as a sustainability champion.
Tapping into Future Growth Opportunities
In-app purchases through OTA updates represent a nascent revenue stream. Tesla's latest driver assistance full self-driving (FSD) software enables seamless fleet upgrades on payment of a monthly fee from customers and is set to be a major revenue spinner. Simultaneously, the improving OTA expertise of its OEM competitors will support savings on software-based recalls and warranty jobs since these can be performed remotely by the OEM itself, thereby avoiding the need for reimbursements to dealer technicians.
The strategy of sanctioning third-party vehicle upgraders to provide aftersales service support will alleviate bottlenecks in repair and service delivery. Strategic partnerships between vertically integrated EV OEMs and IAM repair and modifier chains will help strengthen service support infrastructure.
Tesla's mobile service fleet has complemented its ultra-lean physical service infrastructure. Not only have mobile services helped decongest service bays in company-owned/operated workshops, but they have also emerged as a must-have convenience feature for EV users. Even as EV OEMs recognize the value that mobile services offer, IAM repairers need to partner with manufacturers to offer mobile services to customers and fleets, thereby capturing EV servicing revenues.
Schedule your Growth Pipeline Dialog™ with the Frost & Sullivan team to form a strategy and act upon growth opportunities: https://frost.ly/60o.