After a subdued, pandemic-affected 2020, the global automotive aftermarket bounced back in 2021. Trends indicate that the market will continue to maintain its forward momentum in 2022. Spearheaded by spark plugs, brakes, tires, and collision body parts segments, overall market revenues are forecast to register a CAGR of 7.1% over 2021-2022.
Marking a Comeback in 2021
In 2021, supply chain disruptions triggered higher raw material and finished goods prices, while pressurizing margins in the aftermarket. This was offset by a slew of trends with positive implications for market prospects in 2022. Firstly, after a significant drop in annual vehicle miles traveled (VMT) due to pandemic-related disruptions in 2020, VMT bounced back in the second half of 2021, with most markets recording VMT close to 2019 levels. Secondly, the rising appeal of used cars translated into higher customer expenditure on vehicle maintenance and repair. Thirdly, increased electric vehicle (EV) sales in 2021 opened new opportunities (and some challenges) for downstream service providers. Lastly, the do-it-yourself (DIY) wave of 2020 ebbed in 2021, with do-it-for-me (DIFM) making a strong comeback. This brought workshops back into the spotlight, helping them re-establish their influence over parts selection and boosting their business.
For more information on the overall market outlook, regional trends, and revenue forecasts for the global automotive aftermarket, please see the forthcoming Global Automotive Aftermarket Outlook, 2022, or contact Anuj Monga at anujm@frost.com to schedule a private briefing.
Five Key Trends Supporting a Strong Outlook for 2022 and Beyond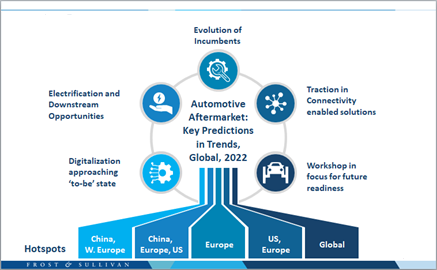 Source: Frost & Sullivan
From 2022 to 2026, Frost & Sullivan projects a CAGR of 6.1% spurred by five key trends – increasing digitalization, widespread electrification, the evolution of both market participants and workshops, and the rising uptake of connectivity-enabled solutions.
More immediately, one of the primary factors that will drive a positive market outlook for 2022 and provide a fillip to the independent aftermarket (IAM) is an aging global vehicle population. For instance, the average age of vehicles is estimated to be around 17 years in Poland and 12, 9.9, and 5.6 years in major markets like the US, Germany, and China, respectively. Simultaneously, average VMT is poised to increase across all important markets, including the US, France, the UK, Germany, India, China, and Australia, which is set to translate into higher demand for maintenance and repair services.
As has been the case in other markets, digitalization will gain increasing traction while ushering in new business approaches. OEs and IAMs are increasing investments in digital tools to facilitate improved customer outreach and realize more streamlined, meaningful, and productive customer engagement. Digitization initiatives are being incorporated across the value chain, from ordering parts to delivery and service fulfillment.
With parts e-commerce likely to generate $70-$80 million in revenues over the next few years, establishing a prominent online presence has become critical. The focus will be on seamless online-to-offline integration even as on-demand mobile services become progressively more appealing from a cost and convenience perspective for OEMs, IAMs, and customers alike.
Customer dynamics have transformed as a result of novel models of vehicle ownership, including leasing and subscription, and the entry of new stakeholders into the value chain. This will have a profound effect on the sale of parts and services, which will be impacted by the rising demand for used cars, leasing, and on-demand, mobile services.
Technologies related to vehicle electrification, connectivity, and autonomy will spark change in the aftermarket as well, for instance, surging vehicle electrification will open exciting downstream opportunities. A flurry of EV launches by start-ups over the next 12-18 months needs to be accompanied by serviceability readiness. To this end, start-ups will turn to established IAM dealers to provide such services, which will improve the competitiveness of IAMs, creating lucrative revenue potential for them as downstream EV aftersales service providers. Over time, EVs will generate substantial aftermarket revenues centered on battery refurbishment and end-of-life management.
Onboard vehicle connectivity is being perceived as a catalyst for improved service delivery. Traditional and emerging solution providers will develop a host of technology-enabled service delivery capabilities, including over-the-air (OTA) updates, and remote diagnostics and prognostics to drive competitiveness.  IAMs need to rethink their strategies as multiple competitors move into the market to leverage new, connectivity-enabled revenue streams. Meanwhile, increasing advanced driver-assist system (ADAS) vehicles will spur demand for sensor re-calibration solutions and services.
Being Future Ready
As the demand for mobile vehicle services surges, aftermarket participants need to strategically expand their geographic coverage and range of mobile service offerings. Fast-tracking digitalization initiatives will also become crucial since it is estimated that 1 in every 10 parts and accessories in the aftermarket will be sold online over the next 7-8 years, while OEMs have made sporadic efforts to heighten their digital presence, OE and IAM parts suppliers have lagged. Acquiring competencies in EV servicing will need to become a priority for workshops considering the phasing out of conventional fuel-powered vehicles and the transition towards alternative powertrains.
In essence, stakeholders need to accelerate their future-readiness and transform rapidly to tap into emerging service opportunities. This will require, among other things, investments in technician training, equipment upgrades, capability improvements, adoption of new business models, incorporation of innovative technologies, and delivery of enhanced customer value.
Schedule your Growth Pipeline Dialog™ with the Frost & Sullivan team to form a strategy and act upon growth opportunities: https://frost.ly/60o.