The COVID-19 pandemic has caused incredible disruption to the travel industry ecosystem. Globally, multiple stakeholders, including airlines, airports, and hotels, experienced the heaviest impact. However, as the world moves from pandemic to endemic, positive trends have emerged in traffic recovery and are expected to continue on their upward trajectory.
Digitalization remains an important topic for the entire travel industry, with particular emphasis on digital transformation in the airline segment of the wider ecosystem. Even before the onset of the pandemic, airlines and airports were investing in new digitalization initiatives and programs that they planned to implement at various levels. The COVID-19 pandemic, however, forced a shift in the speed and scope of this change across the travel ecosystem, and as airlines move from pandemic to endemic, digitalization efforts will gain significant momentum.
This is where IBM comes in. IBM takes a holistic view of and approach to airlines' digitalization needs. The emphasis is very much on customer experience, where IBM concentrates on the digital experience and the underlying digital transformation that is deeply rooted in customer behavior while ensuring that there is well-integrated cohesion between the key channels, such as the call center, online, web, and mobile. This approach also means establishing a foundation that allows airlines to benefit from the new opportunities in order to derive continual innovation, including areas that airlines may not yet know about. Therefore, airlines achieve the maximum benefits by investing at the optimum level in the necessary infrastructure.
While emphasis centers on customer experience, IBM also highlights the importance of the internal customer: the employees. Airline employees are critical in this entire digital transformation process, underscoring the significance of investing in them. Whether the flight and cabin crew (with their extensive set of manuals that are required on board) or other areas of the airline's operation, such as maintenance, terminal, or ramp, it is important to integrate employees into the overall digitalization process as they are key to providing the service levels customers expect. To achieve this, all internal stakeholders must have the relevant information that allows them to perform their duties as part of a well-oiled machine.
Dr. Dee K. Waddell, Managing Partner, Global Industry Leader, Travel & Transportation Industries at IBM, highlights this point:
"It is important that as well as the customer, the employees themselves, be it the customer service agents, the catering agents, or the baggage agents need to get similar and consistent information. The key is focusing not only on the customer but also the employee which, we believe, gives a holistic view on every part of the airline's operation, whether it is the touchless journey or other areas."
As part of this process, Waddell notes that iOS is an important platform as IBM has been working through this system to deliver its solutions to airlines, thanks to a longstanding and close relationship with Apple. Through this cooperation, IBM has created the iOS Aviation Suite of mobile apps. These iOS-based applications in digitalization, which are now implemented among about fifteen customer airlines around the world, provide a single platform through which airlines can integrate their employees into the digitalization initiatives. Furthermore, iOS has proven to be a robust platform, the benefits of which, through its longevity and total cost of operation including the up-front investment, outweigh the alternative Android-based solutions. However, IBM does have the capability of implementing both platforms, as per the requirements of the customer.
IBM Travel Platform is based on this overall approach, whether iOS or Android. Waddell explains: "The value of the mobile applications, especially iOS, is centered around the connectivity – it is around the customer and the employees. Especially for employees, this is important as it is an internal platform allowing them to interact and leverage efficiencies."
Another important area is aircraft maintenance, especially for airlines utilizing increasingly modern aircraft that have a magnitude of available data they can leverage for operational optimization. Waddell explains the opportunity:
"What we find is that if airlines can get all of this data and also carry out their communications through an application on a mobile device, there are a multitude of operational optimization opportunities. So really, the key is how we are helping our airline clients transform the way their people work."
Cloud is yet another very important piece of the airline digitalization puzzle. However, migration to cloud has many challenges. Waddell explains:
"Migration to cloud is key, and it helps accelerate the digitalization journey for airlines. Most airlines, if not all, are moving to the cloud as they understand its importance and its value. While moving to the cloud brings many advantages, not the least of which is attaining economies of scale, migrating, transforming, or modernizing applications is a significant challenge. The legacy history of these applications and how they interconnect and how they are being used in the field need to be well understood. We help accelerate this journey for our client airlines and, as we do this, we ensure that there is a full and consistent line of security in place throughout this process, while we create the ability for them to [perform] testing, development, and staging as per their requirements. So it is not only providing this flexibility but also assuring security."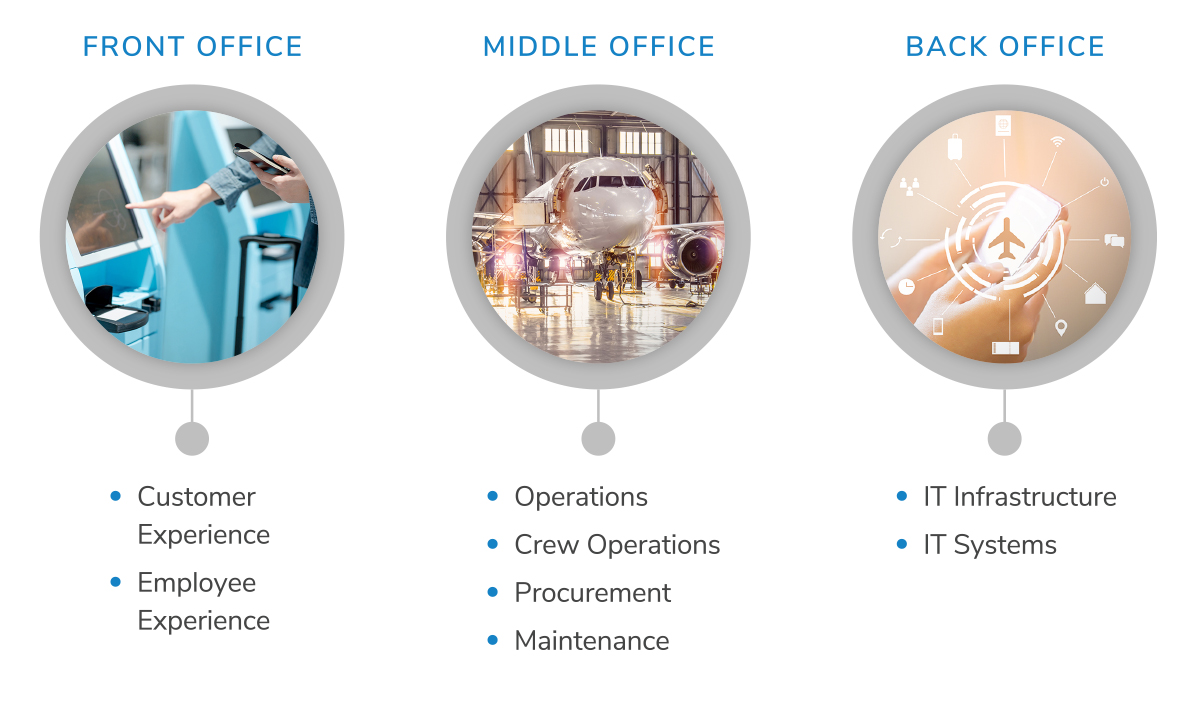 IBM, with its in-depth understanding of the airline ecosystem and IT requirements, is the perfect partner to help airlines succeed in their digitalization journey.
Industry leaders can tap into IBM's expertise and award-winning platforms that are built on new technologies including artificial intelligence, hybrid cloud and mobile capabilities to accelerate recovery and succeed in a post-COVID-19 world. For more information visit the IBM website.