The dynamic global environment and ubiquitous nature of security threats to individuals, governments and enterprises have made businesses rethink their security posture and approach toward thwarting security breach attempts by bad actors across the physical and digital world we live in today.
Along with the existing threats posed by cybercriminals, terror groups and other non-state actors, the current pandemic scenario has exposed the need for elevated security measures leveraging innovative technologies to adapt to the "new normal."
As social lockdowns across the world are being eased in many countries and, in some cases, lockdown 2.0 is being implemented, the market circumstances will be different for businesses of all types and sizes. Organizations will strive to adopt security technologies to mitigate, detect and deter the virus.
Changing Dynamics in the Biometric Market Impacted by COVID-19
The global biometrics market and its technologies are still emerging, particularly because of the rapid biometrics use-case development and shift to multiple biometric modalities across physiological and behavioral factors. Additionally, the COVID-19 pandemic and changing user preferences for multiple types of biometric identity authentication will drive continued market growth. Global market spending is projected to reach $14.12 billion by 2025.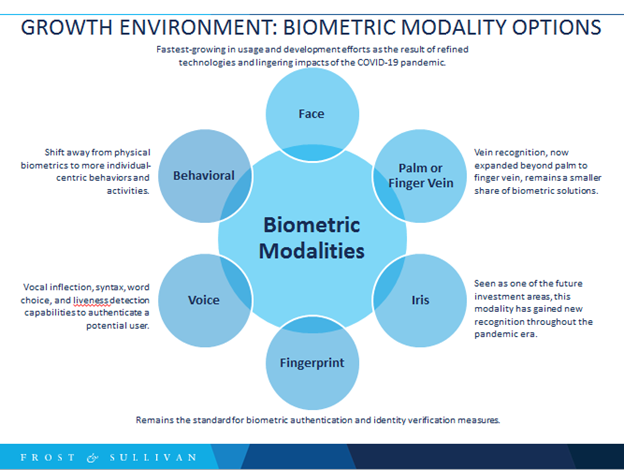 Fingerprint biometrics for access control and identity management has been the most preferred modality since its mainstream application and commercial adoption in the mid-90s. Identity and access management are the most critical factors in the physical and digital security environment and have been the most impacted by the changing effects of the pandemic.
Facial recognition gained traction before the spread of the pandemic, and it is imperative that contactless biometric solutions become most preferred, as it could alleviate issues surrounding health and safety of people. The industry is expected to witness widespread adoption much faster than initially predicted.
The global biometrics market has moved beyond physical biometric readers and scanners for access control or identity verification use cases. Today's biometrics solutions now need a slate of capabilities and new functions to meet the latest security demands, which include:
Multi-factor authentication using various biometric modalities or identity factors.
Open integration with access control solutions, time management systems, security operations centers, and other enterprise systems to create more robust employee and customer identity verification resources.
Integration with a broader digital identity solution that can expand beyond traditional user onboarding, verification, or access control use cases.
New service and business models through Biometrics-as-a-Service or Identity-as-a-Service.
Use of both physical biometrics and developing behavioral biometric modalities.
Challenges, Outcomes and Opportunities
Privacy concerns over the use of facial biometric technology have been a critical deterrent in its widespread adoption. However, with a structured approach to comply with relevant regulations, adoption of the technology is expected to surge as the importance of containing the spread of the virus is a top priority and weighs higher than uncertainties that exist over the privacy of individuals as portrayed by privacy advocates.
Fingerprint biometrics is the most common technology and has witnessed widespread adoption over the past two decades. However, its use will eventually reduce in common touchpoints, and businesses will shift toward touchless technologies such as facial and behavioral techniques due to the virus containment efforts. However, fingerprint technology is still expected to dominate in personal device security such as mobile phones and may still be used as a cost-effective alternative for small, private residential structures accessed by a limited group of known people within the household.
Facial recognition technology coupled with thermal sensors is primed to increase due to its enhanced efficiencies and potential to identify characteristics such as body temperature. This could help mitigate the risks of potential spread of the virus by identifying individuals likely to have been infected, adding value by solving multiple problems with a single solution.
Multiple contracts were awarded for facial recognition technology during the peak period of the pandemic. Clearview AI was awarded a contract worth almost $224,000 by the United States Immigration and Customs Enforcement (ICE) department, indicating a minimal impact of the pandemic on procurement cycles.
However, due to the current political events in the U.S., a setback is expected in the adoption of facial recognition technology for public safety purposes. In June, the technology-related privacy issues were of high concern, and the then-opposition party had recommended a total ban on the use of facial recognition technology on its citizens. (1)
Though there have not been any explicit decisions regarding the total ban of technology usage, it is expected that more stringent regulations and clauses would be included to evaluate the data collected and its application. A federal-level regulation on data protection and privacy similar to GDPR in the E.U. might be formulated to standardize the use of facial recognition technology across the country.
Larger programs are underway in densely populated countries such as India, which have understood the efficiency and accuracy of facial technology over conventional biometric technologies. The Indian government, through the Automated Facial Recognition System (AFRS) program, is trying to integrate, capture and monitor facial biometric data from nationwide law and order and public safety and rescue agencies using advanced biometrics data analytics. A few notable participants in the tender bidding process include Thales, NEC, Idemia, and Any-vision.
One of the most obvious challenges in adopting facial recognition technology in the COVID pandemic scenario is the face masks and face shields worn by individuals as a precaution against contracting the virus. This has raised concerns about the accuracy of these systems in identifying individuals based on their facial traits that are only partially visible. However, research, development, testing and evaluation (RDTE) is already underway by many research institutes, facial technology development companies, industry regulators, etc., to solve this impediment.
Many industry leaders such as Thales and NEC have been actively involved in developing machine learning (ML)-based algorithms with a two-pronged approach: identify individuals not wearing masks in public places and identify individuals wearing masks through advanced algorithms using existing data sets. (2) Through continued efforts within the industry, accuracy issues are being addressed at war footing, as a quicker response through advanced technology research is needed during the current pandemic situation.
Remote working has raised cybersecurity concerns, and businesses are trying to integrate biometric-based access to digital systems, servers and databases through technologies such as facial recognition. FacePhi, a growing facial recognition technology company, has partnered with Korean multinational cybersecurity company HANCOM Group to provide customers with a face pin (facial feature-based identity verification) for people who remotely log into the company servers and platforms. (3)
Biometric technologies have moved far beyond their initial use case as an identity verification tool. With their more robust security protocols and truly unique "credential" capabilities, biometrics can be used as a more secure user credential over any other hardware token or traditional digital authentication measure. This offers significant opportunities to change traditional access management or identity systems to more secure, robust identity platforms that can manage, verify, and authenticate users quickly and seamlessly. The growth and development of many behavioral biometric modalities remain ongoing and could greatly expand the potential options for new biometric authentication vectors throughout the next decade.
The adoption of contactless biometric technologies is expected to surge in businesses, healthcare, banking and retail, and in critical infrastructures such as airports and ports of entry, which are spearheading the implementation of touchless biometrics for enhanced safety while ensuring security in critical facilities. The COVID-19 virus could be a catalyst for biometric technology implementation as economies heal after multiple months of lockdowns.
References
(1)https://news.bloomberglaw.com/privacy-and-data-security/democrats-propose-u-s-government-ban-on-facial-recognition-tech
(2)https://apex.aero/articles/facial-recognition-tech-works-masks/
(3)https://www.biometricupdate.com/202010/facephi-wins-hancomwith-facial-recognition-access-control-contract