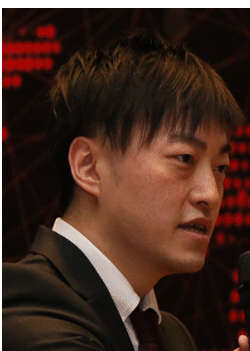 Based in Tokyo, Japan, Keiichiro Nozaki is the Regional Marketing Architect/ Evangelist of Asia-Pacific, China, and Japan theatre for F5 Networks. He is responsible for building marketing strategies, messaging and positioning, supporting marketing programs as well as managing market intelligence and analyst relations.
Prior to joining F5, Keiichiro was Field Marketing Manager of IP Infusion Inc., where he also managed local customers' projects and requirement analyses. Keiichiro was also the Program Manager at Cisco, where he was responsible for launching Advanced Services portfolio, and Project Manager at AT&T Global Network Services Japan, where he managed international customer projects implementing network services including IP-VPN/MPLS.
Keiichiro comes with 18 years of experience in the information technology industry in project/program management and product/solutions marketing.
Sachi Mulmi (SM), researcher with Frost & Sullivan, had an opportunity to conduct a Movers & Shakers interview with Keiichiro Nozaki (KN), Regional Marketing Architect/ Evangelist for Asia-Pacific, China, and Japan theatre for F5 Networks.
SM: What is the unique value proposition of your company, and what are your key competitive differentiators?
KN: F5 provides integrated solutions like Network Security (L3) and Application Security (L7) in a seamless manner. This is because we started our core technology from L4-7 traffic management and expanded to L3-7; this naturally made a clear differentiated position for us as a solution provider.
SM: What do you want your company to accomplish in the next couple of years and how would you define success for your company?
KN: Our goal is to achieve holistic solutions for the Application environment including Application Security to be covered in every single application. This is the ultimate goal simply because we believe Applications are the heart of the business. Application reflects business logics. It is the gateway to the data for all human beings. This Application centric approach is also reflected in the way we configure Network Security solutions.
SM: What are the most common network security threats in Asia-Pacific?
KN: We are helping a lot of customers with our Distributed Denial of Service (DDoS) protection capability.
Nowadays a lot of attacks are becoming Hybrid of Network layer as well as Application layer, including Network layer DDoS attack.
This is where our differentiated solution creates value for the customers.
SM: What do you see as future trends of this industry related to technology, legislation and customer demands?
KN: As the attacks are becoming more sophisticated year over year, many customers are starting to rethink the way they protect what they need to.
Many customers are also expanding where they deploy applications into – traditionally it used to be only in DataCenter but now, Private and Public Cloud have gained traction as well.
So the architecture and strategy to protect their business applications are changing and new headache is arising – in terms of consistent security control and management throughout different environments across DC, Private/Public Cloud.
SM: Will network security continue to exist, or will other solutions and services take its place?
KN: We believe the need itself will remain, but the form factor and architecture to protect the customer assets will change and evolve, exactly due to the same reason mentioned above.
If you have further questions/comments, please contact: sachi.mulmi@frost.com
For more information on Asia Pacific Network Security Market, please visit:
https://store.frost.com/asia-pacific-network-security-market-cy-2016.html?