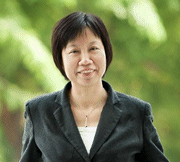 Geok Chwee is the Chief Executive Officer of Bridge Alliance. With more than 20 years of experience in the info-communications industry, Geok Chwee has extensive experience in managing the incubation, development and launch of new technologies and businesses in the enterprise sector. She championed the incubation of emerging growth businesses focusing on Software-as-a-Service, Internet of Things, and Big Data analytics, with responsibilities in overseeing key business functions such as business development, product development, product management and product marketing.
Geok Chwee is a technology evangelist who believes in open collaboration with partners and customers and co-creating value-driven innovation to advance new growth engines.
Geok Chwee holds a Bachelor of Electrical Engineering from the National University of Singapore and a Master of Business Administration from the University of Bradford, United Kingdom.
Sachi Mulmi (SM), researcher with Frost & Sullivan, had an opportunity to conduct a Movers & Shakers interview with Geok Chwee (GC), CEO of Bridge Alliance.
SM: Can you start by providing a brief overview of the company including the vision behind its formation and current role in the market?
GC: Bridge Alliance is a mobile alliance of 34 premier telecom operators in Asia Pacific, the Middle East and Africa. Our mission is to utilize the power of collective capabilities of our member operators, allowing them to better serve and deliver greater value for regional customers. We focus on four strategic areas: Roaming, Internet of Things/M2M, Enterprise Mobility, as well as Optimization and Innovation.
When the alliance was formed in 2004, the key focus was in delivering value for our member operators in the roaming business. Today, roaming is still a focus area where we are redefining how we can drive solutions to meet the needs of travelers and leveraging the collective strength of our network spanning across 106 countries.
We have also grown beyond roaming. Bridge Alliance offers extensive market coverage and the ability to integrate the services for our customers. As such, enterprises with multi-country presence highly value the efficiency we deliver as a gateway to Asia and other regions. This enables Bridge Alliance to position ourselves as a preferred solution partner for enterprises today, from mobility solutions that power their workforce to the Internet of Things that redefine the future of workflow.
With a close-knit alliance model among Bridge Alliance's partners, we constantly see opportunities in driving cost optimization for our members through collective procurement opportunities and seeking new business opportunities riding on the wave of emerging technologies.
SM: What is your company's greatest challenge, and what strategy is in place to overcome it?
GC: Our member operators operate across Asia, Middle East and Africa. The markets across the different regions are vastly different in terms of their state of development, market requirements as well as regulatory issues.
In order for Bridge Alliance to deliver value to our members, we need to continue to have depth in our understanding of each member operator's unique needs and market position. At the same time, we need to be able to distil areas of opportunities in unlocking the collective scale of our members. Understanding the market(s) in which our members operate enables us to deliver efficiency to our corporate customers with multi-market presence, bringing a global solution with local support and in-country know-how.
Bridge Alliance has an established mode of operation. We run regular alliance meetings across levels, garnering strong support from the leadership team of each member operator and harnessing ground-level knowledge and support from working experts in each market. The strong commitment and involvement of our members, with a clear focus of deliverables, enables Bridge Alliance to manage the complexities of multi-market disparity, unlocking value for customers with global solutions.
SM: How does Singapore compare with other countries in the M2M/IoT market in the Asia-Pacific region?
GC: Singapore is among the most IoT-ready countries in APAC, with the concerted push for smart cities and business-friendly environments that facilitate IoT growth. The driver of IoT growth is in the business value that can be unlocked. We see growth opportunities from product manufacturers in the automotive industry where connected cars will be the industry norm. Key factors of IoT growth for the sector include the potential of improving performance of cars through analysis of telemetry data and new business models that can be unlocked through connected cars such as infotainment services for drivers. As we reduce the challenges experienced by product manufacturers in enabling IoT across multiple markets, we enable the growth potential in Asia Pacific to be realized.
SM: What do you see as the growth opportunities and critical success factors to survive and compete in this market?
GC: The growth opportunities lie in enabling the future of communications. The speed of technological evolution can only get faster. As an alliance, we see the opportunity to leverage our scale and depth of knowledge to ride the wave of disruption. As we accelerate the growth for IoT, we are simultaneously exploring the new opportunities that can be unlocked through emerging technologies such as Blockchain, RCS and digital services. Having the right partners, know-how and agility are critical success factors.
SM: What do you see as future trends of this industry related to technology, legislation, and customer demands?
GC: Future trends depend on how we imagine the future of work and life. Everything else will evolve to make that happen. The desired user experience will dictate the type of technology required. The technology will then be embedded seamlessly into our everyday lives. This can already be observed across the IoT space at home and at work.
Another exciting thing to watch out for is the volume of new technology and adoption in Asia. The full potential of the region as a technology powerhouse is yet to be realized.
If you have further questions/comments, please contact: sachi.mulmi@frost.com