In a momentous leap for autonomous vehicles, Alphabet's self-driving car division, Waymo, is set to offer autonomous vehicle services in two of the most complex ride-hailing environments – the airport and the city center.
The services will use driverless Jaguar I-Pace SUVs equipped with the Waymo Driver – company's self-driving system, to provide services between Sky Harbor International Airport, the US' ninth busiest airport, and downtown areas of Phoenix, the country's fifth-largest and fastest-growing big city of 2021.
The fleet will be available 24/7 and, initially, will operate only at rail stations on the periphery of the airport and have an autonomous expert present in the vehicle. Also, to start with, the service will be available only to Waymo employees.
Once it is successfully implemented, the service will be open to the general public through Waymo's Trusted Tester program. Over the longer term, Waymo plans to expand its services to the next level – the actual front of airport terminals where pick-up/drop-offs and time/parking restrictions present a much greater challenge for autonomous vehicle deployment.
Simultaneously, Waymo is planning to launch fully driverless car services for its employees in downtown Phoenix. Unlike earlier, where safety drivers were present in the vehicle, this time, there will be no driver behind the wheel. Such driverless services follow closely on the heels of a similar initiative offered to employees in San Francisco. Once proven successful, the services will be opened up to the public via the company's Trusted Tester program.
What are the implications of the Waymo Driver operating in airport and downtown environments – for consumers, competitors, and the company?
To learn more, please access our research report – Global Autonomous Shared Mobility Growth Opportunities and Global Advanced Driver Assistance Systems (ADAS) and Autonomous Driving (AD) Industry, Outlook 2022 or contact Sathyanarayana K. at sathyanarayanak@frost.com for information on a private briefing.
Our Perspective
Frost & Sullivan's recent research on the global autonomous shared mobility market highlights that technological and regulatory progress are driving new business models, market entrants, and innovative solutions while fast-tracking commercialization roadmaps.
Following years of development and real-world testing, autonomous shared mobility technology is finally on the verge of achieving commercial viability. We estimate the global market opportunity from autonomous mobility to grow from approximately $27 million in 2021 to $92 billion in 2035. As cities look at more sustainable transport modes, autonomous shared mobility is emerging as a key solution – as robotaxis or autonomous shuttles.
"There has been intense activity in the autonomous shared mobility space post the pandemic. We are seeing a lot of traction concerning funding, more collaboration among various stakeholders as well as a flurry of pilots globally between 2021 and 2022.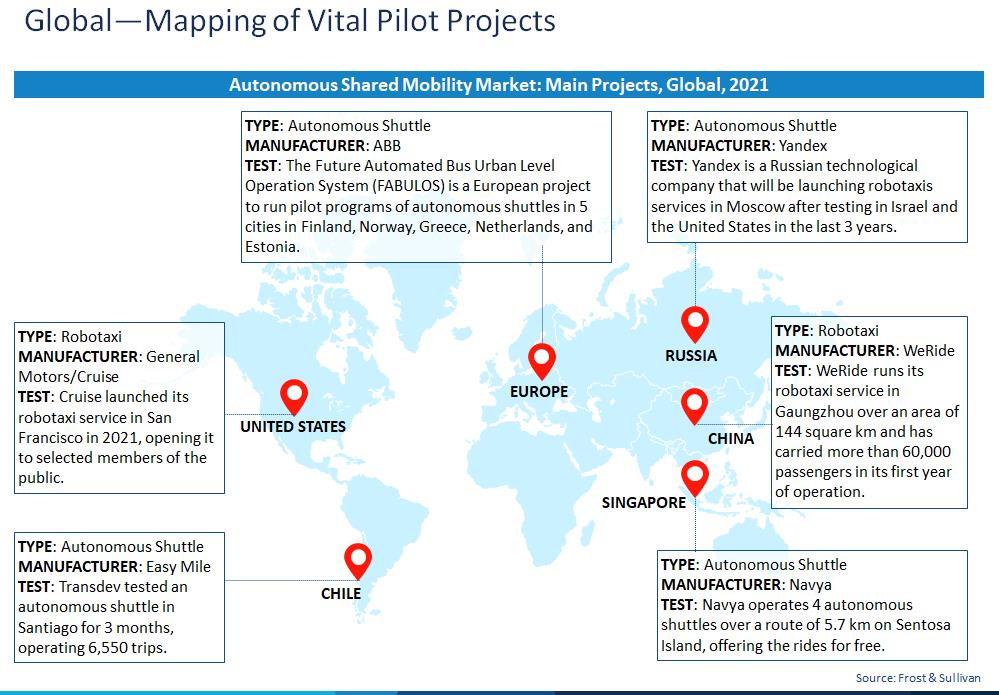 Key companies like Waymo have also started charging fares in their recent pilots in San Francisco. We believe the tipping point will be around 2026-27 when the technology will reach a certain level of maturity. Technology and market maturation will drive costs down, even as regulations evolve and become more favorable, setting the ground for viable commercial mass production." – Geraldine Priya, Program Manager, Mobility Practice, Frost & Sullivan.
Today, what is indisputable are the multiple advantages offered by shared autonomous mobility, including the reduced costs per kilometer associated with on-demand transportation. For instance, our research shows that a trip in an electric autonomous taxi in the US will cost consumers 67% less than a trip in a personal vehicle and 93% less than a regular taxi. Superior utilization rates represent another major draw: utilization rates of a regular taxi in the US are estimated at 32%–50%, while it is above 60% for a robotaxi.
In addition to lowered accident rates and road fatalities, autonomous mobility solutions like shuttles will also have a crucial role to play in decongesting city centers. While we expect robotaxis to replace traditional taxi fleets and connected car ride-hailing fleets, favorable rider economics, and schedule flexibility will motivate some private car journeys to be replaced by robotaxi rides. Meanwhile, we anticipate autonomous shuttles to be deployed on short urban and rural routes as last-mile connectivity solutions between transport hubs and destinations (much like Waymo's services between Phoenix's airport and downtown area) and remote areas where public transport services tend to be unviable.
As competition intensifies among the 25+  autonomous manufacturers, technology developers, and suppliers—Cruise, May Mobility, Sensible4, Magna, Navya, Easymile, Uber, Tesla, Amazon, WeRide, Hyundai, Toyota, Baidu, and MooVita, among others—we will see more self-driving trials like that of Waymo's in Phoenix and San Francisco. For many stakeholders in the shared mobility space, driverless vehicles will be the key route to boosting profitability. At the same time, learnings from these pioneering initiatives will help refine autonomous vehicle technology, setting the stage for a driverless future.
Schedule your Growth Pipeline Dialog™ with the Frost & Sullivan team to form a strategy and act upon growth opportunities: https://frost.ly/60o.